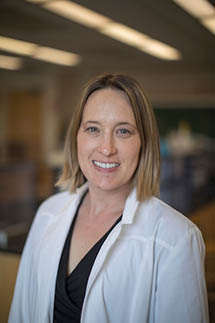 Senior Lecturer (General Chemistry)
509-524-2011 (phone)
509-527-5904 (fax)
I was born in Walla Walla, WA, but then proceeded to move several times with my family (including the states of Wisconsin, North Dakota, Idaho and Washington) until I finally returned to the valley for college. In 2000, I graduated from Walla Walla College with a B.A. in Chemistry and my Washington State Teaching certification. Following graduation I taught the general chemistry labs for WWC (now Walla Walla University).
In 2001, my husband, Jerry, and I moved to the Philippines for two years to work as Peace Corps Volunteers in education. The primary focus of our service was teacher education in science and computers, but we also spent a large portion of our time in teacher trainings for cooperative learning, critical thinking skills, and integration across subject areas (such as math, English, Filipino, and science). Our secondary projects (which became our primary projects as the end of our service neared) centered around environmental education, in the form of youth camps and the publication of an environmental education manual for elementary teachers. Peace Corps was an incredible experience--both for our careers and culturally. If anyone has any questions about Peace Corps, we are more than happy to persuade you to join!
In 2006, I graduated from Antioch University in Seattle with an M.A. in Environment and Community. My thesis explored networking as a tool for developing sustainability in non-profit organizations. As of 2007, I am co-producer (along with my husband) of documentaries that are community produced by and for Indigenous communities in Suriname, South America. Our longest film to date has been accepted and shown in several film festivals in the US, Caribbean and South America. Working together with my husband, who graduated with his MFA in digital cinema in 2008, allows us to integrate the tools of science, theories of social development and creativity of cinema into documentaries that are giving Indigenous people a global voice. For more information and to view our work, please visit our website: www.eclecticreel.com.
Outside of work, my main interests are currently our son, Aidan, daughter Mica and our pets (2 dogs, 1 cat and 2 hermit crabs). When I find the time, I also enjoy playing music (guitar, flute and voice), reading, sea kayaking, hiking, rollerblading, art/design, gardening and any activity involving water.