Salma Anguiano '22 and Daniel Charlton '18 Named Schwarzman Scholars
By By Lara Hale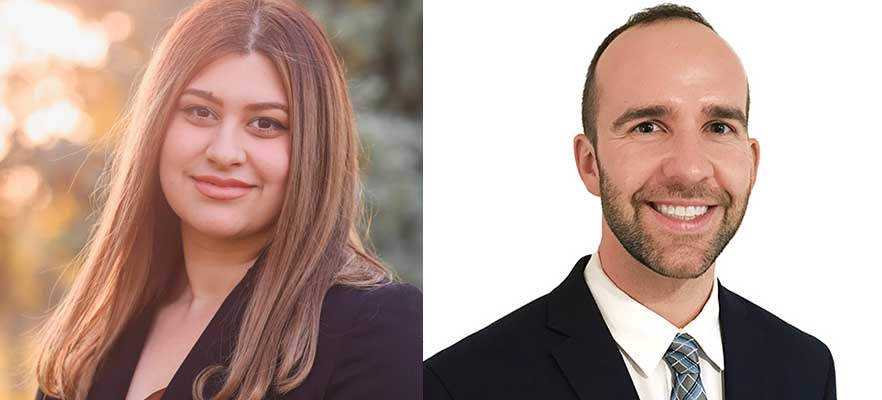 From an initial pool of about 3,000, only 152 applicants were accepted into the next cohort of the prestigious Schwarzman Scholars program, considered to be China's answer to the Rhodes Scholarship. The select few hail from 33 countries and 107 universities around the world—and two of them are Whitties.
Salma Anguiano, a Whitman College senior majoring in politics and Chinese, and Daniel Charlton '18, who earned his bachelor's in biochemistry, biophysics and molecular biology (BBMB), are among only 60 awardees from the United States. As Schwarzman Scholars, they will join a one-year fully-funded master's program in global affairs at Tsinghua University in Beijing.
"Both Salma and Daniel are on remarkable trajectories of impact—Salma as a former Public Policy and International Affairs Fellow and Whitman's Truman Scholarship nominee last year, and Daniel as a former Projects for Peace Fellow and Princeton in Africa Fellow—all leading up to their Schwarzman awards," says Keith Raether, director of the college's Office of Fellowships and Grants.
Building Strong International Health Systems
Charlton's road to Beijing follows an early and evolving career centered on global health care issues and systems. After graduation from Whitman, Charlton implemented an HIV-focused Project for Peace in Tanzania and then worked for one year as a Princeton in Africa fellow at the Baylor International Pediatric AIDS Initiative in the Kingdom of Eswatini, the country with the highest prevalence of HIV in the world.
Charlton, who is from Port Townsend, Washington, is now employed in Boston at JSI, a public health management consulting firm that has implemented health system strengthening projects in 107 countries. He negotiates agreements with public and private donors ranging from USAID to the Bill & Melinda Gates Foundation, builds organizational consortiums for multilateral proposals, and implements a $223 million portfolio of locally-led projects focused on COVID-19, maternal health, HIV, and digital health in five countries. Charlton's experience collaborating closely with colleagues in Ethiopia, which has been embroiled in a civil war since November 2020, has revealed to him that the challenges facing health systems are interdisciplinary.
"I am cognizant that we must design international health systems and supply chains to withstand not only outbreaks of infectious disease, but also outbreaks of traditional conflict," he says. "Similarly, the disproportionate impact of climate change in low- and middle-income countries may lead to increased instability in fragile states, further complicating the delivery of essential health services—from immunizations to contraceptives—already impacted by the COVID-19 pandemic."
Charlton, who aspires to write health systems policy, says he was drawn to Schwarzman because of the opportunity to collaborate with an international set of young leaders committed to addressing some of the world's most pressing and complex issues.
He is particularly enthusiastic about living in China since it will play a major role in financing and shaping the future of international health systems. Additionally, after analyzing European Union public policy during a study abroad program in Germany, Charlton hopes to better understand how China's Belt and Road Initiative and COVID-19 vaccine diplomacy will impact the broader trajectory of global development.
"Beyond learning more about China's influential role in global affairs, I am excited to study Mandarin and explore the country's rich history, philosophy, and cuisine. I can't wait." he says.
Seeking Opportunity & Change
For Anguiano, the opportunity to study in China was the initial reason she decided to apply for Schwarzman Scholars—but it won't be her first time doing so. She had recently returned from spending the summer of 2019 in China through Whitman's Off-Campus Studies faculty-led Crossroads program and was in New York City for a Leadership Enterprise for a Diverse America career institute when she first learned about the scholarship.
"I immediately knew I wanted to apply. After coming back from the study abroad program, I knew my future was in China," she says. "I was especially excited that it's a fully funded program. Being a first-generation student from a low-income family, I've always sought out these opportunities."
The daughter of immigrants, Anguiano's own lived experiences and those of her family and friends at home in nearby Hermiston, Oregon, compel her to push for better conditions and opportunities for her community. Last year, she embarked on a personal project, Protegiendo Nuestras Raices (Protecting Our Roots), which advocates for fair compensation structures and protection for undocumented workers. She is now beginning work on the senior thesis for her politics major, which she says will focus on conditions for migrant and undocumented workers on a global spectrum, as well as the role personal narratives can play in shaping how these communities are perceived.
"The stories about our communities have always been formed and told by people outside of them," she says.
The chance to hear diverse perspectives and learn from others' lived experiences is key to her interest in Schwarzman Scholars.
"We'll have a cohort made up of students from all over the world, and I think that being in the classroom with students that come from different places and different experiences, is probably going to be the most valuable aspect for me."
Supported & Prepared
To be considered for the Schwarzman Scholars program, applicants must submit a resume demonstrating their leadership abilities and academic aptitude, along with two essays and three letters of recommendation. Finalists are interviewed by a panel that includes CEOs, government officials, university presidents and nonprofit executives.
To prepare for that final step, Anguiano went through mock interviews with a panel of Whitman faculty. She credits the experience as a large part of why the Schwarzman interview went well.
"Honestly, I think the mock interview was tougher than the real interview. I have to give thanks to [Associate Professor of Biology] Leena Knight, [Senior Lecturer of Asian and Middle Eastern Studies] Wencui Zhao, [Assistant Professor of Politics] Arash Davari and [Professor of History] Brian Dott. They asked me really hard questions."
Charlton says he is equally elated to be admitted to Schwarzman Scholars and thankful for the clear guidance and constant support he received from family, friends, and mentors, including Raether and his thesis advisor, Jim Russo, associate professor of BBMB. Both, he says, have been instrumental in shaping his post-Whitman path.
"I believe that Professor Jim Russo's Infectious Disease class embodies the central tenets of a liberal arts education. Although we would start each week analyzing the biochemical transmission pathways of a specific etiologic agent, we would end each week reviewing the political, economic and social barriers preventing management of this disease at scale."
'Immense Pride'
President Kathleen Murray says she takes immense pride in Anguiano and Charlton, who both received Garrett Sherwood Scholarships to study at Whitman, for this rare achievement.
"The fact that we have two recipients in one year for such a competitive program is a significant honor for Whitman. Salma and Daniel epitomize many of the attributes that set Whitties apart—drive, talent and a genuine desire to make the world a more equitable place. I applaud their accomplishments thus far and foresee important and meaningful work ahead for each of them."