Presidential Installation Will Be a Historic & Celebratory Event
By Sydney London '23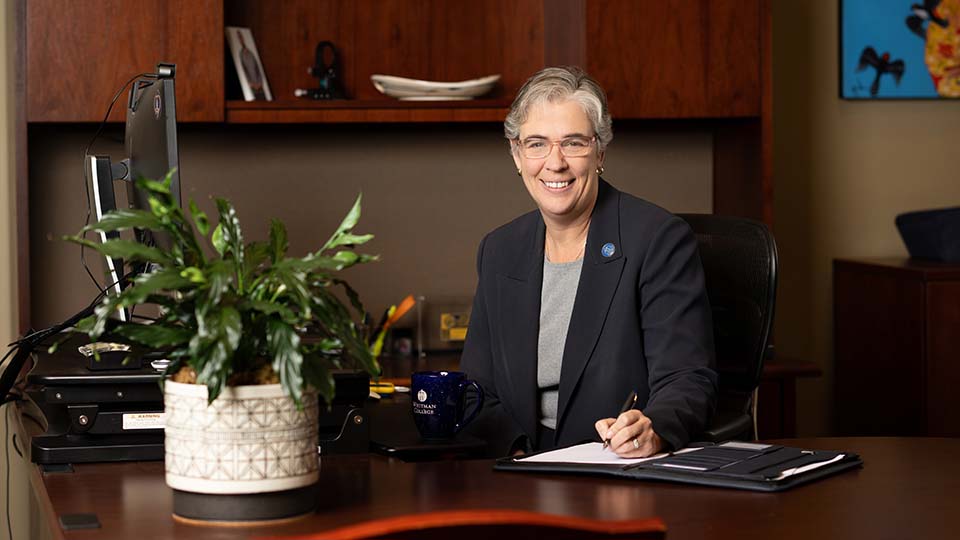 On Friday, April 28, 2023, Dr. Sarah Bolton will officially become Whitman College's 15th President. Whitman leaders, alumni and higher education dignitaries from across the nation will come to Walla Walla to celebrate Bolton's Presidential Installation—a momentous event in Whitman's history.
The Installation Ceremony will take place in Cordiner Hall at 5 p.m. with the academic procession starting at 4:45 p.m. and a reception to follow. The celebration will continue with events on Saturday, April 29.
"The Board of Trustees and the entire Whitman community are eager to celebrate Whitman College and the Installation of President Sarah Bolton," says Joseph C. Davis '80. "I could not imagine a more talented, collaborative, strategic and kind person to lead us into the future. Next week promises to be a festive and meaningful few days for our community."
Community-wide events on Saturday include a panel discussion with national leaders in higher education, "Higher Education for a Changing World," moderated by President Bolton, an Academic Symposium with presentations from both participating faculty and students, student research poster sessions, a Whitman Choral concert and more. View the schedule of events.
"The upcoming Presidential Installation will be such a special event," says Whitman's Vice President for Communications Gina Zandy Ohnstad.
"Not only is it an opportunity to celebrate President Bolton and the exciting future of the college, but also to commemorate how we've arrived at this moment and the impact that Whitman has made on the lives of thousands of students. Several of Whitman's past presidents will be here for the occasion as well as trustees, trustee emeriti and delegates and special guests from across the country," Ohnstad says.
Bolton is a physicist, professor and administrator with more than 25 years of experience in higher education and a long-standing commitment to inclusive excellence and the liberal arts, including serving as the President of The College of Wooster from 2016–2022. She succeeded President Kathleen M. Murray upon her retirement at the end of the 2021–2022 academic year. Bolton assumed the presidency in July 2022. Learn more about Dr. Sarah Bolton.
Published on Apr 21, 2023