President Bolton Shares Insights on Higher Education in Seattle Magazine
Bolton highlights Whitman's financial aid transparency and welcoming campus
By Tara Roberts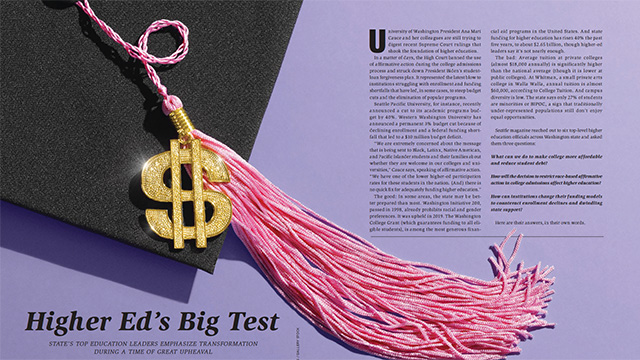 Whitman College President Dr. Sarah Bolton joined higher education leaders across Washington state to share their insights on college affordability and access in the September/October issue of Seattle Magazine.
Bolton advocated for increased state and federal financial aid, as well as collective public and private efforts to invest in higher education, especially for low- and middle-income families. She highlighted Whitman's efforts to increase financial transparency by providing families with an early financial aid guarantee.
Bolton worries the U.S. Supreme Court's decision to ban affirmative action sends a negative message to students of color. In response to this decision, she said, institutions must work intentionally to become "ever more excellent, diverse, and equitable, while following the law."
"The challenges of the future will require leaders from every experience and perspective," Bolton told the magazine. "Diverse campus communities, and campuses that are genuinely welcoming for all students, are both a moral imperative and crucial to our mission of student learning, thriving, and preparation for lives of purpose." Read the full article.
In addition to the story featuring Bolton, this issue of Seattle Magazine featured several articles exploring the questions facing students and families as they decide whether and where to pursue higher education.
A Note from the Publisher
Seattle Magazine Publisher Jonathan Sposato—who earned his degree in Political Science from Whitman in 1989 —called Whitman "one of the best kept secrets on the West Coast" in his publisher's note.
"According to a new report by personal finance website WalletHub of 2023's Best Colleges & Universities, Whitman is ranked the best of all schools in the Pacific Northwest, while The Princeton Review ranks Whitman No. 8 nationwide for graduates 'making an impact,'" Sposato wrote. "Whitman has also been named a 'top producer' of Fulbright Awards among liberal arts colleges in 12 of the past 19 years, punching well above its weight."
Sposato has served on Whitman's Board of Trustees since 2016.
Published on Sep 15, 2023