For Whitman Internship Grant Recipients, Practice Makes Prepared
By Stacie Jones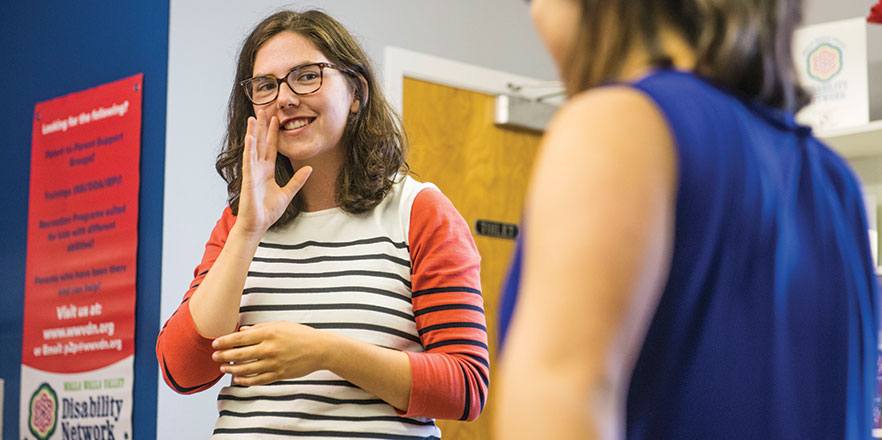 For Emily Rigsby '20, music is a superpower.
"Playing violin and being a musician has built my confidence and personality in so many ways," said the Whitman music major from Boise, Idaho. "Through all the adversities I've faced in my life, music has been the constant thing that has reminded me I am capable of overcoming any challenges. It makes me feel limitless."
The first in her family to attend college, Rigsby knew she wanted to turn her lifelong passion for music into a career. Doing what? She wasn't sure. Then she learned of an internship with the Walla Walla Symphony.
"It seemed like a good opportunity for me because I'd never worked directly in the music industry before," she said. "I thought it would be a good way to see what kind of work I could do with my degree after Whitman."
She spent the summer working with the Walla Walla Symphony's community programs and helped put on the summer Rock Camp for local middle and high school students. She assisted with promoting and planning the camp, mentored students during the weeklong program, and prepared campers for their final performance — a public rock concert in the park.
"It was really fun," Rigsby said. "The best part was definitely working with students from all the different schools and getting to know how music education works here in Walla Walla."
Leah Wilson-Velasco '03, CEO of the Walla Walla Symphony, said she puts interns "on the front lines" to maximize their exposure to real-world music careers.
"I hope to shed some light on what's possible as a career path with a Whitman degree," she said. "It can be challenging to figure out what to do after college. I try to show them their options, particularly with applying a music degree."
During the internship, Rigsby gained not only practical professional skills, but also clarity on her future.
"The Walla Walla Symphony is committed to bringing music education to everyone," she said. "That's something I'd like to focus on when I go into my music career: creating classical music and making it more accessible for everyone.
"I want to work in schools with low-income students from diverse socioeconomic backgrounds," she continued. "The symphony gave me good experience in learning how to work with diverse communities effectively."
Rigsby's internship with the Walla Walla Symphony was made possible by the Student Engagement Center's Whitman Internship Grant program. The program provides funding for students to participate in unpaid internships at both for-profit and nonprofit organizations, as well as government agencies.
To receive the grant, students complete a competitive application process and must demonstrate how the proposed internship will help them grow personally, academically and professionally. The grant provides a minimum of $3,000 for a summer internship in the United States and $5,000 if the student completes the internship abroad.
For the 2018-2019 academic year, the Whitman Internship Grant was awarded to 146 students. Many of the recipients are first-generation students.
"Studies show that first-generation students are more likely to accept unpaid or low-paying internships," said Victoria Wolff '12, assistant director for career education and former assistant director for internship programs in the Student Engagement Center. "The Whitman Internship Grant reduces financial barriers and helps ensure that the opportunity for experiential learning through an internship is accessible and equitable for all Whitman students."