It's Move-In Day at Whitman College!
Welcoming new students and families to campus and Walla Walla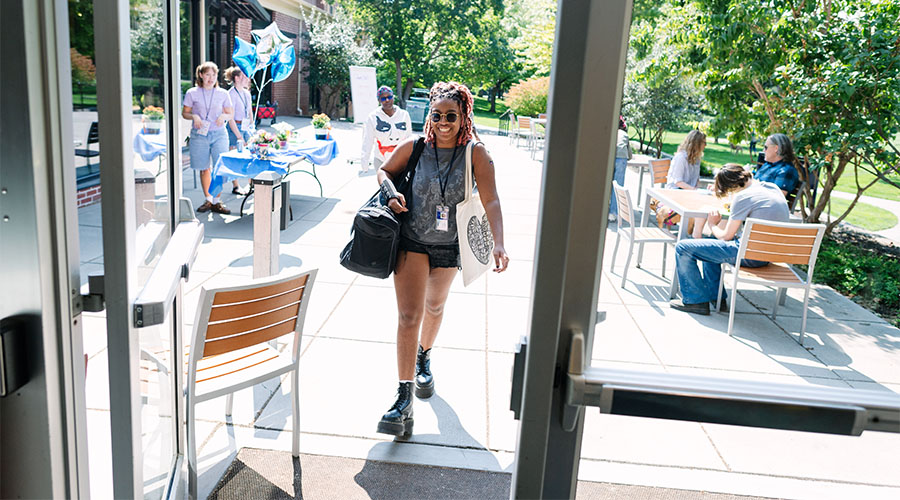 After months of planning and preparation, Whitman College's Class of 2027 has arrived. Wildfire smoke and the rain cleared from the Walla Walla area for what was a remarkably beautiful day to be a new Whittie.
"What an exciting day this is," says President Sarah Bolton, who was out and about meeting new students and their families. "Everyone here has been looking forward to this day—to be here, together."
Along with President Bolton, Whitman's newest students were greeted by an enthusiastic welcome committee of staff, faculty and returning students, as they checked-in and headed to various residence halls to start settling in before a week of orientation activities. Families have their own optional orientation activities on Thursday, Aug. 24.
"The goal of Opening Week is to support students as they learn the campus and about the many resources Whitman offers," says Senior Associate Dean of Students Juli Dunn, who leads new student orientation at Whitman. "It's also about having fun—connecting and beginning to build community in small groups and residence halls."
Talented & Diverse
This incoming class of 480—first-year and transfer students—was chosen from the largest pool in Whitman history, more than 6,200 applicants.
At a welcome event for new students and their families, Adam Miller, Vice President for Admission and Financial Aid, addressed the incoming class, many of whom were recruited by his team.
"Finding such a talented, diverse and engaging group of students is absolutely a team effort," said Miller. "Each of you has earned your place at Whitman and we are honored to welcome you here."
Miller shared more about how this incoming class will contribute to Whitman's efforts to build an inclusive community for students from all backgrounds.
"You are, by pretty much any measure, the most diverse class in Whitman history," Miller said.
Nearly 15% of the group are international students—from 45 countries and sovereign nations. Almost 40% of the U.S. students identify as students of color. Setting another school record, 115 members of the incoming class will be in the first-generation of their family to attend a four-year college.
The West Coast has strong representation in the group, with 58% of the incoming class coming from Washington, California and Oregon. The next most represented states are Texas, Illinois, Minnesota, Colorado and Hawaii.
Move-In Day 2023
Enjoy these photos of our newest Whitties arriving on campus. Photography by Tera Pettit/Kim Fetrow Photography and Whitman staff.
Published on Aug 23, 2023