Alumna Brings Global Hip-Hop Message to 2019 Commencement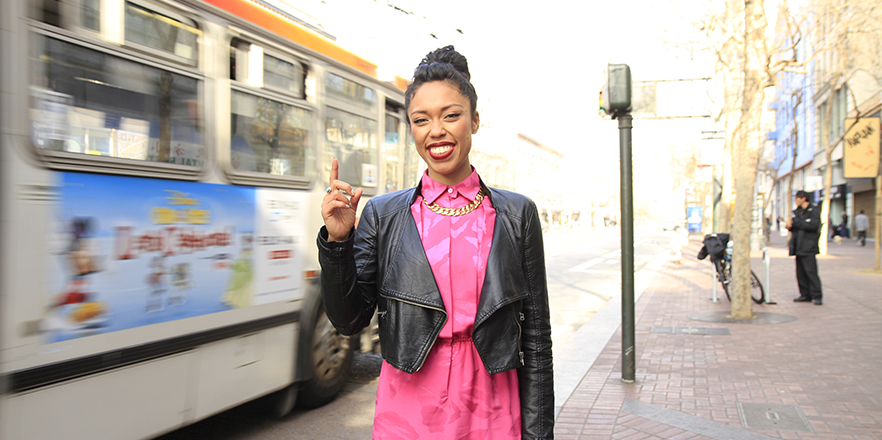 For Aisha Fukushima '09, being on the road has become second nature.
"I've been doing a lot of time travel lately - it's become a lifestyle," she said, speaking in April from Oakland, California, where she was participating in a weeklong music entrepreneurship accelerator program.
The next stop on Fukushima's busy travel itinerary is Walla Walla, Washington. The alumna, who is a performance lecturer, vocalist and founder of RAPtivism (rap activism), will deliver this year's commencement address at 11 a.m. Sunday, May 19, 2019.
This spring alone, Fukushima has ventured from her home base in Philadelphia to Mexico City, New Jersey, and the campus of North Carolina State University in Charlotte, where she spoke against sexual violence for Womxn's HERstory. Also in April, she traveled to Fort Collins, Colorado, to participate in the workshop "A World of Possibilities" as part of an artist's residency at the Music District, funded by Bohemian Foundation.
"I was there for 10 days, making music and utilizing the space. We recorded a podcast, had business meetings, got to know better how to do the social entrepreneurship work that is part and parcel to the larger bubble of keeping sustainable all the work we're creating," she said.
After graduating in 2009 with a degree in rhetoric and film studies, Fukushima received a Watson Fellowship to further her study of global hip-hop traditions in India, Morocco, Senegal, South Africa, Denmark and the United Kingdom. The resulting album and project, RAPtivism, is the product of collaborations with 20 political hip-hop artists rapping against injustice.
"RAPtivism is focused on how hip-hop - not just the music or break-dancing or graffiti-writing, but the whole culture - is a lifestyle for change, and particularly for global citizens around the world," she said. "We do activism workshops around the world, I incorporate it into my performance lectures and, of course, it is part of my musical expression."
Fukushima said the Watson Fellowship helped harness her student experience at Whitman and catapult it to a global level.
"The Watson definitely helped set the tempo for my life after Whitman," she said. "That Watson year for me was 'slow touring,' in the sense I was not just popping in and out of town. I had the chance to really sit, listen and process the information and become part of communities that, to this day, I still have deep friendships in, whether it's Cape Town, South Africa, or Copenhagen, Denmark. These are places where I feel deeply connected to the artists I worked with. There's a powerful bond there that helps me stay connected to the global citizenship that I think we all have, and it's increasingly important that we stay in sync so that we can act accordingly as global citizens who are sharing the world's resources."
Another big takeaway from her Watson year was faith in the belief that hip-hop could be a cultural agent of change.
"The Watson is an investment - not just financial, but they believe and trust in you. That's something I felt at Whitman, that trust and confidence-building," she said. "They were willing not only to invest in the resources for me to live around the world, but a deep-centered belief that I had something to offer the world."
Fukushima said she loved living in Walla Walla and being part of the Whitman community, and that local experience has laid the foundation for her global worldview.
"There is the Whitman bubble: it's cozy and such a perfect space for learning. But the Watson added this element of being catapulted into the world and you have to take all these theories and all these things you've studied," she said. "I call it the 'praxis' - it's still a theory, you're still thinking and doing the critical work, and you have to pay attention to the environment, because sometimes what we think or assume might not always be rooted in the reality of each person we meet. For me at least, as a social change activist, that's so key to what I do."
Fukushima said her commencement speech will showcase the artistry she has practiced on the global stage beside the likes of The Isley Brothers, KRS-One, Amadou & Mariam, and many others.
"True to form, I identify myself as performer lecturer, so I hope to get people involved with some sort of participatory element, whether it's grooving in their seats or raising their voices," she said.
"We're passing the mic, right? There are going to be some incredible change-makers in the audience, so many energizing people," she said. "I just want to keep that pulse going as they transition into the next phase. I think it's important to align the action with where we want to go and all those important pivots and transitory moments in our lives. I'll be raising the energy for their next journeys ahead."