Brotherly Love Fuels Watson Fellowship for Evangelos Sarantinos '20
By Savannah Tranchell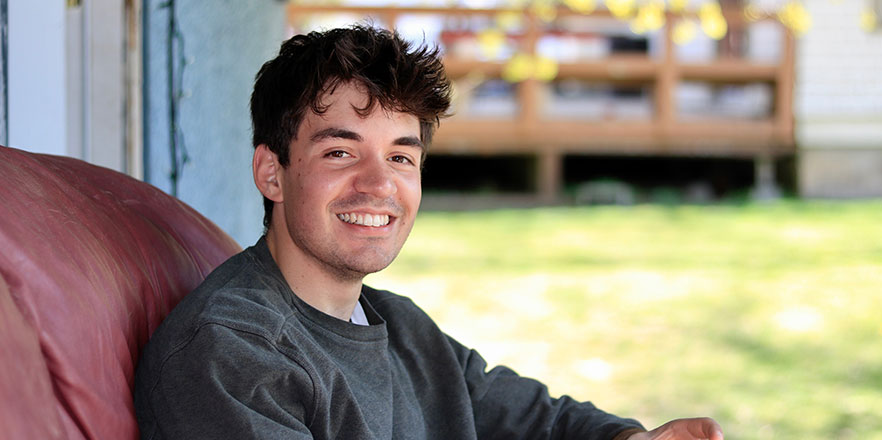 In 2001, young Luke Sarantinos was diagnosed with Sanfilippo syndrome, a rare genetic disease.
Sanfillippo syndrome is one type of a mucopolysaccharide (MPS) disease, which are caused by the body's inability to break down sugar molecules and can lead to developmental disabilities and health problems.
For his older brother Evangelos, Luke's condition ignited a passion for medicine and a particular interest in the people caring for individuals with rare disorders.
This spring, Evangelos Sarantinos '20 was awarded a Thomas J. Watson Fellowship to study rare disease and caregivers around the world.
"I've always been interested in medicine and health and caregiving. It's a big part of my family," said Sarantinos, who is majoring in biology with a minor in chemistry at Whitman College. "Not only did I spend a decent amount of time in clinical settings and hospital settings when I was younger, when Luke had his stem cell transplant, but my father is a physician. I volunteer in a number of different settings that have to do with medicine and caregiving and health."
Sarantinos first learned about the Watson Fellowship as a first-year student. From the beginning, he saw the award as a chance to better understand the world he was raised in.
"Rare diseases just came to mind. It gives me an opportunity to become an informed caregiver," he said.
Working as an EMT
Sarantinos research goals are fueled by his love for his brother, and his desire to be a good caregiver for him, but his compassionate heart extends beyond his family. In addition to his studies at Whitman, Sarantinos is a certified EMT and wildland firefighter. For more than 2 years, he's volunteered with Walla Walla County Fire District 4. For his shifts, he spends a few nights at the station responding to medical issues.
This work offers him a different perspective on caregiving relationships.
"It's been a great stepping stone for my caregiving aspirations, really," he said. "One thing that I've noticed is that with ambulance services, the time frame of developing that quick trust between the caregiver and the patient is really important. It's quick because it's a rapid emergency response kind of thing."
He received his wilderness first responder certification to lead trips for the Outdoor Program. Other members of his fraternity, Tau Kappa Epsilon (TKE), also had their EMT certification and were volunteering at the station.
His fraternity brothers with volunteer experience urged him to make the most of his EMT certification, he said. "They helped me meet the right people and get my application into the first district."
Sarantinos has also been a member of Whitman's Buddy Program, which connects college students with Walla Walla adults with intellectual and development disabilities. Last fall, he took Defining Ability and Developing Community with sociology Professor Michelle Janning. Both experiences helped him learn more about different ways people manage ability challenges.
"You get to learn about different abilities and disabilities, and how different people can overcome those," he said.
Caregiving Around the World
Sarantinos hopes his Watson experience will allow him to build on the foundation he's already created as a biology student and EMT. His plan will take him through Spain, Malaysia, Australia and the United Kingdom, where he'll be working closely with agencies in different facets of rare disease caregiving — from research and clinical settings to familial caregiving to awareness and fundraising.
"Caregiving in this context is a little more dynamic than the traditional hands-on caregiving," he said. "I wanted to try to capture it as holistically as possible."
In Spain, Sarantinos will shadow a doctor who is recruiting patients for a clinical trial on Sanfillippo syndrome. In Malaysia, he plans to study how the country has worked over the past decade to increase fundraising and awareness for their patients.
"Malaysia stands out among a lot of Southeastern Asian countries for bringing the Malaysian patient base to the international stage," he said. "I want to see how they are taking that approach."
Similarly, Australia is also known for bringing attention to its rare disease patients. There, Sarantinos will meet with doctors and researchers to understand not only the physiology and biology of MPS diseases, but also how to get that information to medical professionals and implement it in clinical trials.
During his time in the U.K., Sarantinos will get a look at a different type of hands-on caregiving. He's pairing with a mobile caregiving service that sets up with different families for a few days at a time.
"I'm hoping to meet as many families as possible, and see how this in-and-out caregiving works," he said.
He'll also study how caregiving networks and MPS advocacy groups are responding to the political challenges in the region, and what that means for funding.
Through all the research and travel, Sarantinos has two goals: One, to spread knowledge about rare disease research and caregiving to benefit the lives of patients. The second is much more personal.
"I want to become a better caregiver for individuals like my younger brother," he said. "That's going to be with me for my whole life — or as long as his disease allows me to be a caregiver for him."
Traveling During a Pandemic
When Sarantinos learned about his Watson award, COVID-19 had already caused travel restrictions around the world. Sarantinos has two years to complete his project, and is thinking through how travel and illness may impact his ability to do the work, especially in entering the homes of patients with compromised immune systems.
"I'm going to have to be as flexible as I can with the proposed agenda," he said. "I've already been in communication with some of the organizations and families. But I should be the last person on their minds right now. The priority should be the patients and their families."
Regardless, Sarantinos knows the experience will be a rewarding one and help him solidify how he can contribute to the field. That may mean medical school and studying to be a rare disease specialist, or entering a public health setting and helping direct resources to those who need them.
"I'm excited and honored to have the opportunity to figure out what I want," he said. "This project is rooted in a lot of brotherly love and a passion for caregiving, and a drive to learn more about this rare disease burden. I'm hoping to spread as much as I know and what I've learned down to as many people as possible. This patient base exists, and resources are needed. It's very important stuff to me. I'm honored to be in a position to pursue it."