All In: Debi Toews '76 Knows the Impact of Scholarships
By Savannah Tranchell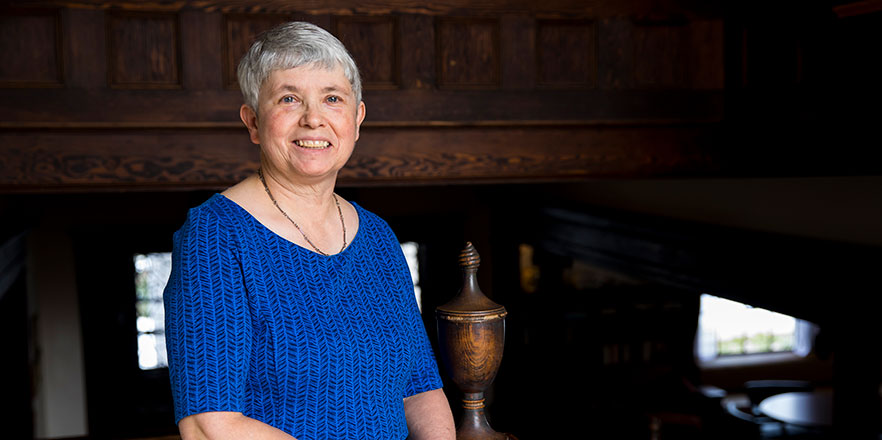 Debi (Aucutt) Toews '76 journey to Whitman College began in a hair salon.
That's where her mother ran into another mom whose daughter was a sophomore at Whitman. Her mom loved the idea of the small class sizes. For Toews, she loved the friendly approach of then-director of admissions William Tingley, whom she met at a college fair shortly thereafter.
"My mom was concerned if I went to a big school, I'd get lost," said Toews, who was a first-generation college student and grew up on Whidbey Island. But Tingley made Toews fall in love with Whitman's campus from beautiful photos of the tree-covered streets.
"I applied Early Decision and got a good financial aid package," said Toews. But she did have one brief moment of doubt. "We had a 1963 Ford Galaxy with vinyl seats. And we came over 9-Mile Hill in August with no air conditioning, and I thought, 'That man lied to me!' In August, it looks like a desert when you come over the hill."
But Tingley's promise of tree-lined streets and a lush campus proved true after all, and Toews has never looked back from her decision to attend Whitman.
Today, she remains active with the college. She joined the Alumni Board in 2018, but also has been the "Team Mom" for Whitman's cycling team, a club sport, for about eight years. Toews has been an active cyclist for years, and the team needed a chaperone for out of town events. She and her husband, James "Jim" Toews '78, often open their home to students who need a place to live for the summer, or just a home-cooked meal.
"The best part is the relationships with college students," Toews said.
She and Jim also support the college through giving, particularly to support club sports like cycling and scholarships for first-generation students.
"I couldn't have come here without the scholarship," Toews said. In the 1970s, Whitman College tuition was around $4,000 a year. Toews mother only made $8,000.
Attending Whitman opened up many pathways for Toews, who majored in English. She and Jim, who studied biology, got married in 1977, a year before he graduated. Jim had planned to teach, but the Canadian-born student was prohibited from receiving a teaching certificate because of a lingering WWI-era law.
"He was painting for the college and I was working at the community college," Toews said. "Someone said, 'You're young. Teach overseas! And I said, 'Well, that's great, but Jim would never do that.'"
That same day, a colleague painting with Jim announced he was joining the Peace Corps, and encouraged Jim take a look.
"He said, 'Well, that's great, but Debi would never do that,'" Toews recalls, with a laugh. They compared notes at dinner, and then connected with a former principal who was working at a school in Kenya.
"It transformed how we look at the world," Toews said. The couple spent two years teaching in Kenya before returning to Walla Walla and having their first child. Jim went back to school and studied nursing and Toews began teaching English as a second language. Eventually, she earned a law degree, retiring in 2016 as partner at Willis &Toews, PLLC.
As a lawyer, she was an advocate for cyclists, testifying before the legislature on behalf of cycling legislation. In 2005, she won the Washington State Susie Stephens Award for Bicycle Advocacy on behalf of her successful efforts to get the Safe Passing Law passed in Washington. In 2006, Debi won a "Hometown Hero" award from the Blue Mountain Chapter of the Red Cross for her work in Public Safety.
Toews got interested in cycling when her son, Mark, got a bike at age 7.
"I went for a bike ride with him and thought, 'Well, he kind of trashed me," she said. "So I got a bike and worked up to riding to work."
Gifts to the cycling club support the team's travel expenses to national tournaments and other events. As a club sport, the team runs like a small business. Toews has seen participants not just grow their athleticism, but also grow their social skills.
"I've seen students grow from very shy and withdrawn to being president by their senior year," she said.
The couple enjoy having students over and building relationships. It keeps them young, Toews said.
"Just talking to someone who is your age, you can get old," she said, with a laugh. They also help do outreach with the Office of Alumni Relations, helping others maintain their connections with the college.
"More and more of our alumni are younger, so we help with bringing on younger board members," she said.
She encourages all alumni to give back in one way or another, whether it's their time or their finances.
"If you want to make the world a better place, one of the ways especially is with scholarship money," she said. She and Jim have also named the college in their estate. "I think that's one of the ways you can pay it forward to generations to come, although hopefully I won't be making that contribution too soon!"
Published on Apr 16, 2019