Daniel Leong '21 Receives Carlstrom Endowed Award in Japanese Studies
By Genevieve Vogel '2024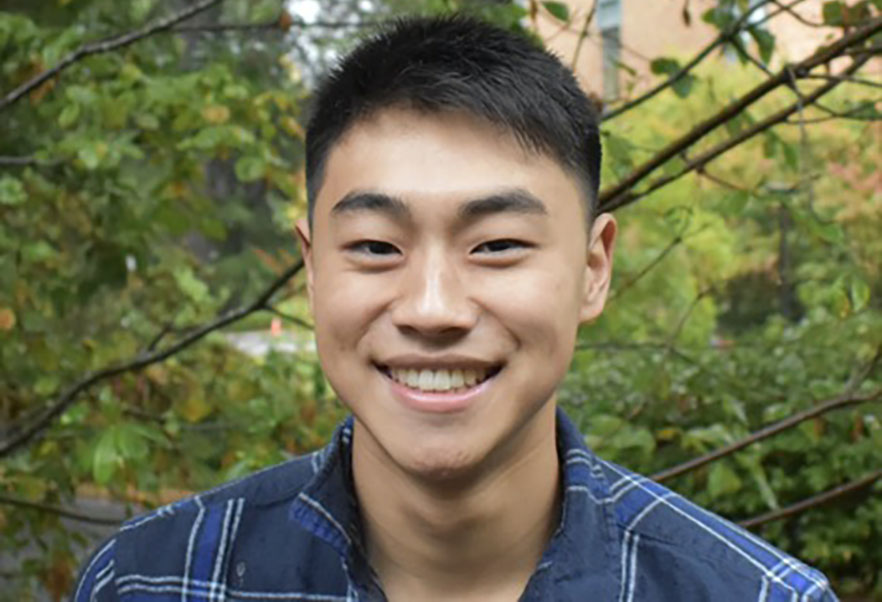 Daniel Leong '21, a psychology major and Japanese minor committed to demystifying mental health, has received the Connie Jill Carlstrom Endowed Award in Japanese Studies. The annual award recognizes students who "show great interest in pursuing a career or graduate studies in some aspect of relations between Japan and the United States." Students must have studied college-level Japanese for at least a year and reached junior status to be considered by the faculty committee.
Leong, who graduated with honors in May, was highly involved with community mental health advocacy while at Whitman. He volunteered for two years with Walla Walla Community Hospice and built the Mental Health Network of Walla Walla website. His lab research with Thomas Armstrong, associate professor of psychology, along with other professors and students on the emotion of disgust was recently published in the Journal of Anxiety Disorders. Their publication looked at the "management crisis'' over how best to measure disgust. Armstrong focused mainly on eye tracking as a measurement tool while Leong assisted by analyzing fMRI and EEG brain scans.
Cultural Perspective
A fourth-generation American, Leong started studying Japanese in elementary school. "I am half-Japanese half-Chinese, but I was more in touch with my Japanese roots growing up," he said. Leong believes his background strongly influences his worldview and the values he holds today. However, when he began to understand the stigma around mental health and people with mental illness in Japan, his impression of Japanese culture shifted. He felt an urgency to research mental health in Japan further, especially in regards to the stigmas that discourage many Japanese people from seeking treatment.
Leong also connected with Whitman's Japanese language assistant, Ridney Wijesighe, over their shared passion for the psychology field. Their conversations were pivotal in helping Loeng translate his passion for Japanese studies to his aspirations for a career in psychology, within and beyond Whitman.
"We would have our weekly language session and basically we ended up talking about psychology a lot," Leong said. "That's how [Wijesighe] started helping me on my project, so he was my main connection between the Japanese department and my psychology goals."
Connection and Context
Wijesighe introduced Leong to Dr. Aoki Ōshima, Wijesighe's former professor at Tokyo University of Social Welfare in Japan. Ōshima also runs the Shounan Psychodrama Institute, a psychotherapy practice in Japan, where Leong was able to intern remotely the summer before his senior year.
Over the course of the internship, Leong had the opportunity to conduct research on mental health stigma in Japan, as well as attend Oshima's graduate-level lectures. His research question centered on if Japanese attitudes toward mental health were malleable among his research pool of college students after showing them educational materials that helped contextualize mental illness. He looked at four domains of attitude: authoritarianism, benevolence, social restrictiveness and community mental health ideology.
"I got really lucky with Professor Oshima and that he let me use the school he worked at as my participant pool."
Although his sample of Tokyo University students was small, Leong was able to conclude that authoritarian attitudes toward mental health did change significantly by exposing Japanese college students to educational materials. There was also a decrease in the sample pool thinking people with mental illness were inferior. He employed the information he gathered over his internship to construct his major thesis.
This fall, Leong will be continuing his education at the Wright Institute in Berkeley, California where he will pursue a doctor of psychology (PsyD) degree in clinical psychology. He is especially interested in treating Asian American patients and hopes to integrate what he learned through his research into clinical practice.
Published on Jul 30, 2021