Into the Woods: Senior Clara Hoffman Studies the Impact of Predators in the Pacific Northwest
By Savannah Tranchell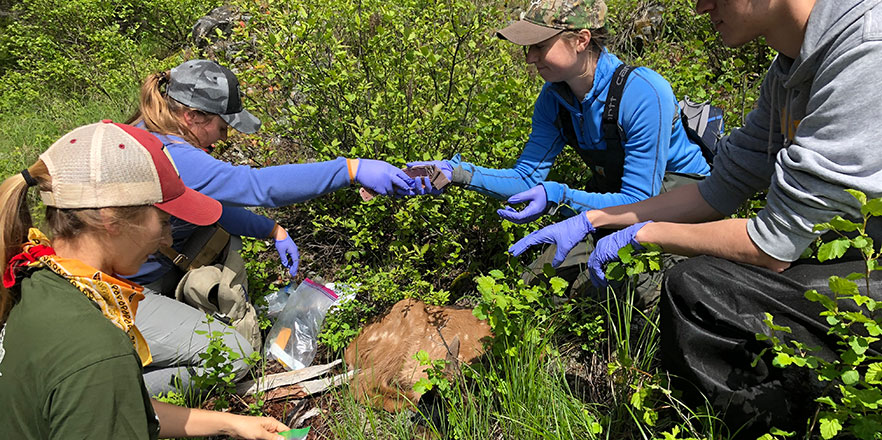 On a late spring day, Clara Hoffman is creeping through the woods, as quietly as possible. She and her fellow researchers are using radio signals to triangulate the location of a cow elk in the area. Somewhere near her, a calf is hidden in the woods.
Their mission is simple: Find the calf, blindfold it to keep it calm, fit it with its own radio collar, take measurements, and then clear out.
Within 10-20 minutes of locating the newborn, the research team is gone again, off to find more calves and fawns born in the woods around rural Chewelah, Washington.
Summer in the Field
A rising senior and biology major, Hoffman is an intern with the Washington Predator-Prey Project. The project is a partnership between the state's Department of Fish and Wildlife and the University of Washington. The goal is to study the potential ecological impact of recolonizing wolves on carnivore and ungulate populations.
Hoffman is working on the carnivore-ungulate interactions portion of the project, specifically how elk and deer populations are affected by predators. For the first part of the summer, the research team found newborn elk and white-tailed deer to fit them with radio collars.
"The first elk that we found was a really easy search. We kind of stumbled upon it just as we were getting into the area. I haven't handled much wildlife before," she said. "Just getting to put my hands on this precious, fuzzy, very wild animal — it was hard to focus on being efficient in our protocols when everything in my brain was thinking about just how adorable its button nose and gangly legs are. To be involved in this animal's life just a few days after it was born was a powerful experience."
Now, the team can use the radio signals to see where the animals go. When one is killed, they hike out to the carcass to collect data and try to deduce the manner of its death.
"There's definitely an art to deducing how something died — who ate this," Hoffman said. The team wants to know not just how an animal died — such as disease, starvation, vehicle collision, human action or a predator — but if it was killed by a predator, they want to know which one. In the region, possible predators include not just wolves, but also coyotes, cougars, bobcats, domestic dogs and bears.
When an animal dies, the radio signal changes. The team then conducts a field necropsy, examining bite marks and the condition of the carcass to assess how it died.
"If it is predation, are some trademark characteristics you'll see. Canines tend to do this, where as felids tend to do this. It's not so much about the amount of the animal that's consumed, as much as the nature of consumption," Hoffman said. Cougars are neat eaters, whereas bears tend to be messy, she said.
The necropsy aspect of the internship is a shift from where she started: Capturing cute, fuzzy newborns.
"It is a little sad, because everything you're working with, you held when it was a very alive newborn," she said. "But at the same time, it's pretty unique to be able to understand this part of the food chain. Sometimes you're seeing an amazing predator doing its job well, but you are always witnessing the transformation of energy through an ecosystem."
Lifelong Love of the Outdoors
Hoffman is originally from Thetford, Vermont, where she grew up in the outdoors on her family's farm. She's always been passionate about nature and always considered ecology and wildlife biology as a career path.
She participated in Semester in the West, where she met Kent Woodruff, a retired USFS wildlife biologist and director of the Methow Beaver Project. Woodruff encouraged her to take the internship with the Predator-Prey Project, which is being conducted partially in the same area he works in.
This is Hoffman's first time working with wildlife in the field for a whole season. Her experience is funded by the Whitman Internship Grant, which allowed her to stay on for the entire summer, rather than just the capturing portion of the project.
During the capture season, Hoffman was working in a crew of three other student researchers, and Taylor Ganza, a doctoral candidate from the University of Washington. For the monitoring, the team has reduced to just one other crew member and Ganz. The researchers live together in a house in Chewelah. In response to COVID-19, to start the project, they quarantined for two weeks before arriving, and now limit their interactions with community members as much as possible.
"I was super thankful that this job still happened," Hoffman said. The pandemic has made it a little more difficult when they need to enter private property in search of an animal. "It's made it a little bit more difficult, because normally we could knock on the landowner's door and explain what we're doing, but that is a last resort right now."
Instead they have to try to find phone numbers to contact property owners. Most people are curious about the project and willing to help, she said.
"Landowners generally are very curious and open to the project, though wolves are a very hot topic," she said. "Everyone has their own theories about the wolves, and learning how to navigate people's strong feelings about that topic has been interesting."
Seeing Her Future in Wildlife Biology
Hoffman plans to use her internship experience as the basis of her senior thesis. Eventually, she'd like to go into graduate school and continue to work in the field.
"The internship has reinforced my interest in wildlife biology and but also given me a window into the life of a Ph.D. student, and what that looks like. That's been really helpful in informing what I want to do in the future," she said.
While the project uses the statistics, biology and ecology skills she's learned in her Whitman classes, Hoffman is also learning a variety of new skills, such as using radio telemetry to locate animals in challenging environments, tracking and communication.
Published on Jul 21, 2020