Christian Moreno '21 Pursues Dream Puerto Rican Internship from Walla Walla
By Savannah Tranchell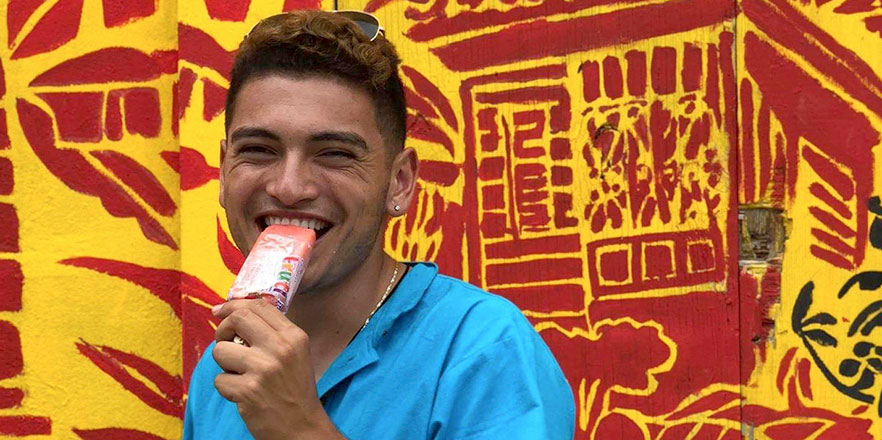 Christian Moreno has always wanted to study abroad and grow an international perspective on the world.
But as a student impacted by Delayed Action for Childhood Arrivals (DACA), Moreno lacks the necessary paperwork to leave the country. But the rising senior wasn't about to let that stop him.
"I was just trying to think of ways to get around it. I don't want to miss out on the study abroad experience that my peers are having," said Moreno, who moved to Walla Walla from Mexico with his family when he was 3 years old. "I really wanted to leave the country and get a different lens on the lives of other people."
Moreno transferred to Whitman College last fall, and began working in the Student Engagement Center. That's where he learned about the Whitman Internship Grant, and saw a window to fulfilling his dream. Moreno realized that the U.S. provided the opportunity he needed — in Puerto Rico, a U.S. territory that doesn't require a passport to visit. He worked with Mitzy Rodriguez, assistant director for internship programs, to create an internship proposal to work in Puerto Rico.
"Puerto Rico is bilingual, and I really want to use that to my best advantage and be able to speak English and Spanish fluently in a professional environment," said Moreno, who is double majoring in Spanish and Economics. "It was the closest experience I could get to 'leaving' the United States, and immersing myself in a different culture."
Unfortunately, travel restrictions around the COVID-19 pandemic prevented Moreno from actually leaving Walla Walla, but it hasn't stopped the intrepid student from pursuing his international internship.
This summer, Moreno is an intern for Haser Inc, a nonprofit group that works to strengthen other nonprofits in Puerto Rico by offering administrative support, strategic planning and proposal development and fiscal sponsorship. Moreno is helping create business plans for organizations that focus on sustainable education, agroecology and community well-being.
"It's very unique, and very modified, from what I planned," he said. "But it's still pretty cool."
The internship builds on a Community Fellowship he participated in with Mercy Corps Northwest last year. With Mercy Corps, Moreno provided feedback on business plans and gave advice to applicants on how to improve their proposals. Now he's helping write plans, and also connecting nonprofits with resources in Puerto Rico, and researching the legal side of running a nonprofit.
"I was so excited to do the job in Puerto Rico, but right now I'm grateful for the opportunity that I have," he said.
Growing as a Learner and Leader
In addition to finishing his degree at Whitman, he is also the legal guardian for his younger sister, who is finishing high school in Walla Walla. His family moved back to Mexico two years ago. Ultimately, Moreno hopes to earn his MBA in international business. He said he's grateful for the resources that Whitman has provided, such as funding a trip to the Latinx Leads student leadership conference last fall.
"We always face some sort of imposter syndrome," he said. "But I was able to attend the conference and learn about Latino leadership, and what it means to face imposter syndrome, and face that as a student of color in a predominately white institution."
The conference encouraged him to pursue the internship, even after the COVID crisis changed almost everything.
"It really strengthened me to say, 'There is a pandemic, but you have what it takes. Shoot for the internship, see what you can learn out of it,'" he said.
This summer, more than 100 students received Whitman Internship Grants, which are funded through the Student Engagement Center.
Published on Jul 16, 2020