Summer Research Project Examines Feminism and Email Plug-In
By Emily Solomon '21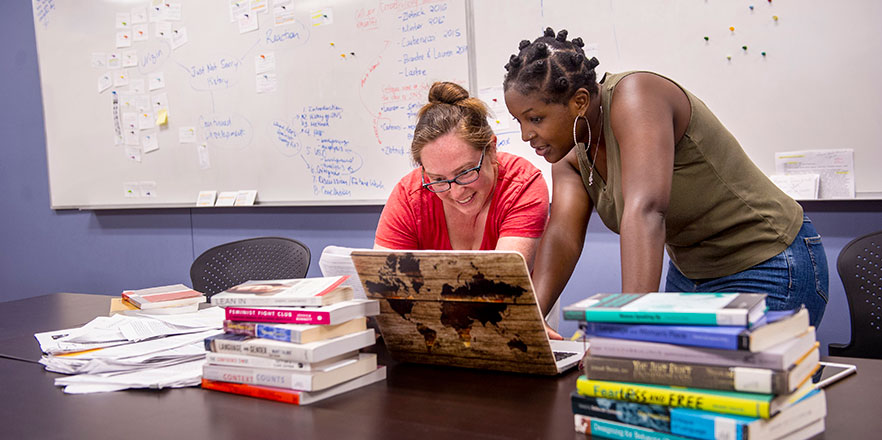 Buyaki Nyatichi '20 is spending her summer in Walla Walla exploring how technology can empower women to express themselves more confidently in emails.
Originally from Nairobi, Kenya, Nyatichi is one of more than 70 Whitman students partnering with faculty across campus through the college's Faculty-Student Summer Research Awards, given through the Office of the Provost.
A computer science major with a minor in German studies, Nyatichi is spending the summer in Walla Walla doing research with Associate Professor and Microsoft Chair of Computer Science Janet Davis. Nyatichi learned about Davis' summer research project through one of the CS weekly lunch sessions, and she knew immediately that she wanted to work with her.
"When Professor Davis shared her summer research plans, I was looking at both internships and research opportunities. I had not settled on one or the other," said Nyatichi. "But after hearing what her plans were, I decided that I wanted to be involved and the fact that it was in Walla Walla made the decision that much easier for me."
Nyatichi and Davis have been conducting an interdisciplinary study of a Gmail plug-in called "Just Not Sorry." This is a simple browser extension that highlights words and phrases in a draft email that appear to undermine the sender's confidence. The goal of this plug-in is to allow women to more easily express their confidence through emails by pointing out hedge words and other qualifiers.
The ultimate goal of the study is to write a research paper based on their findings and to contribute new features to "Just Not Sorry." Nyatichi and Davis have taken time during their work to plunge into feminist and linguistic literature, which contributes to the interdisciplinary aspect of the study as they are able to see how "Just Not Sorry" relates to contemporary feminist values.
Aside from reading articles about the Gmail plug-in, Nyatichi and Davis studied many academic papers on persuasive technology and value sensitive design. Persuasive technology refers to any interactive computing system designed to change people's attitudes or behaviors. For example, "Just Not Sorry" aims to change the user's behavior by helping them avoid hedge words. She also studied value sensitive design, which is an approach where human values are addressed in a principled and comprehensive manner at every stage of the design process. This means throughout the creation of a technology, the designers consider the values implicated by the technology and make decisions based on those.
Nyatichi enjoyed gaining this background knowledge as she delved deeper into her own work. She has also greatly appreciated the experience of working one-on-one with a professor.
"I have enjoyed a close relationship with her,where we have shared about our personal lives and future plans," she said. "I have gained a lot of insight from her experiences as a woman in computer science, who is also a mother and wife, among other identities."
This close relationship between student and professor is one of the many great things one can gain from the liberal arts experience. Being in a classroom with a very small student-teacher ratio makes learning more accessible, but even more so being able to have one-on-one experience with a professor allows students to develop their skills even more thoroughly. Both professors and students seem to really value this experience.
"What I find most valuable about summer research with students is sharing ownership of a project," Davis said. "I get ideas from collaborating with students that I never would have had on my own, and it is so rewarding to see close up how students grow and learn they are capable of more than they realized."
Nyatichi entered her summer research with high expectations, both for her work itself and herself as a researcher. Having an open mind has made her more eager to learn and gain different perspectives through her interdisciplinary work.
In addition to the helpful daily check-ins with Davis, Nyatichi has learned to stay organized on her own.
"I organize my tasks and decide what order I should execute them. This has really helped me be more organized." Nyatichi explained.
So far, she has gained many skills that she knows will help her in the future tremendously. Feeling more like a collaborator than just a student helper, Nyatichi shared that this level of responsibility inspires her to do better; be better.
"Over time, I have gotten better at writing and asking for feedback," she said. "I am also learning some coding skills which are very important for any computer science student, along with essential time management and organizational skills."
Published on Aug 19, 2019