Whitman professors receive distinguished faculty awards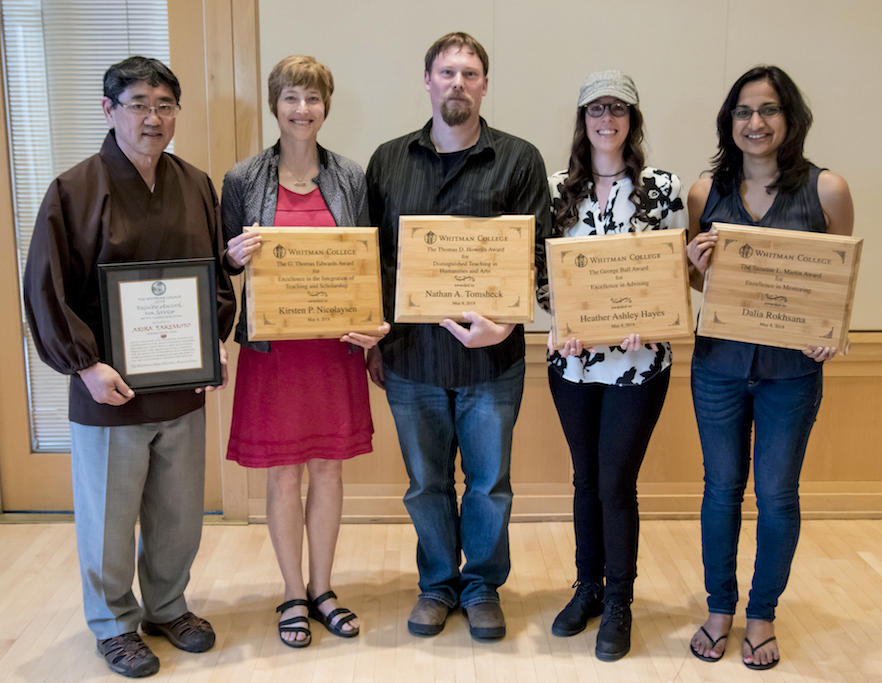 Every year, Whitman recognizes outstanding contributions by individual faculty members, presenting them with awards for demonstrated excellence in teaching, advising, scholarship and mentoring. These awards are named for legendary faculty emeriti whose impact on generations of Whitman students formed a legacy that helps define the Whitman academic experience.
The following members of the Whitman faculty received awards this year and will be honored during the college's Commencement ceremony on Sunday.
Assistant Professor of Rhetoric Studies Heather Hayes
George Ball Award for Excellence in Advising
Hayes came to Whitman in 2013 after earning her bachelor's degree at Trinity University, her master's degree at Texas State University and her doctorate at the University of Minnesota. Hayes teaches a variety of rhetoric courses in human communication and public speaking, rhetoric of civil rights and hip-hop music. In the words of one student, Hayes has "mastered the ability of cross-cultural communication and is willing to engage in difficult conversations about race, religion and gender." Her students called her an "incredible, unmatched and strong role model for women." Several of her students have won prestigious awards from the National Communication Association and credit her for encouraging them to pursue their studies beyond Whitman.
Associate Professor of Geology Kirsten Nicolaysen
G. Thomas Edwards Award for Excellence in the Integration of Teaching and Scholarship
Nicolaysen came to Whitman in 2006 after earning a bachelor's degree from Colorado College, a master's from the University of Wyoming and her doctorate from MIT. Nicolaysen teaches courses ranging from minerals and nuclear fuel cycle to igneous and metamorphic petrology to environmental geology. She has received several National Science Foundation grants as well as faculty-student research grants. Nicolaysen's enthusiasm and passion for geology have inspired many students, especially young women, to continue their studies beyond Whitman in similar fields. One of her colleagues said, "she conducts impactful and innovative geology research while maintaining a very high teaching standard and simultaneously gives many undergraduate students an opportunity to engage in collaborative research with her."
Assistant Professor of Psychology Erin Pahlke
Robert Y. Fluno Award for Distinguished Teaching in Social Sciences
Pahlke came to Whitman in 2012 after earning her bachelor's degree from Wellesley College and master's degree and doctorate from the University of Texas, Austin. She teaches a wide array of courses, including courses in research methods, educational psychology, adolescent development and psychology of women and gender. Pahlke has inspired her students to think beyond their life on campus to volunteer locally, nationally and internationally. "Erin Pahlke has consistently gone above and beyond to advise and teach her students so that they may reach their full potential," said one student. "She creates opportunity for all students to participate, and kindly and quietly pushes students to go a little beyond their comfort zone in order to shine."
Senior Lecturer of Theatre and Technical Director Nate Tomsheck
Thomas D. Howells Award for Distinguished Teaching in Humanities and Arts
Tomsheck came to Whitman in 2014 after earning his bachelor's degree from Whitworth College and M.F.A. from the Yale School of Drama. Nate teaches classes in technical theatre production. Not only does he teach students technical design skills, but also life skills such as how to run a show within time and budget constraints. Over the years, Nate has shared his wealth of knowledge and expertise in prop design and construction and provided support and mentorship to first-time theatre designers. One student wrote, "he offers his unique perspective and advice" and said that he "pushes students to take the lead and try new things." The opportunities Nate has provided to students have positively influenced their academic achievement and expanded their views as designers and artists.
Associate Professor of Mathematics Doug Hundley
A. E. Lange Award for Distinguished Science Teaching
Hundley came to Whitman in 1998 after earning a B.A. and M.S. from Western Washington University and his doctorate from Colorado State University. He teaches calculus, linear algebra and differential equations. Hundley provides constructive, creative and supportive learning environments for students, who praise his dedication to their success and his commitment to helping them see the larger implications of the subject matter. Students call his classroom experiences "eye-opening" as he helps them apply math concepts to other fields like computer programming and image processing. His dedication to teaching and passion for mathematics are apparent in everything he does.
Associate Professor of Chemistry Dalia Rokhsana
Suzanne L. Martin Award for Excellence in Mentoring
Rokhsana came to Whitman in 2010 after earning her bachelor's degree from Jahangirnagar University in Bangladesh and her doctorate from the University of Montana. Professor Rokhsana teaches courses ranging from general chemistry to advanced synthesis and computational biochemistry. She puts great care into her one-on-one work with students. As one of the few Muslim faculty members at Whitman, Rokhsana demonstrates a strong commitment to Muslim students on
campus in the face of challenging political conditions. Whether by organizing Friday prayer meetings in Prentiss Hall or speaking during a student-organized rally in response to the travel ban, Dalia goes above and beyond to support and mentor students. A colleague noted, "Professor Rokhsana exemplifies Professor Martin's spirit so well in all the love and care she brings to students at Whitman" and calls her dedication to advising "simply exemplary."
Assistant Professor of Japanese Ron Takemoto
Faculty Award for Service (presented by the Alumni Association)
Takemoto came to Whitman in 1984 and became involved with the alumni office shortly thereafter. Since then, he has assisted with nearly 20 alumni programs, including arranging for Japanese artists to visit campus during a reunion weekend in the spring of 1992. Alumni were then invited to participate in workshops in flower arranging, calligraphy and making sweets. He has traveled to Portland at least three times to speak to alumni on a variety of topics. On many occasions, he has demonstrated The Art of Serving a Bowl of Tea and hosted numerous open houses in the tea room. For many years, he also organized the Bob Burgess Tennis Tournament during both spring and fall reunion weekends.
Published on May 17, 2018