Whitman toasts Ashley Trout '03, winemaker for Academy Awards attendees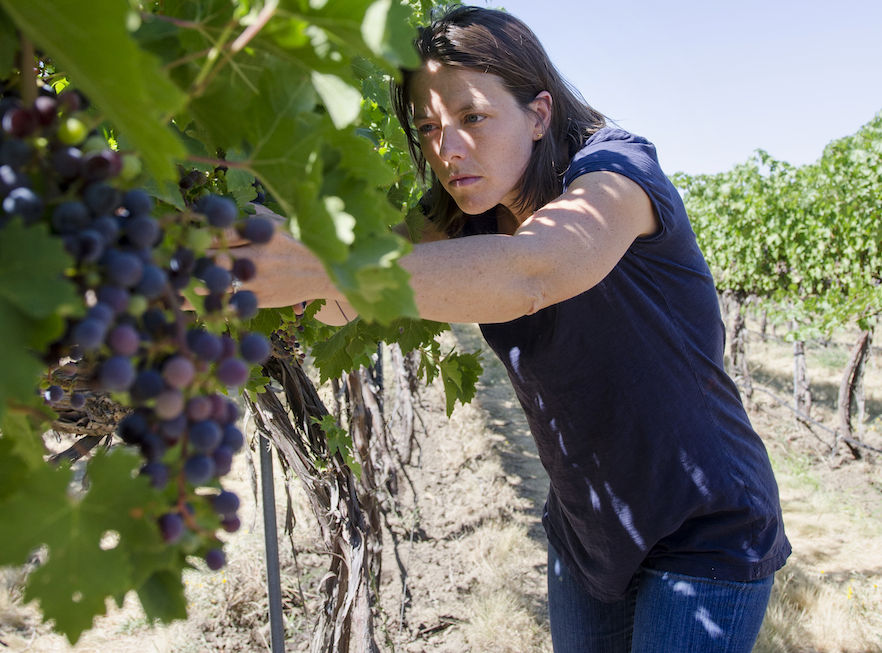 Local winemaker Ashley Trout '03 will pour for the rich and famous this weekend at a pre-Oscars party at the Millennium Biltmore Hotel in Los Angeles. It's the first time a Walla Walla winery has catered an Academy Awards event.

Trout, who majored in anthropology at Whitman, has worked in the wine industry for more than 15 years. She launched March Cellars last year. Also in 2016, Trout uncorked Vital Wines, a nonprofit label to help fund better access to healthcare for seasonal vineyard and winery workers in the Walla Walla Valley, with all proceeds supporting SOS Health Services, a free community clinic.
In the Biltmore's gifting suite on Saturday, Trout and her team will treat Hollywood celebrities and executives to "The Gifted," a red blend under the Vital brand, and a chardonnay from March Cellars. We caught up with her beforehand to ask about the star-studded event. Edited excerpts follow.
Whitman College: How did this gig come about?
Ashley Trout: The person in charge of the gifting suites for the Academy Awards had a bottle of Vital, liked it, liked the message and purpose of the company and contacted me to see if we could be a part of this year's festivities.
WC: Have you seen any of the films that were nominated this year?
AT: I have a three-year-old, a five-year-old, two dirty dogs, two young companies, a hyper husband, four chickens and when I find four minutes, I try to get some exercise by climbing at the Whitman climbing wall. So no, I haven't seen a full-length movie aside from Frozen in a long, long while.
WC: What are your long-term goals for Vital and the local industry?
AT: In addition to drastically raising the budget for the local SOS Clinic, I'd like for Vital to start the conversation for how we treat each other as coworkers, friends and family here in the valley in ways that no one is currently discussing. The increased recognition has allowed growers to get big enough that they can do something like donate a ton of fruit. In only our second vintage ever, I had to turn down 29 tons of free fruit because I was offered so much. That's because Walla Walla is doing well, because of nature (high tonnage this year) and because the people in this valley are wonderful. Without the first of those three, which is due to the national recognition our wines are getting, the last two issues still wouldn't have resulted in 29 tons of extra free fruit. It's such a fun ride right now. I'm thrilled to be a part of it.
WC: Are you planning to attend the Academy Awards?
AT: No one in their right mind would allow me, nevertheless invite me, to attend the Oscars-our event is for the nominees and guests the day before. But I've got a girlfriend in tow and a long, rich history of attending parties that I'm not "officially" invited to in the L.A. area, so we'll see.
WC: Do you know what you're going to wear?
AT: Jeans? My friend, Jen, is coming with me. She is the wine club manager at Pepper Bridge Winery and one of the more fun, adventurous people I've ever met. She's the kind lady you want to do an Academy Awards/L.A. trip with. We've also got a casual winemaker dinner lined up for Saturday night, a distributor meeting, a weird errand to run for another friend and may or may not be staying in a haunted hotel-it will be a varied weekend of awesomeness.
Published on Feb 24, 2017