Whitman welcomes Class of 2020, celebrates 135th convocation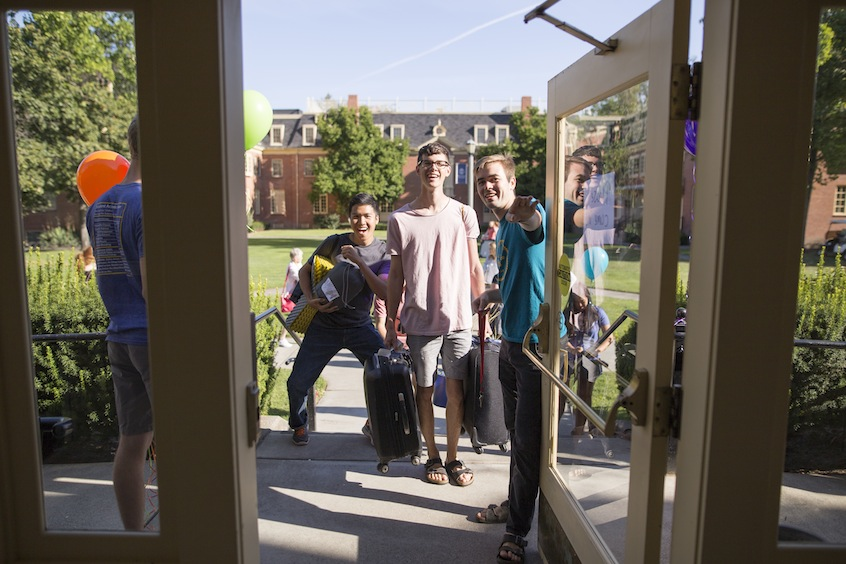 It was 75 degrees and sunny as the Class of 2020 and their parents faced their first collegiate right of passage: move-in day. And as 427 first-year and transfer students tromped across the grass with their belongings yesterday, the Whitman community turned out in force to greet the new arrivals.
"The energy is so high right now," said Jessi Anderson '18, the aptly named resident assistant of E Section in Anderson Hall. "I'm really excited to have a part in helping shape a new community and a new era at Whitman."
Among the staff and faculty members assisting families was President Kathleen Murray, who made the rounds between first-year residence halls. Her message to the incoming class? "I wish them a huge welcome," she said. "And I'm so pleased at this stunningly beautiful morning for move-in. It's just about perfect."
Many members of this year's class traveled a long way to get here. Although the majority of students are from the west coast, 37 states and 14 countries are represented among the Class of 2020. They converged on Whitman's campus from as nearby as a few blocks and as far away as Kenya: more than 9,000 miles.
No matter the distance, however, residence life staff worked hard all summer to ensure that once new students arrived on campus, they felt at home.
"We want to make it festive," said Andrew Johnson, assistant director of residence life and housing. "This is a celebratory day in a lot of ways. This is their beginning."
As students checked in, they discovered residence halls decked out with welcome signs and balloons; world maps adorned the walls in common spaces, with pins indicating each student's hometown.
"We do a lot of preparation for this, just making sure it all comes to fruition," said Nancy Tavelli, associate dean of students for campus life. "I love to look at all the RAs' door decorations, because they work so hard on them."
Jessi Anderson agreed. "They're really individualized. We all got to pick our own theme. My section is succulent-themed, so everybody's got a little succulent decoration on their door, and their birthdays are in little terra cotta pots."
The Class of 2020 is 55 percent female and 45 percent male; 22 percent are students of color; and eight percent are international, the highest number yet in any entering class. In high school, this academically talented cohort achieved a median GPA above 3.8, and a median SAT score above 1950.
"I'm excited to see all of them come in," said Sunny Ysa '18, another RA. "It's kind of nostalgic to realize that I was here two years ago, and now I'm on the other side."
While most new students will be meeting each other for the first time as they settle into college life, two already have a shared history: Mady Burdett '20 and Lily Gustafson '20, both from the Seattle area, have played basketball together since the fourth grade. (Fun fact: Burdett is a twin and Gustafson is a triplet, and the siblings all grew up with the sport. Their mothers, who accompanied them on move-in day, said the two aren't roommates but will be neighbors in Anderson Hall.)
Assistant Women's Basketball Coach Casey Kushiyama was thrilled to recruit Burdett and Gustafson for the Whitman team, along with five other star players from around the country.
"It's a lucky year," he said. "Everything worked out. It's a really big class this year, and we love every single one of them."
For parents, seeing sons and daughters off for their first year of college can be as emotional as it is exhilarating.
"It's really great to watch how much parents want to help, and then to see so many students who are like, 'I got it!'" laughed Ysa. "They're really eager to be independent."
In her address at Whitman's 135th Convocation ceremony today, President Murray touched on the same subject.
"You are about to enjoy a level of freedom and personal choice that you probably have not experienced in your life," she told students. "You will have opportunities to learn both within and beyond the classroom. Take advantage of all of those opportunities and always remember that your business here is to learn."
Other speakers at Convocation included Dean of Admission and Financial Aid Tony Cabasco '90, Provost and Dean of the Faculty Alzada Tipton, Associate Professor of Biology Ginger Withers and Associated Students of Whitman College President Arthur Shemitz '17.
Representing the faculty in her remarks, Withers said, "Each of your professors at Whitman wants the same thing for you. We want you to find your own path, to speak in your own voice, and to take on new challenges."
She also encouraged students to embrace their creative thinking skills, and to not be afraid to push past their comfort zones in pursuit of higher knowledge.
"In a liberal arts setting like Whitman, we are charged to investigate issues of humanity in a vigorous and balanced way. With so many tools at our disposal, and with a campus that is just the right size to walk across, we should never feel constrained by disciplinary borders."
Published on Aug 26, 2016