Interest House Community rocks out with annual block party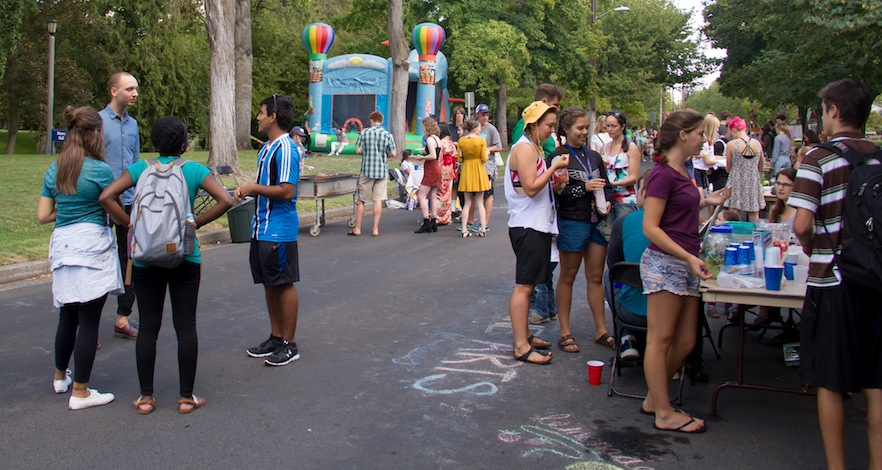 At noon on Saturday, Whitman's Interest House Community (IHC) took over Boyer Avenue to host their annual block party.

The event, which takes place between Otis and Merriam Streets, is open to the entire community and has been a campus tradition for at least 20 years, according to Associate Dean of Students Nancy Tavelli.
This year, the celebration featured a bounce house, cotton candy and booths run by each of the 11 interest houses, which range from foreign language-themed houses to a house focused on community service.
By 1 p.m., the street was packed, and it wasn't just members of the IHC enjoying the festivities.
Abigail Scholar, a nearby resident, stopped by the Fine Arts House booth, where her son, Sebastian, got his face painted. ("I'm turning into a Storm Trooper!") Another local resident, who said he attends the block party every year, arrived with his three dogs in tow.


Flora Kline '19, who lives in the Environmental Interest House, otherwise known as the Outhouse, said this relationship with greater Walla Walla is a key part of the IHC.
"Living here, I feel more connected with the community outside of Whitman."
Many members of the first-year class were also in attendance. Cameron Conner '20, who is considering applying to live in the IHC next year, dropped by the Global Awareness Interest House table to identify flags from around the world. Conner, who is passionate about world affairs, spent a gap year providing earthquake relief in Vietnam and refugee aid in Greece.
"I think people in the Global Awareness House share that passion," he said.
Walker Orr '20 stopped by to give slack-lining a try for the first time. While he struggled to keep his balance, outdoor enthusiasts living in Tamarac House fried quesadillas on a camp stove. (While Tamarac is not an interest house, it does serve as another on-campus residence option for sophomores, juniors and seniors who share a love of the great outdoors.)
Perhaps the block party's star attendee was McKinley, a hypoallergenic Siberian kitten with his own Instagram account, who is an emotional support animal for one of the residents.
IHC Resident Director Adam Dawson '16 said that the enthusiasm the block party promotes continues throughout the year.
"You apply to [live in] a house, and that builds passion and excitement," he said. "The residents are stoked to be in the house."
Whitman students may still find remnants of the festivities on their way to class this week. The Japanese Interest House (Tekisuijuku, or TEK) encouraged those who visited its booth to paint Pokémon rocks, which they hid around campus after the block party. Those who find the rocks and return them to the TEK are eligible for a candy reward.