Cob ovens: A final project with lasting effects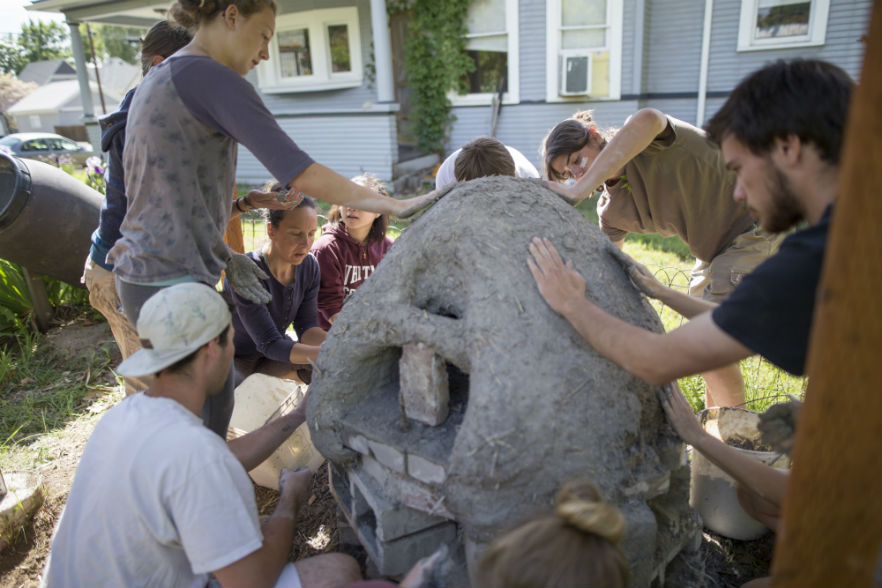 As students finished up the semester, many found themselves holed up in the library with final papers, studying for final exams or completing creative projects. While many classes hold their students to high creative standards, one final project for an introduction to environmental studies course was particularly unusual: five students had to build an oven out of cob—a simple mixture of straw, clay and sand.
On a sunny day in late April, Assistant Professor of Anthropology and Environmental Studies Eunice Blavascunas gathered her students in Whitman's Organic Garden to put their knowledge of environmental toxins to use. Together, they set to work building a cob oven out of natural materials.
Blavascunas' interdisciplinary approach gives students a range of options for how to develop a combined environmental studies major. This semester, she included units on natural building and environmental toxins, allowing students to consider how everyday items in our homes can create toxic waste.
"For instance, the Berkeley Pit Superfund site, [a former open pit copper mine] in Montana, can be tied to the copper wiring we all need for our refrigerators to run," Blavascunas said.
"One of the problems, we learned, was the disconnect between production and consumption. Thus, I thought it was important for students to be involved in the production of a site of everyday use."
There were five projects students could choose from at the beginning of the semester: sustainable building, sustainable food, biophilia (the term for what some consider a natural bond between humans and their environment) or environmental fiction. The choice allowed students to define the path of their learning and ask questions that there might not have been time to answer in the classroom.
Building with cob also provided students with a hands-on antidote to using toxins in the home and an insight into natural building. Much of the material involved came from waste: clay from the ceramics studio on campus, straw from the hardware store, wheat leftovers from farmers' fields and sand.
"I took part in the cob building project because I am super passionate about building as a way to empower myself as a woman, since building is normally seen as a masculine job," said Kaeley Pilichowski '19. "I had never heard of cob building before, but being interested in sustainability, learning more about cob sounded super interesting. I love hands-on work, and the community bonding happened to be a surprising but fun addition."
Pilichowski is considering combining her environmental studies major with sociology. She chose the class because she has always felt a close connection to nature.
"This project showed me that there is no shortage of student interest in engaging with environmental issues," Blavascunas said.
Some wanted to expand the options for organic growing and building to the campus at large, whether that means "placing a cob bench front and center [on campus], or changing the landscaping to use less water, meaning more water for salmon restoration. Students have aims of going far beyond the confines of the organic farm."
Published on May 16, 2016