New dining hall to be named in honor of dean Chuck Cleveland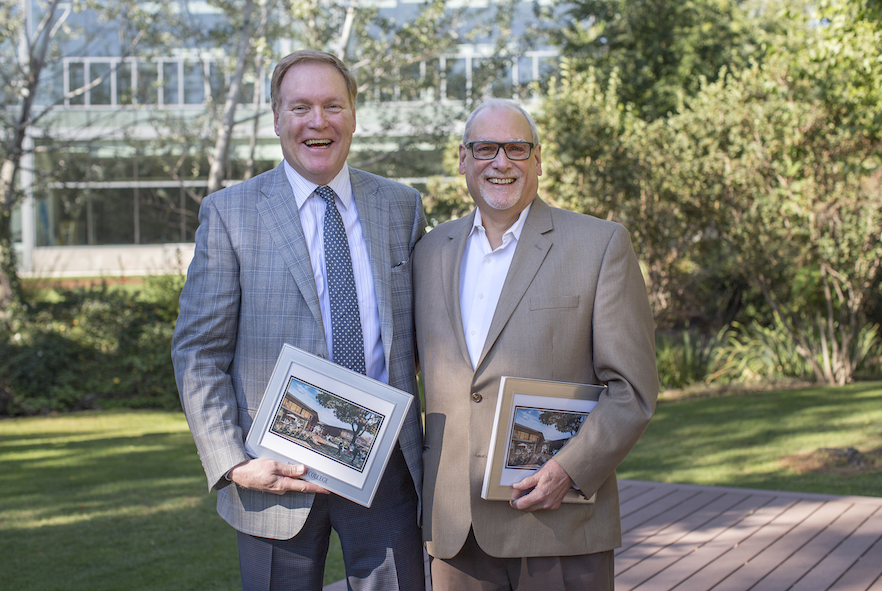 A longtime member of the Whitman community was honored today with the announcement that new dining commons will be named for Vice President of Student Affairs/Dean of Students Chuck Cleveland. Former Whitman trustee and donor Larry Stone '77 announced the news, which accompanies a generous gift that will go toward the Living at Whitman Initiative. The initiative will see the construction of new dining and residence halls on campus.
"Chuck Cleveland's leadership of student services for the past 35 years has helped define what it means to be a Whittie," said Stone. "He counsels every student and colleague with wisdom, kindness and fairness, but also with a resolve to make Whitman College—and each Whitman student—the best they can be."
Cleveland has been an important part of many students' experiences at Whitman over the past three decades. In his years on campus, he has served as the assistant director of student support services, director of housing and taught sociology classes for 20 years. He became dean of students in 1994.
Cleveland was visibly emotional after the entire staff gave him a standing ovation.
"I can't express enough how honored and humbled I am by the naming of the dining facility after me," he said. "When [President Kathleen Murray] and [Vice President of Development and Alumni Relations John Bogley] told me, I was absolutely taken aback. And yes, there were some tears."
Cleveland has been involved with Living at Whitman since it was launched by the Board of Trustees in 2015. That's when a working group of students, staff, faculty and governing board members started investigating how Whitman might improve its undergraduate residence life experience.
Pending approval by the board, which will be requested this fall, construction will get underway in the spring on the new 150-bed residence hall and dining commons. It will be the first major addition to the residence hall system in more than 45 years.
The new dining commons that will bear Cleveland's name will have about 500 seats and a marketplace layout with multiple counters, cafes and a wide range of food options. There will be dining nooks for smaller groups and long tables for large groups to gather and dine together.
The total cost for the dining commons and residence hall is estimated at $41 million. The college needs to raise $10 to $12 million of the total amount from alumni, parents and friends to add to modest debt and other sources of funding that are currently planned.
"We are so grateful to our very generous donors to the project," said President Murray. "Residence life is an experience Whitman graduates across the generations have in common, and this project will build campus community in important ways for current and future students."
There is significant fundraising to come, but the gift from Stone and his partner Jan Jecha moves Whitman closer to their goal.
Stone is president of SCAFCO of Spokane, an international leader in steel stud and grain storage system design and manufacturing. At Whitman, he was an economics major and a member of Beta Theta Pi. His father, several uncles and cousins are also alumni. Stone served as an overseer from 2005 to 2008 and a trustee from 2008 to 2012.
During his time as a trustee, Stone worked closely with Cleveland and student Ariel Ruiz '11 on Whitman's Undocumented Student Statement. Whitman was one of the first colleges in the country to have such a statement.
It was during this and other work on the Diversity Committee that Stone and Cleveland got to know each other. Stone describes Cleveland as kind, compassionate and practical and says he has been a "professional and personal inspiration" to him.
"People like him aren't made anymore," said Stone. "He's not the person that expects recognition. He doesn't strive for recognition, he just strives to do a good job."
That was evident in Cleveland's remarks after today's announcement.
"I work at Whitman because I love the college, the students and all of the people with whom I work, that satisfaction is all the reward I ever wanted in a job."
The dining commons naming wasn't the only big announcement today—Cleveland also announced that he will retire at the end of this academic year.
Published on Aug 24, 2016