Google.org awards $100K grant to non-profit founded by alumna Wanjiru Kamau-Rutenberg '01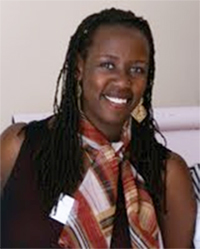 Wanjiru Kamau-Rutenberg '01
The philanthropic arm of Google has awarded a $100,000 grant to a leadership incubator foundation that invests in the next generation of African women leaders.
The international non-profit Akili Dada enables brilliant but impoverished girls in Kenya to attain a secondary-school education by offering full scholarships to the country's top one percent of female scholars who, because of poverty, would otherwise drop out of school.
"I'm beyond thrilled that Google.org has chosen Akili Dada as one of this year's recipients," said Wanjiru Kamau-Rutenberg '01, who founded Akili Dada in 2005. "This funding allows me and my entire team to breath a sigh of relief, ease our worry about raising funds, and focus on our core mission: empowering the next generation of African women leaders."
This generous grant is part of over $100 million in total charitable giving by Google in 2011. Akili Dada is one of several dozen organizations receiving a total of $40 million in year-end grants from Google.org, which develops technologies to help address global challenges and supports innovative partners through grants, investments and in-kind resources.
"This support from Google comes at a critical juncture in Akili Dada's growth and will allow us a solid financial foundation upon which to continue building our award winning programs," added Kamau-Rutenberg, now an assistant professor in the politics department at the University of San Francisco.
"The funding will allow us to double the number of young women in whom we invest and to do so while retaining the high quality of our interventions into their lives."
In recognizing all those who have helped support and advance Akili Dada, Kamau-Rutenberg also credits Whitman: "The seeds for Akili Dada were planted at Whitman. They let me fly, to think critically about gender and international development. Critically, not as in criticize, but doing and thinking. I use those skills every day.
"I was at Whitman on a full scholarship. Go forth and learn. That's tremendous freedom. It's about making sustained investments in people. That's how you change the world. That's how Whitman changed my life, and that's what I'm trying to pay forward," she said.
Akili Dada is a Swahili name which loosely translates to "intelligent sister" or "intellectual sisterhood." The foundation has awarded numerous full scholarships, each representing a four-year commitment to a comprehensive educational and mentoring relationship.
"Akili Dada is ensuring that poverty does not stop brilliant young scholars from achieving their full potential," Kamau-Rutenberg said.
Selected for their strong leadership potential and academic achievements, Akili Dada's young scholars have also demonstrated a keen desire to address social inequities. Akili Dada leverages this desire with a comprehensive set of interventions to produce highly educated, deeply experienced and well-connected young African women leaders with an enduring commitment to justice and equality.
Akili Dada and Kamau-Rutenberg have received numerous awards, including the 2009 Pete Reid Award for Young Alumni, 2010 United Nations Alliance of Civilizations Marketplace of Ideas Competition honors, the 2011 Yamashita Prize from the Center for the Study of Social Change at the University of California at Berkeley and the 2011 African International Achievers Award.
Akili Dada now becomes the third non-profit organization founded by a Whitman alumna or student to receive a $100,000 grant in 2011.
In August, first-year student Sarah Cronk '15 was selected as the grand prize winner of a "Do Something Award" for The Sparkle Effect, the non-profit she co-founded to help high school cheerleading squads become more inclusive for individuals with disabilities.
And in November, Alumna of Merit Nancy Sanford Hughes '64 received a grant to help her organization, Stove Team International, which helps save people in the developing world from catastrophic injury, even death, by replacing the traditional open-cooking fire with an efficient stove.
Published on Dec 16, 2011