Alumna of Merit Nancy Sanford Hughes '64 receives $100K grant for nonprofit she founded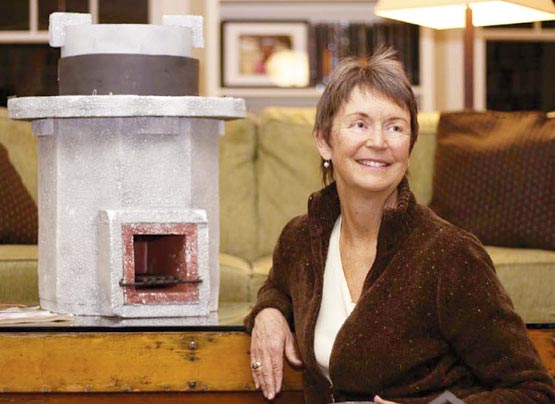 Through StoveTeam International, Hughes helps save people in the developing world from catastrophic injury, even death, by replacing the traditional open-cooking fire with an efficient stove.
Hughes is the second "Whitman person" this year to receive a $100K award for a nonprofit; she follows first-year student Sarah Cronk.
Whitman's 2011 Alumna of Merit Nancy Sanford Hughes '64 has been internationally recognized as a Purpose Prize® Award recipient and was awarded a $100,000 grant on behalf of the nonprofit organization she founded, StoveTeam International. The award was announced Nov. 3, 2011.
Civic Ventures started The Purpose Prize® in 2005. It is the only national award to specifically recognize people over the age of 60 in "encore careers" making a social difference in the world. Five such individuals are selected each year to receive grants to benefit their endeavors.
"My professors at Whitman taught me to think as much as they taught me history, geology, literature and music."
A colleague nominated Hughes for the award. When informed of the honor, she said, "I feel humbled. I did not choose to do this work—it chose me. The recognition is great, and it will enable us to leverage StoveTeam's expansion and reach even more children and families."
Hughes founded StoveTeam International in 2007 in conjunction with her local Eugene, Ore., Rotary Club, Southtowne Rotary. StoveTeam is a nonprofit organization that establishes stove manufacturing factories in developing countries. StoveTeam factories produce affordable, fuel-efficient and safe stoves and provide them to families in countries where smoke-related deaths and illnesses are pervasive due to open flame cooking. Hughes founded the organization after visiting Guatemala, where she learned that smoke inhalation in developing countries causes twice as many deaths as malaria. She tells her story of the impetus and evolution of StoveTeam in this video produced by the Purpose Prize organization.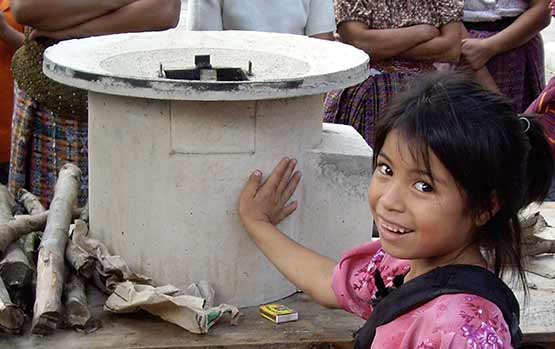 Cold Ecocina Guatemala 2010: The Ecocina stove stays cool to the touch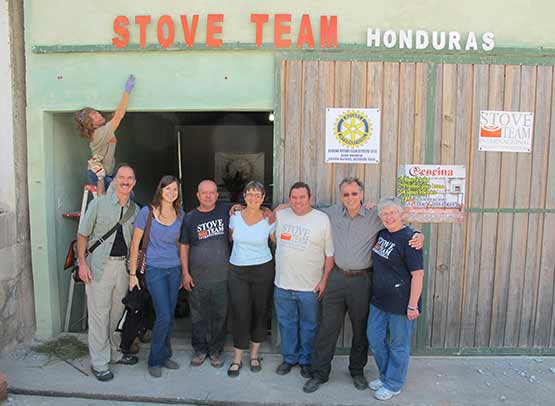 Board factory owners, Copan Ruinas, Honduras: StoveTeam board members and two factory owners: Gustavo Pea and Anibal Murcia (in StoveTeam shirts)
In the past three and a half years alone, StoveTeam has helped establish six factories in El Salvador, Guatemala, Honduras, Mexico and Nicaragua. Hughes and StoveTeam are currently researching new stove-making options for Haiti and the Amazon Basin, and plan to open more factories in Africa and Mexico in the coming year.
Hughes said her Whitman experience helped prepare her for international philanthropic work by teaching her to look at the world from diverse perspectives.
"My liberal arts education gave me the tools to find the opportunities in challenges and use them to the best advantage. I was a literature major, but I took classes in geology that made me think about the Earth, and my sociology courses helped me understand more about different people, cultures and societies."
But when she thinks about Whitman, it's the professors that stand out in her mind – and heart:
"I've often wondered how to thank all of those wonderful professors, many of whom are no longer around, who made all of this possible," Hughes said. "Names that come to mind are Mr. Clem, Dr. Ball and Professor Howells, but there were many, many more.
"Maybe most teachers know in their hearts that they are inspiring and teaching people who will make a difference in the future, but I wish there were a way to give them the recognition they deserve. My professors at Whitman taught me to think as much as they taught me history, geology, literature and music. It's that particular skill that has made me what I am today and has given me the ability to give back to those who are less fortunate."
In related news…
Hughes is the second member of the Whitman community to win a $100,000 prize in 2011 for a nonprofit organization they founded. In August, first-year student Sarah Cronk '15 was selected as the grand prize winner of a "Do Something Award."
Cronk came to Whitman from Davenport, Iowa, where she was a high school cheerleader. In founding her nonprofit, The Sparkle Effect, Cronk combined her passion for cheerleading with a desire to improve the quality of life for her brother who struggled to fit in at high school because of his disabilities. The Sparkle Effect helps support high school cheerleading squads in becoming more inclusive by adding students with disabilities to their programs.
Learn more about Cronk and The Sparkle Effect here.