$2 Million Gift Endows Kathleen M. Murray Chair in Computer Science
A gift from Christina and Peter Dawson, parents of Adam Dawson '16, will enable the college to expand the department toward providing students with increasingly critical digital skills.
By Gillian Frew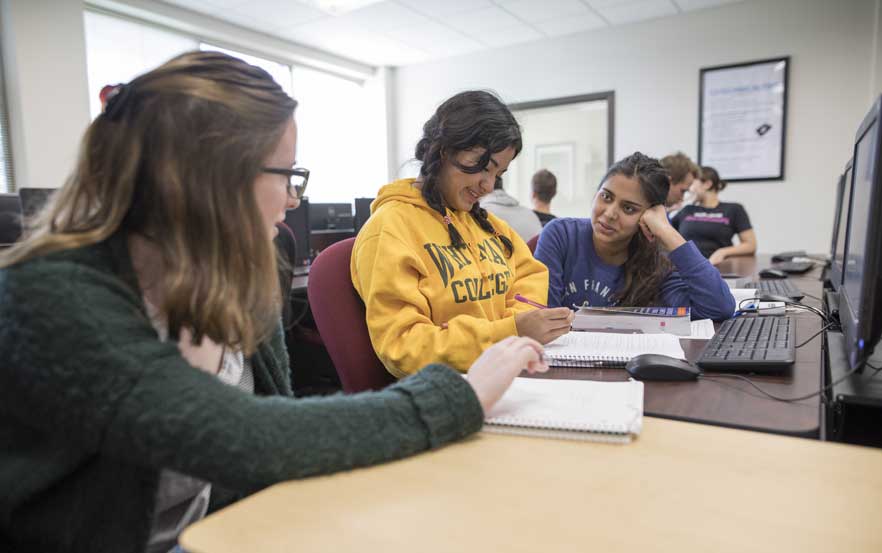 A gift from Christina and Peter Dawson, parents of Adam Dawson '16, will enable the college to expand the department toward providing students with increasingly critical digital skills.
As Whitman President Kathleen Murray prepares to retire at the end of this academic year, her legacy will be preserved in the form of a new endowed chair in computer science, thanks to a generous gift from Christina and Peter Dawson. The Dawson family, longtime champions of Whitman, have also provided considerable support to expanding mental health resources on campus.
"I am deeply honored that Christina and Peter have seen fit to mark my retirement by helping us grow the faculty in a high-demand area of our academic program," said Murray. "Computer science, while a relatively new department at Whitman, offers a rigorous and rewarding program of study not just for computer science majors, but for students across departments through interdisciplinary collaboration. I can think of no more meaningful tribute to my years at Whitman than this wonderful investment in its future."
Established in 2015, the computer science program was approved as a new major in 2016 during Murray's first year in office, and then officially offered to students starting with the 2017-18 academic year. Since then, it has continued to expand, with courses including web design, introduction to data science, computational problem solving and human-computer interaction. Graduates have gone on to careers at Google, Microsoft and other competitive companies.

"I'm delighted by the Dawsons' generous gift supporting computer science at Whitman," said Janet Davis, associate professor and Microsoft Chair of Computer Science. "It comes at a pivotal time when we urgently need more faculty to engage in new interdisciplinary programs such as data science while continuing to support growing numbers of computer science majors and minors along with other students from across the college. Naming the chair for President Murray could not be more fitting, as she has been a steadfast supporter of computer science and other new curricular ventures at Whitman."
Each full-time computer science faculty member currently advises nearly 30 students. The Dawsons' gift will allow the college to search for an additional computer science faculty member this year.
"Peter and I are both very fond of Kathy, and we wanted to make this gift to boost the faculty in computer science and name it in her honor," said Christina. "I think that if you care about the liberal arts and you want young people to have the best education they possibly can, you give to Whitman to help Whitman deliver that education. That's really what it boils down to."

Under Murray's leadership, the college developed a new strategic plan and made significant strides toward implementing initiatives identified as most central to the Whitman experience, including curricular innovations and increased support for student life.

The Dawsons' son Adam, who graduated from Whitman in 2016 with a degree in economics and mathematics, was active in intramural sports and residence life, serving as a resident assistant and later a resident director.

"For him it was a fabulous experience," said Christina. "There was an atmosphere at Whitman that just felt good. It was welcoming and the kind of campus where you could be yourself, with so much to do and enjoy."

In addition to the endowed chair, the Dawsons have invested in making Whitman a JED Campus through the JED Foundation, a nonprofit that promotes emotional health and suicide prevention for teens and young adults by giving them the skills and support they need to thrive. JED Campus is a national program of more than 370 colleges and universities. A four-year program, it guides schools through a collaborative process of comprehensive policy development with customized support to build upon existing student mental health, substance abuse and suicide prevention efforts.
"As I think back on my time at Whitman, it is the thoughtful and mission-driven philanthropy of families like the Dawsons that really stands out in my mind, and makes me feel immensely grateful for the supportive community we have around us," said Murray.
Published on Mar 18, 2022