PROBLEM SOLVING FOR SOCIETY
Build the solutions of tomorrow.
Beyond fundamental programming and coding skills, the essence of Computer Science is problem-solving. As a Computer Science major at Whitman College, you will develop the computational skills to create innovative solutions that truly help others. If you seek a dynamic course of study balanced with career-boosting activities in the close company of engaged faculty members and students, there's no better place to pursue a Computer Science degree than at Whitman.
3 Reasons to Study Computer Science at Whitman
Interested in Computer Science?
We'd love to send you information, including more on academic majors and student life at our beautiful campus in Walla Walla, Washington.
Ahmed E., computer science and mathematics major
"I am currently doing research off campus as part of my DREU internship [Distributed Research Experience for Undergraduates]. My research area is machine learning, and I am very interested in what we are doing: causal inference and algorithms to improve causal inference. I have learned a lot of Python libraries, research, and how to make my code readable and general so that others can look at it and use it."
Our Whitman Student Voices Blog
Courses In Computer Science
See just a few of the fascinating courses you might take.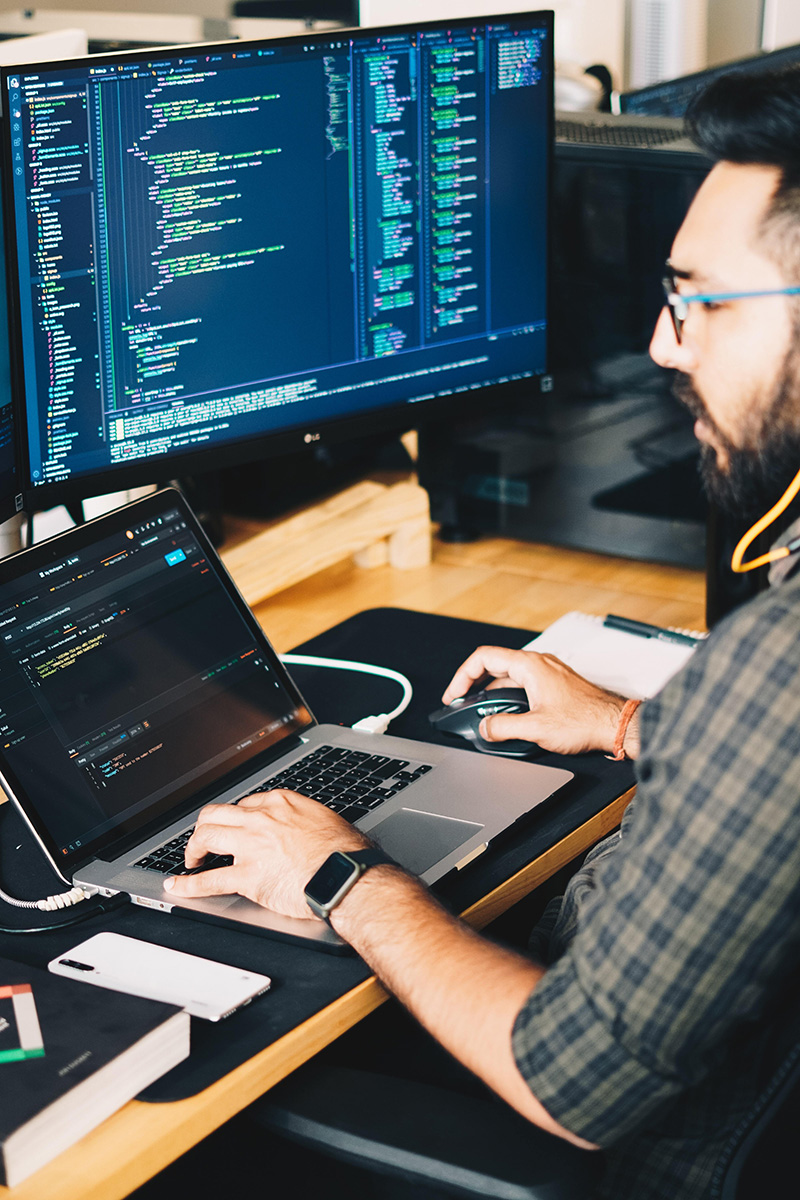 Amazing Experiences You Can Pursue
Complete a capstone project. In this semester-long team project, you get to fully shine. Focus on an issue you care about, from music to education to law. Test your computations and incorporate expert feedback. Then present your results to department and field experts.
Learn and play with peers. Join weekly lunch seminars with speakers, professors and fellow students to experience the unique camaraderie of our Computer Science Department for yourself. Participate in campus clubs like the Association for Computing Machinery—or in national hackathons and workshops.
Study abroad. Immerse yourself in another culture and give your resume a global boost. Computer Science programs in Budapest and Copenhagen, for example, welcome you to their worlds of IT entrepreneurship, artificial intelligence and more.
It's challenging, but supporting our students is something Whitman's Computer Science Department does really well. With peers and professors by your side (literally, our class sizes are small and our labs are centrally located) you can achieve your academic goals. From the first year, we'll make sure you start on a track that suits your experience level because our goal is to see you become competent and confident as a Computer Science major.
Without a doubt, it is worth getting your degree at Whitman. With a comprehensive liberal arts education, you'll learn about the world and your place in it. For Computer Science, it is invaluable to have small classes, high-quality resources and an emphasis on flexing your critical thinking, compassion and computational expertise in diverse ways.
Our Computer Science majors gain real-world experience as Technology Services staff, research assistants, class mentors, lab aides, club members and creative forces. After graduation, they have earned internships at prominent companies and startups, as well as graduate positions at top schools like Caltech.
We understand how critical it is to make sure that you do. Whitman's Computer Science faculty is committed to creating an inclusive learning environment. That means a flexible, accommodating classroom and personalized coursework. Moreover, it means surrounding you with role models and allies and setting you up for success with mentors, access to internships, and ample employment, service and research opportunities. We want you to feel at home here—and wherever you go from here.