Faculty-Led Summer Chinese Language Studies Resumes with Inaugural Program in Taiwan
By Susan Holme, Senior Director of Off-Campus Studies & International Student and Scholar Services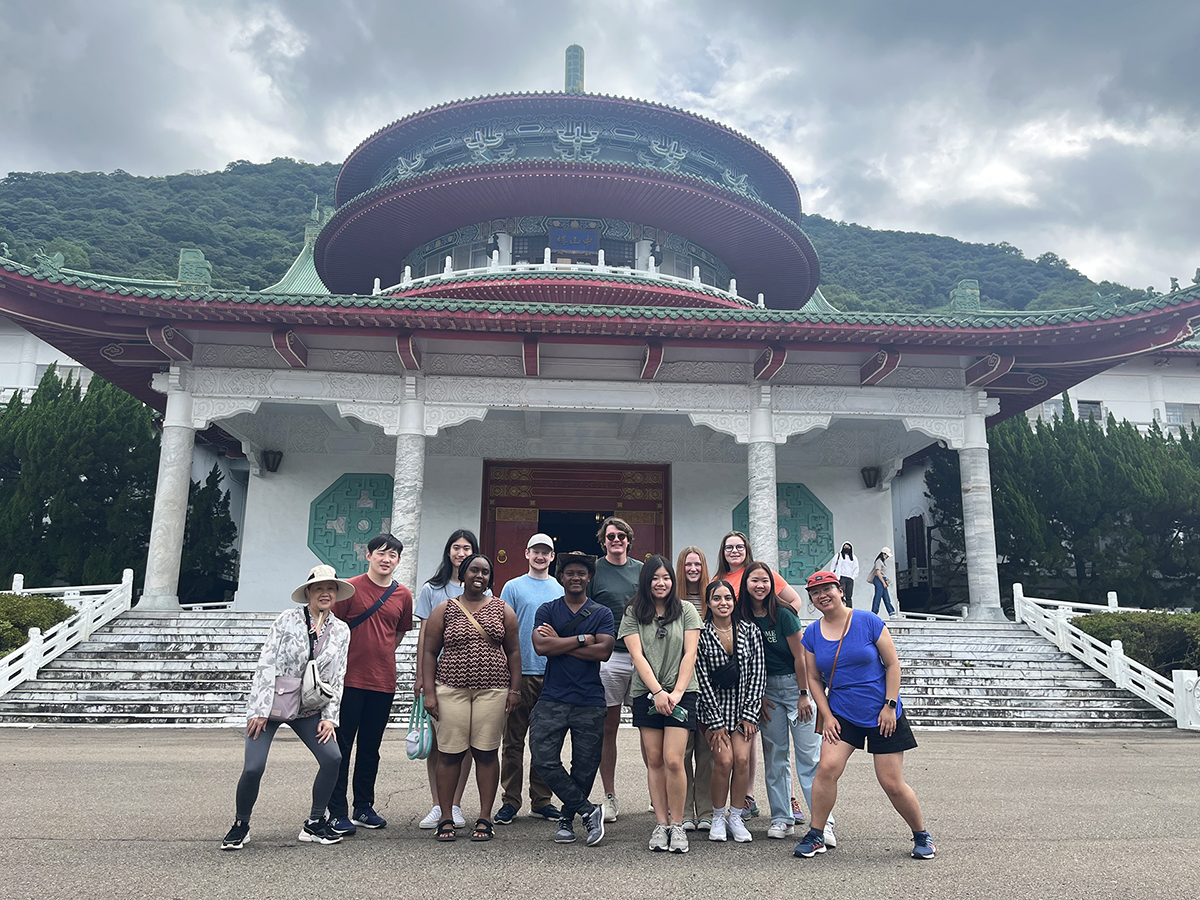 Eleven Whitties dedicated to the study of Mandarin Chinese boarded a plane in May to study for six weeks in Taiwan led by Whitman College faculty members Xiaobo Yuan (Anthropology) and Wencui Zhao (South Asian & Middle Eastern Studies). This inaugural Whitman program in Taiwan is the first Whitman faculty-led academic trip offered by Off-Campus Studies since the end of the pandemic.
Participants honed their conversational Mandarin immersed in a Chinese-language-only teaching environment with instructors at Tunghai University, our partner university in Taichung, Taiwan. Textbooks for the program were custom written by Zhao of Whitman and professor He Yijia of Tunghai, focusing on practical conversations and vocabulary specific to Taiwan.
Religion and Sacred Space in China, a course taught by Yuan, featured excursions around the island. In addition, students on the program also researched and created presentations based on their own interests, with topics ranging from the history of night markets to contemporary workout culture to the changing landscape of LGBTQIA+-related terminologies in Taiwan.
Immersed Deeply in the Study of Chinese
Reflecting on the impact of the Taiwan program, Vincent Kwan '24 (Psychology major) shared,
"Participating in this program allowed me to immerse myself into studying Chinese while regularly using it. My understanding of Chinese language and culture drastically improved and using it in real situations has made me feel that I was not just learning a language but a whole new world entirely."
Isabelle Chang '25 (double major in Biology and Chinese) said of her experience on the program this summer, "The Whitman Summer Chinese Studies in Taiwan was a great experience that gave me a taste of studying abroad. The mix of academic learning, cultural immersion and academic travel all in six weeks made the program unique. This program was a great way to improve and practice Mandarin in the classroom and social settings. I would recommend this program to anyone considering it."
Even with their depth of knowledge and experience, the Whitman faculty leaders said the program significantly impacted them.
"It was an eye-opening experience for me," said Zhao, for whom this was a first trip to Taiwan. "It broadened my views about Taiwan in general, and about its people, its cultural traditions, and its religious and political practices in particular. It made me reflect on the differences between Taiwan and mainland China across the Taiwan Strait. I highly recommend this program to my future students."
"As an anthropologist of religion, I had an enriching experience exploring Taiwan's vibrant and diverse religious life with Whitman students," said Yuan. "In a place with the highest density of temples in the Chinese-speaking world, Taiwanese popular religion blends traditions from Daoism, Buddhism, and Confucianism. We were able to observe and learn about many of these traditions up close during our excursions—from practitioners throwing moonblocks to converse with local deities, to pilgrimages that can span hundreds of kilometers and involve thousands of participants. We were also able to witness some of the intersections between religion and civic life when we visited, for instance, a Buddhist organization spearheading recycling efforts, or glimpsed the mayor of Taipei give tribute to the City God during the deity's birthday celebrations. Focusing on religious life gave us a unique perspective on what it means to be Taiwanese, and captured life in Taiwan beyond what is most often represented in Western media. These experiences certainly transformed the way I think about religion in the Sinophone world, and I hope they continue to resonate with students."
The Whitman Summer Studies in China faculty-led program was established in 2001 with the generous support of the David Deal China Exchange Endowment. This Off-Campus Studies program is offered exclusively to Whitman students every other summer (in odd-numbered years) in either China or Taiwan.
Published on Aug 28, 2023