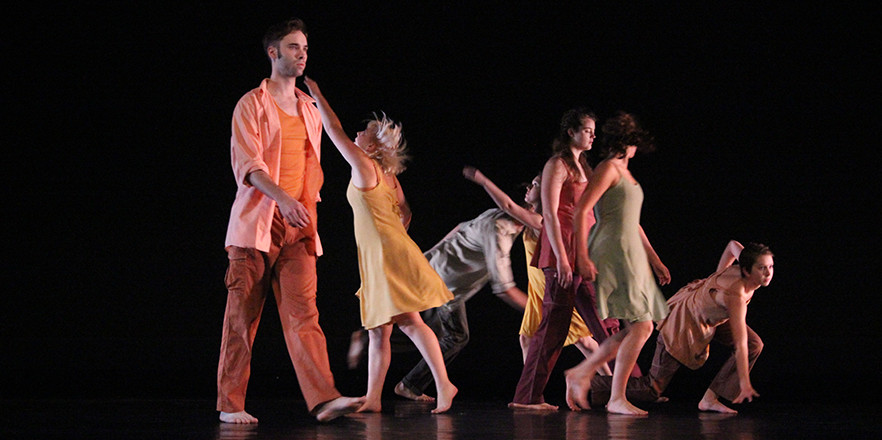 As a form of artistic expression and practice, dance uses movement, space and presence of the human body as its primary mediums. Like other art forms, dance both documents and shapes a cultural landscape. It demands intelligence, imagination and intuition; collaboration, rigorous aesthetic standards and a broad base of knowledge.

The dance program at Whitman College is rooted in contemporary dance, a global concert form which incorporates disparate approaches to the body, aesthetics and ideas. Contemporary dance practice varies according to the artistic vision and history of individual choreographers and practitioners.
Reflecting these values, our approach focuses on the individual artistry and curiosity of each student. We offer technique courses in modern dance and ballet, and host guest artists who introduce forms such as West African Dance, Haitian Dance and Contact Improvisation. These studies prepare our students for our upper-level advanced contemporary course, which challenges them to synthesize these practices in ways that are specific to them.
Whitman students learn to ask critical questions of the ways in which meaning is constructed in dance, bringing these critical questions into their practices as choreographers, dancers, scholars or lifetime audience members. Students of dance may pursue a minor, take courses for distribution credit or take courses simply for their own enrichment. For course listings, see the Dance section in the catalog.
Main Office
In the lobby of the Harper Joy Theatre

Monday - Friday: 9 a.m. - 4 p.m.

509-527-5279
Harper Joy Box Office
Monday - Friday: 12:30 p.m. - 4 p.m.

509-527-5180