Whitties Support US Team on the Slopes at Beijing Olympics
By Tara Roberts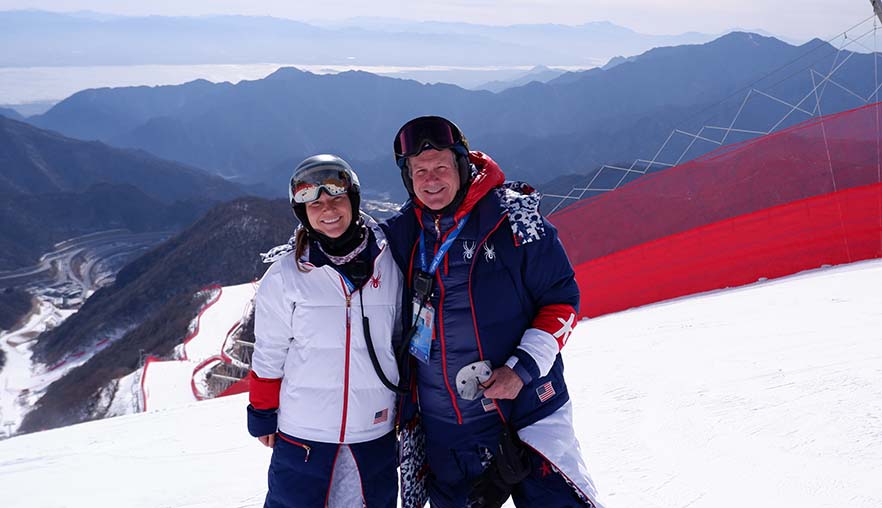 Downhill ski racing requires agility, coordination, strength and the incredible courage it takes to fly down a mountain on a sheet of ice at 85 miles per hour.
Skiers must be in excellent physical and mental health to succeed on the slopes. When Team USA's athletes compete in the Beijing Olympics, the people making sure they're in top shape will include two Whitman College alumni.
Torey Anderson '12 and John Rumpeltes, who attended Whitman from 1974-76, are part of U.S. Ski & Snowboard's physical therapy team. They've traveled the globe to world-class competitions with their athletes, but this is their first Olympics.
"Every weekend in our races, it's an international community of physical therapists and physicians, but to get to work alongside medical providers from all different disciplines and sports from around the world will be fascinating," says Anderson.
Common Threads
It's no accident Anderson and Rumpeltes are at the Beijing games together. As principal of a physical therapy company in the Puget Sound area for decades, Rumpeltes treated U.S. Ski athletes and began volunteering for the team. At the same time, he often recruited Whitman grads to work in clinical support for his company, helping them gain experience for careers in physical therapy or medicine.
"I think the common threads with the Whitties I've worked with are a keen intellect and curiosity to understand, and a work ethic to work hard and be a good partner," he says.
Anderson was one of Rumpeltes' recruits. As a biology major and member of the Blues ski team, Anderson had worked and trained at Whitman's Sherwood Athletic Center. Later, when she graduated from physical therapy school, Rumpeltes introduced her to U.S. Ski's medical director.
Within six months, Anderson was the head physical therapist for the U.S. Women's Alpine Ski Team.
Support for Success
Anderson now splits her time between the world's best ski hills and the team's training center in Park City, Utah. Anytime her athletes are on the snow, she is with them. But she's also there to advocate for all their medical needs.
"In the last three years, the athletes who I work with have battled eating disorders and depression, grieved the sudden loss of family members, sustained severe concussions, experienced season-ending injuries and known true trauma," she says. "So much of what I love doing is helping them build confidence and trust back in their bodies."
After volunteering with U.S. Ski for more than 10 years, Rumpeltes values the depth of the connections he's built.
"Besides the clinical problem solving that I enjoy, the long-term relationships with athletes, coaches and other support staff is a big draw of doing this," he says. "I can show up at an event and immediately plug in and hit the ground running."
While COVID-19 and other variables make the Beijing Games challenging, they also make it a historic experience for the athletes and people who support them.
"I'm excited to try and navigate all the different stresses of the Games and be a calm presence," Anderson says. "Hopefully, I can create a space where the athletes can feel confident and calm, focus on their skiing and have some success."
Published on Feb 10, 2022