Whitties Helping Whitties: A Great Return on Investment
By Pam Moore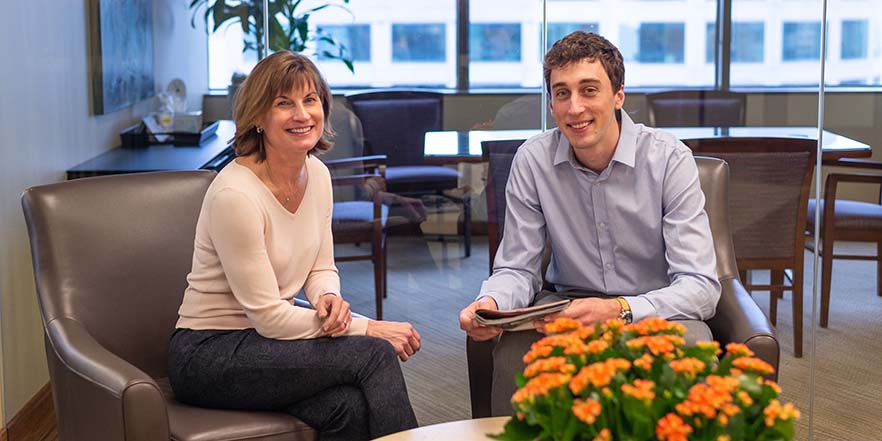 When Michelle Mathieu '92 was approved to join the Clubhouse networking app by Sam Geschickter '20 in January 2021, she was pleased—and slightly perplexed. Mathieu, whose promotion from chief investment officer of Fulcrum Capital to chief executive officer becomes official Jan. 1, 2022, had been wanting access to the then invite-only platform, but Geschickter's name didn't ring any bells—which is understandable, given the timing.
Not long after the two met at a 2020 Seattle Whitties Helping Whitties event, the pandemic brought the world to a grinding stop. "COVID-19 put a halt to any momentum from that event," Mathieu says. With a little LinkedIn sleuthing, Mathieu connected the dots and when Geschickter followed up to ask if she'd be willing to offer him career advice, she asked if he was interested in applying for an open position at her company.
He was. And the interest turned out to be mutual: In May 2021, Geschickter joined Fulcrum as an investment operations analyst.
Growth Opportunity
Geschickter's and Mathieu's story isn't unique. Since it was established in 2013, Whitties Helping Whitties has been a launchpad for connections between Whitman students, new graduates, parents and alumni. As a collaboration between Whitman College's Office of Alumni Relations and the Career and Community Engagement Center, the program helps undergraduates enhance their knowledge, develop their networks and identify professional opportunities. Since 2015, more than 2,000 Whitman alumni, parents and guests have attended, says Kim Rolfe, director for career development, adding that the events have been growing consistently from year to year.
Whitties Helping Whitties events traditionally happen every January while students are on winter break in Seattle, Portland and San Francisco areas—cities with the highest concentrations of Whitman students and alumni, according to Jennifer Northam, director of alumni relations. There is typically an annual on-campus event over reunion weekend in the fall too.
An Invitation to Connect
While Mathieu was thrilled to welcome Geschickter to the Fulcrum Capital team, she never saw Whitties Helping Whitties as a recruitment fair. The night she and Geschickter met, she had three objectives: to have a good time, connect with other Whitties and promote her industry. Mathieu recalls going out that blustery January evening on a mission to let Whitties know, "Finance isn't what you read about in the media: that investing or rich people are all evil." Rather, she wanted them to know, "We're doing some amazing, really positive things and we can be a catalyst for change."
Geschickter arrived at the event hoping to "meet people who might inspire my career path" and ideally, make a connection that could lead to a job. As a religion major who grew up in Brookline, Massachusetts, he'd attended a small, Boston-area business college before transferring to Whitman his sophomore year in search of a liberal arts education that emphasized critical thinking. Almost immediately, he knew he was in the right place. When he got to campus, he joined the Whitman Investment Company; there he learned about sustainable investing, a concept he found deeply resonant.
Upon meeting Mathieu, Geschickter thought, "Here's someone who is a top-of-the-top professional, spends a lot of time thinking about these things, knows all the research and knows all the best practices." He asked Mathieu whether Fulcrum had any openings. At the time they didn't, but she encouraged him to stay in touch. Following the event, he sent her an email and invited her to connect on LinkedIn. Months later, he received a notification from the Clubhouse app: Someone in his contacts, Michelle Mathieu, was requesting an invitation to the platform. He didn't think twice about extending one—much less anticipate that a social media connection would lead to a major career opportunity.
After thanking him for the invitation, Mathieu extended an invitation of her own—to apply for an open position at Fulcrum. After submitting the new grad's resume to the hiring team, Mathieu "stayed out of the picture" while the company sifted through a highly competitive pool of applicants. "We had a dozen great candidates," she says.
Though the Whitman connection played a role in Geschickter's decision to apply, Fulcrum's offer was a reflection of his unique strengths and experiences. "He earned it 100% on his own," says Mathieu.
A Shared Experience
Both Geschickter and Mathieu say they enjoyed the atmosphere of the Whitties Helping Whitties event. Whereas other networking events may be "super intimidating" to undergraduates, Geschickter says Whitman offered a space where he felt comfortable being himself. Now, as he prepares to attend his next Whitties Helping Whitties event as an alum, he hopes to offer students that same opportunity. He wants to help them see how they might blend their passion and their profession, but also assure them it's OK if they don't "have it all figured out."
Mathieu credits the welcoming nature of Whitties Helping Whitties events to the "magic elixir" of the shared Whitman experience. The main ingredients, she says, are intellectual curiosity, an experiential approach to learning, connection with others, and "the unpretentious culture that is Whitman."

Attend a January 2022 Whitties Helping Whitties event
Several events are scheduled for early January 2022 in Seattle, Portland and the Bay Area. See event details and register to attend now!
Published on Dec 16, 2021