Whitman Alumni Association Welcomes New Board Member and Officers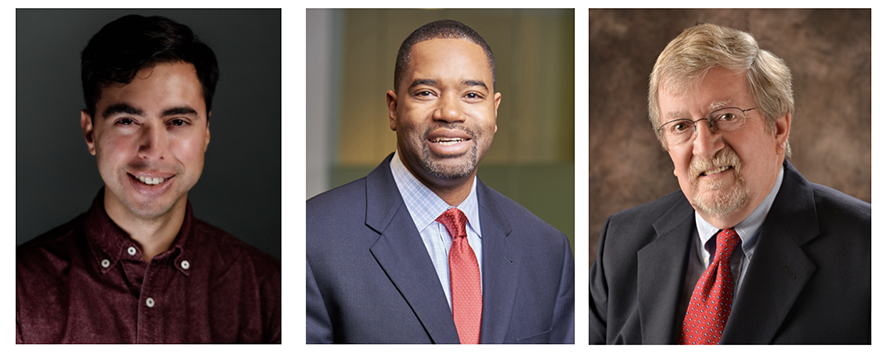 The Whitman College Alumni Association recently announced some updates to the Alumni Board, whose members work to keep alums connected to the college and to communicate alumni concerns to the administration.
Joining the board as of July 1, 2021, is Adam Delgado '12, who will serve a three-year term. Evan Jones '97 was elected vice-president and Dennis McNair '67 was chosen as the board's new president. Learn more about these dedicated Whitties below, and visit the Alumni Board webpage to read its mission and meet the other members of the board.
Adam Delgado '12
A politics major in his Whitman days, Adam Delgado now lives in the San Francisco Bay Area and works as a user experience researcher at Facebook, Inc., where he co-founded the new Community Trust & Safety team to focus on equitable engineering and product development. Previously, as a product researcher at Instagram, he supported launches of the COVID-19 and US 2020 information centers, helping millions of people find vaccines and register to vote.
Since graduation, Delgado has worked for Google, Cooley, International Monetary Fund and Booz Allen Hamilton in Washington, D.C. He is also an alumni fellow of Management Leadership for Tomorrow (MLT), a national nonprofit supporting career development and advancement for underrepresented students, and participates in the MLT Ascend program to support early persistence and career readiness for first-generation, low-income college students. He has supported and advocated for first-generation, LGBTQ and students of color on campus through the Intercultural Center and was the first student representative for diversity and inclusion to the Whitman Board of Trustees. With his service on the alumni board, Delgaado hopes to connect with alumni and advance the current diversity, equity and inclusion efforts of the college.
Evan Jones '97, vice-president
Evan Jones is the director of business development for United Educators Insurance Company, where former Whitman Trustee Janice Abraham serves as the president and CEO. Originally from Cheverly, Maryland, Jones majored in sociology at Whitman and was a two-year co-captain of the men's basketball team. He was also a member of Tau Kappa Epsilon fraternity and the Black Student Union. After graduation, Jones served as assistant men's basketball coach, admissions officer and director of the Intercultural Center at Whitman before moving back to the Washington D.C. area. Jones now resides in Pasadena, California, with his wife, Adrienne, and is excited to contribute in this new role as vice-president of the alumni board.
Dennis McNair '67, president
Dennis McNair grew up in Dayton, Washington. He earned a biology degree from Whitman and both a master's and a PhD in zoology from Southern Illinois University–Carbondale. McNair and his wife, Karen Jacobson '68, live in Pennsylvania, where he taught physiology and ecology for 33 years at the University of Pittsburgh at Johnstown. Although he retired from university teaching and administration in 2013, he still conducts research on dragonfly and damselfly ecology and distribution. McNair is currently a trustee emeritus of the Johnstown Symphony Orchestra and has sung with the orchestra's chorus for 37 years. He's a founding member and past president of the Allegheny Plateau Audubon Society. He's served as an associate class representative since the late '70s and co-chaired his class's 40th, 45th and 50th reunions.