Whitman Welcomes 'Home' Its Largest-Ever Incoming Class
By Lara Hale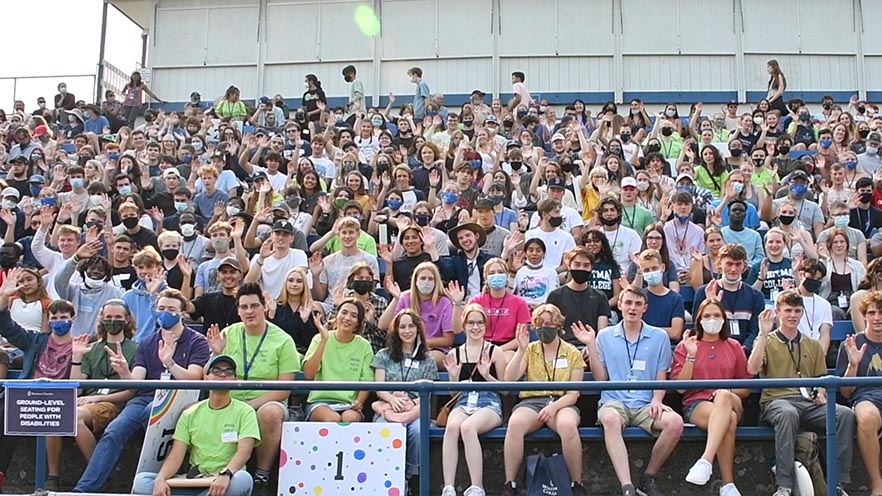 Whitman's campus was abuzz with activity this week as the college welcomed its largest-ever incoming class comprised of 486 first-year and 23 transfer students.
The opening events kicked off on Wednesday, Aug. 25, as the new Whitties (most with their families in tow) checked-in at Reid Campus Center, swung by Cordiner Hall for COVID-19 baseline testing and headed to their residence halls to unpack, unwind and meet their roommates, new friends and resident advisors.

Later that afternoon, small groups—led by their student guides or Opening Week Leaders (aka OWLs)—walked together to Borleske Stadium for a festive and spiritied New Student and Family Welcome event. After a warm greeting from President Kathy Murray, Whitman's Interim Vice-President for Admission and Financial Aid, Adam Miller, shared some statistics about the incoming class, adding that, "Numbers, of course, can never capture what truly makes you stand out."
"You are, by some measures, the most diverse class in Whitman history: 23% of you are students of color and 13% are international students … and 70 of you will be the first in your families to attend college. You come to us from 37 states and 39 countries." —Adam Miller, interim vice-president for admission and financial aid
Miller went on to offer some fun and intriguing details about how the students gathered there stood out from the more than 5,200 that applied for admission in 2021. Among them, one had climbed Mt. Fuji, one founded an 30,000-follower Instagram account that highlights the vitiligo community and one performed in a circus for six years.
"While we celebrate your past accomplishments, we also look forward to who you will become in the next four years," Miller said.
A New Home
Next at the podium, Dean of Students Kazi Joshua praised the incoming class for the resilience and hard work that brought them "home" to Whitman.
"Class of 2025, you are gifted, you are brilliant, you have lived through these challenging moments, you have been resilient, we know you will teach us, we know the community is going to be better because you are here. Welcome home!
"We are rooting for you, we want you to turn this college into the dreams you have, we want the class of 2025 to be talked about long after you have graduated, because of the marks you will make on this community. I cannot wait to see what this class is going to do. Welcome home!"
Stay tuned
New student orientation activities continue through the weekend. The greater Whitman community is invited to the livestreamed 2021 Convocation Ceremony marking the beginning of the next academic year at 4 p.m. Monday, Aug. 30.
Published on Aug 26, 2021