Whitman Student Lindsey Pasena-Littlesky to Receive Indigenous Leadership Award
By Ananya Mehrotra '27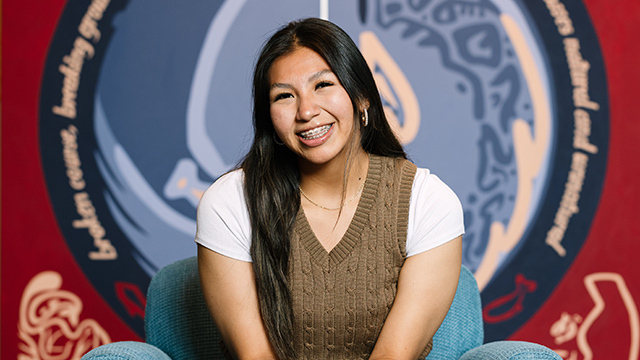 From her earliest years, Whitman College sophomore Lindsey Pasena-Littlesky has been profoundly connected to her Indigenous heritage. Growing up on the Confederated Tribes of the Umatilla Indian Reservation (CTUIR) she has been immersed in the rich tapestry of her cultural roots.
Pasena-Littlesky is set to be honored at the Indigenous Leadership Awards ceremony on Wednesday, Oct. 18, 2023, in Portland, Oregon in recognition of her significant contributions as a member of the CTUIR Youth Council.
"Throughout my upbringing, my relatives imparted the richness of our culture, and I take great pride in my affiliation with the CTUIR community," says Pasena-Littlesky, who plans to declare as a politics major at Whitman.

"It is evident that our tribal leaders are deeply committed to preserving the land, language and culture for generations to come, ensuring its sustainability."
The Indigenous Leadership Awards are a celebration of Indigenous leadership and its local impact throughout the region. This year's awardees include seasoned as well as emerging leaders and represent Native homelands across the Pacific Northwest—the place where the sponsor, Ecotrust, focuses its work to uplift and promote Indigenous leaders as well as economic development, social equity and environmental well-being.
As an active member of the CTUIR Youth Council, Pasena-Littlesky wholeheartedly translated her passion into tangible efforts dedicated to enhancing the well-being of CTUIR's younger generations, especially in the face of the pressing issues presented by alcohol and drug abuse. Her commitment extended beyond words, as she engaged in initiatives focused on preserving her culture, ensuring well-maintained parks and orchestrating a range of community events geared towards substance abuse prevention and unity.
A Role Model for Future Leaders
Pasena-Littlesky hopes to inspire more Indigenous young people to pursue higher education as a means of advocating for their communities.
"I aim to instill in Indigenous youth the significance of using their voices to address the issues they hold close to their hearts. My goal is to offer the resources and knowledge they need to further develop the leadership potential that already resides within them."
Pasena-Littlesky came to Whitman as one of the first recipients of the Šináata Scholarship, created in recognition of the relationship between the CTUIR and Whitman. On campus, she has quickly become a leader as well. She is a student-athlete, playing for both the women's soccer and lacrosse teams, and is the President of the Indigenous Peoples Education and Culture Club (IPECC).
Published on Oct 17, 2023