A STEM Summer School Brings Together Whitman Faculty & Tribal Youth
By Casey Brown and Heidi Pitts '01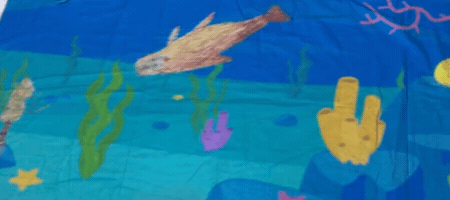 At tiny desks, elementary school children created colorful clay models of salmon. This was no ordinary art project, however. These fish were about to take a special journey.
After a week of learning and creativity, these students—from the Confederated Tribes of the Umatilla Indian Reservation (CTUIR) and other tribes—filed into a darkened school gymnasium to discover their salmon models digitally projected onto the floor, swimming through virtual ancestral waters. The students were able to walk among the salmon, a sacred First Food to the CTUIR peoples and other Plateau tribes of the Pacific Northwest.
This meaningful experience was part of a unique STEM summer school program, a collaboration between the CTUIR and Whitman College. As part of an ongoing agreement between Whitman and the CTUIR, Whitman faculty traveled to the students' home school district in Pendleton, Oregon, to provide four weeks of STEM-focused summer school.
Modesta Minthorn, CTUIR's Education Department Chair, had noted a need for science, technology, engineering and math programming, especially for middle schoolers, who often have fewer summer activity options. Whitman faculty were excited to step up, according to Alzada Tipton, Provost and Dean of the Faculty.
"We didn't even have to ask the faculty. On their own devices, they came up with projects they wanted to do with CTUIR youth this summer," Tipton says. "It was kind of a perfect marriage of what faculty wanted to do and what the tribes were looking for."
4 Fun Weeks of STEM
Classes began for elementary students in mid-June with William Bares, Associate Professor of Computer Science and founder of the Immersive Stories Lab at Whitman. Bares and his Computer Science students brought the salmon to life on the gym floor through scratch programming and floor projection.
In week two, the same students studied math with Andy Fry, Visiting Assistant Professor of Mathematics, and Albert Schueller, Mina Schwabacher Professor of Mathematics. Fry and Schueller used interactive activities to teach the students about symmetry, pattern recognition and geometries. The kids sorted strawberries and buttons, broke codes and blew giant bubbles. They played tic-tac-toe and had hands-on time with tangram puzzles and 3D shapes such as pentagonal prisms.
"Our main goal was to show the students that there is more to math than basic arithmetic," Fry says. "We wanted to make the time we spent there as interactive and fun as possible."
The third week brought middle schoolers to class for their turn learning about chemistry, environmental science and microbiology. With the help of Nate Boland, Associate Professor of Chemistry, the students analyzed water samples collected from the nearby Umatilla River, looking for nutrients and contaminants. The river is a sacred home to salmon, successfully reintroduced by the CTUIR after decades of local extinction.
For the final week, Matthew Tien, Assistant Professor of Biology, collected termites from the Blue Mountains to study with the students. The inner workings of a termite's stomach is something Tien says comes with an "ick factor" but is fascinating to learn about.
When he was a teenager, Tien went to a free engineering camp in his hometown of Corpus Christi, Texas. Engineers from the community volunteered their time to teach high schoolers the basics of civil engineering.
"Part of the reason I wanted to do this workshop is because I imagine young me being one of those students and how much it impacted me. I want to pay that forward."
Developing Curiosity and Confidence
The program assessment identified several immediate effects of this partnership. Kendall Rosario, Youth Services Manager in the Education Department at CTUIR, highlighted significant increases in knowledge, confidence and interest in further STEM education.
"Prior to the week of enrichment activities, 60% of the students in the Grade 4-5 cohort wanted to 'learn more math.' After the enrichment, that number rose to 91%."
She also emphasized the value of designing culturally specific learning experiences like the salmon cycle workshop. "The students really enjoyed familiarizing their learning with their own culture."
These in-depth, hands-on interactions with Whitman professors and students encouraged the students to envision their own future educational possibilities.
"This program provides an opportunity for our students to see older students in college working on getting a degree in one of the STEM fields. That exposure is very important!" Rosario says.
Walking Through History
This unique learning experience went both ways. In May 2023, in preparation for teaching the summer school program, Whitman College faculty and staff toured Tamástslikt Cultural Institute on the Umatilla Indian Reservation. Surrounded by 16,000 years of tribal history, they walked through exhibits featuring the trickster Coyote, a seasonal round showing a glimpse of life in all four seasons, and displays showcasing how horses changed daily life, trade and travel for Plateau tribes like the CTUIR.
Tamástslikt's Exhibits Coordinator, Randall Melton, led the tour and shared that his first museum job was at Maxey Museum on the Whitman campus. He also worked at Whitman Mission National Historic Site outside Walla Walla. It motivated him to effect change in the way tribal history is told, especially at interpretive centers along the Oregon Trail—like the Whitman Mission and Tamástslikt.
A Partnership Years in the Making
In 2017, Whitman College and the CTUIR signed a document formalizing their educational collaboration. It outlines opportunities for joint research, new curriculum and student support. Notably, this relationship brought a Plateau Long Tent to the Whitman campus in the spring of 2022, during which the Memorandum of Agreement (MOA) was renewed.
An advisory council, led by Jeanine Gordon, the Special Assistant to the President for Native American Outreach, oversees Whitman's part in the MOA. The council also includes Whitman students, faculty and staff. On the CTUIR's side, Minthorn oversees the collaboration.
After years in the making, the 2023 summer school was a great success—and plans are underway to continue the program in the future.