Whitman College Senior Receives Competitive Chemistry Award
By Zoe Perkins '25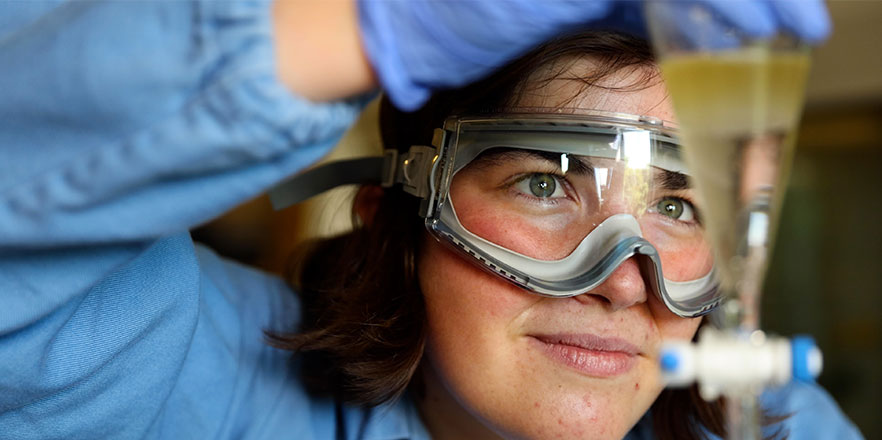 Chemistry major Kathryn Woodburn '23 presented her research on a national stage thanks to her hard work and an award from the American Chemical Society (ACS).
The senior from Cupertino, California, received the prestigious American Chemical Society Colloid and Surface Chemistry Division PUI Nanomaterials Award. The highly competitive honor comes with the opportunity to present research at the national conference—which is typically reserved for Ph.D. students, post-docs researchers or professors.
Woodburn presented her work at the national ACS meeting in Chicago in August of 2022. "I remember looking around and being like, 'These are my people,'" she says. "This is what I want to do."
Woodburn says she realized how much Whitman has taught her when she was able to keep up with the complicated subjects discussed at the national conference. Before and during her presentation, Woodburn says she felt genuinely supported by the high level academics who were at the conference.
Woodburn began researching zinc sulfide nanocrystals as a sophomore, alongside Assistant Professor of Chemistry Mark Hendricks in his lab. They applied extreme heat to multiple chemicals, eventually producing nanocrystals—which have applications in fields everywhere from solar energy to chemotherapy. Woodburn was particularly interested in the secondary components of the solution, the side reactions and how they impact crystal formation.
"That co-product evolution—trying to name those—is at the core of what I'm doing."
Woodburn is sad to be moving on from the Hendricks lab when she graduates, but she's excited to keep learning. Woodburn is currently applying for graduate school and hopes to one day be a professor at a small liberal arts college, following in the footsteps of her mentors at Whitman. In addition to her research, Woodburn serves as a captain on the Whitman swim team and works as a campus tour guide.