Whitman College Names New Director of Penrose Library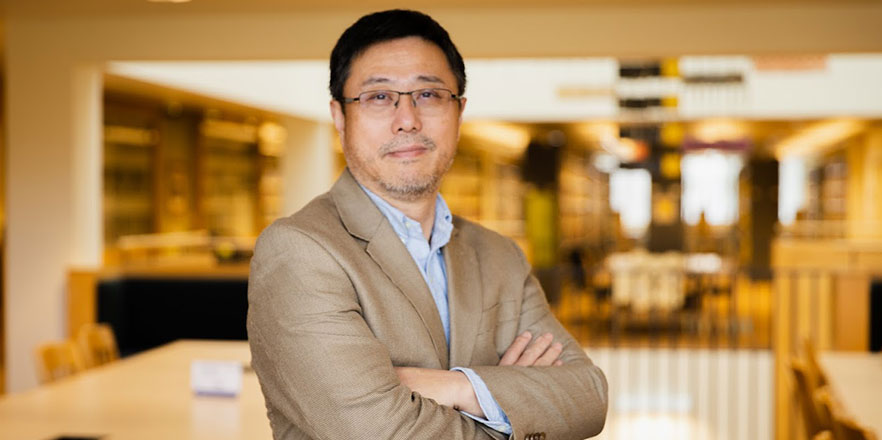 After an extensive search, Ping Fu has been named Director of Penrose Library. For more than a decade before coming to Whitman, Fu was at Central Washington University (CWU), where he served as Head of Library Technology Services, tenured Professor, and Science and Data Management Librarian. Prior to that, he served as Systems Head at Singapore Management University and as Systems Librarian at Yale University. His experiences at diverse academic institutions have afforded him opportunities to engage in teaching and research, participate in professional organizations and publish numerous scholarly articles.
"I am overjoyed that Ping Fu will be our next Director of Penrose Library," says Provost and Dean of the Faculty Alzada J. Tipton. "Ping brings extensive experience to the role. His work as Science and Data Management Librarian and Head of Technology Services at Central Washington University shows his deep expertise in technology, while his service on committees for strategic planning, collection development and budget development demonstrates the wide range of his experience."
Fu replaces Dalia Corkrum, who had been at Whitman since 2005. She retired at the end of 2022 after seeing the college and the library through the learning challenges of the pandemic.
A Leading Voice in Library Research
Tipton says Fu also embodies many of Whitman's core values. "His service to the university demonstrates his deep commitment to diversity, equity, inclusion, anti-racism and global learning." Additionally, he's developed a reputation as a leading voice in library scholarship.
"Fu has an impressive list of scholarly publications and is well-known in regional and national library organizations," says Tipton. One of Fu's most influential and innovative papers, "A Comparative Analysis on the Effect of the Integrated Library System on Staffing Models in Academic Libraries," has been cited more than 40 times since its publication in 2013.
Fu's experience as a researcher has shaped his approach to his work as a librarian in important ways. "Understanding the research process and methods has allowed me to better communicate with faculty and students and provide them with the support they need to enhance their research and learning experiences," he says. At CWU, Fu successfully completed a comprehensive data service needs assessment for faculty and researchers and spearheaded the implementation of their next-generation library service platform.
To meet the community's needs, Fu's top priorities will be collaborating with all stakeholders, including Whitman's librarians, faculty, staff and students. For him, this means "developing effective strategies to communicate the value of the library's offerings to the college community and fostering an inclusive environment that encourages intellectual exploration and meets the diverse needs of all users."
About Fu, whose personal interests include fishing, gardening, hiking, cooking and Tai Chi, Tipton says, "He is clearly bringing a spirit of enthusiasm and adventure to Whitman College."
Published on Apr 13, 2023