Historic Gift Meets Full Financial Need for Washington Students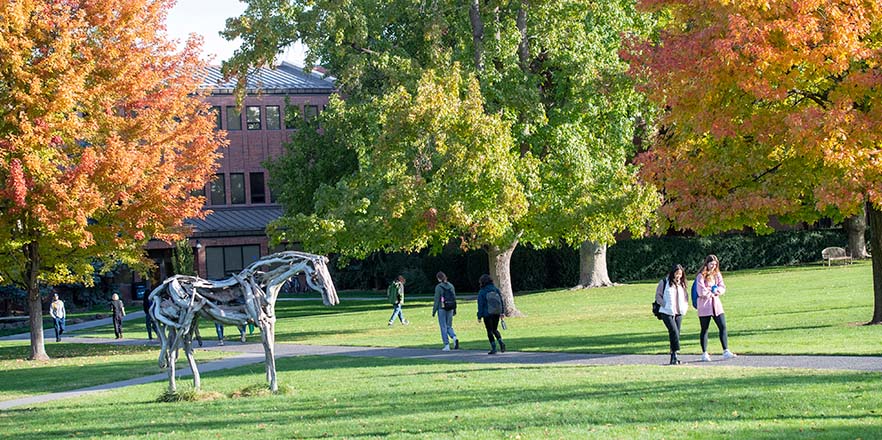 Whitman College will soon be able to meet the full financial need for students from Washington state, thanks to a historic $10 million gift to create the J. Walter and Katherine Weingart Opportunity Scholarship.
"We are deeply grateful for the impact this scholarship will have on future generations of students and are so appreciative of the Weingarts' generous philanthropy, which makes this long-held aspiration a reality," says President Kathleen Murray. "This magnificent gift is especially meaningful as it comes from members of the Whitman and Walla Walla community."
Named in honor of J. Walter "Walt" Weingart, who taught history at Whitman for 35 years, and Kathie Weingart, the endowment will expand access to Whitman students from Washington—starting with first-years in the fall of 2023—by meeting their full demonstrated financial need.
"Whitman has long been one of the most generous colleges when it comes to financial aid," says Interim Vice President for Admission and Financial Aid Adam Miller. "Now this new gift will eliminate any remaining barriers to make a Whitman education within reach for Washington state students."
The endowment builds on important progress in expanding access and affordability. Financial aid at Whitman has grown by 50 percent since 2015, and the college has made significant strides toward bringing greater transparency to the process for prospective Whitman students, as The New York Times highlighted in March.
Born in Plainfield, New Jersey in 1938, Walt earned history and law degrees from Washington and Lee University, Columbia University, Rutgers University and Northwestern University, where he met his wife, Katherine "Kathie" (Howell) Weingart, a graduate of Grinnell College and Northwestern University. The two married in 1967 before moving to Walla Walla, where Walt started his long career at Whitman and Kathie served as a psychology instructor at Walla Walla Community College for more than 30 years.
Both Walt and Kathie became fervent patrons of the local music and theater scenes. Walt retired from his career at Whitman in 2002 and died in 2021.
"Professor Weingart was a fixture in the hall on the second floor in Maxey Hall, ready with a quick comment, a story to tell, or an idiosyncratic question," wrote David Schmitz, Robert Allen Skotheim Chair of History and Walt's former colleague, in an In Memoriam message to the Whitman community. "He had a sharp wit, enjoyed making people laugh, and his own booming laugh could be heard up and down the corridor."
Prior to this latest gift, the Weingart family also established the J. Walter and Katherine H. Weingart Scholarship Endowment, which provides need-based scholarship assistance to students transferring to Whitman from community colleges, as well as the J. Walter and Katherine H. Weingart Chamber Music Endowment and the John and Marguerite Weingart Library Endowment, named in honor of Walt's parents.