Visiting Writers Reading Series Connects Students to Acclaimed Authors
By Tara Roberts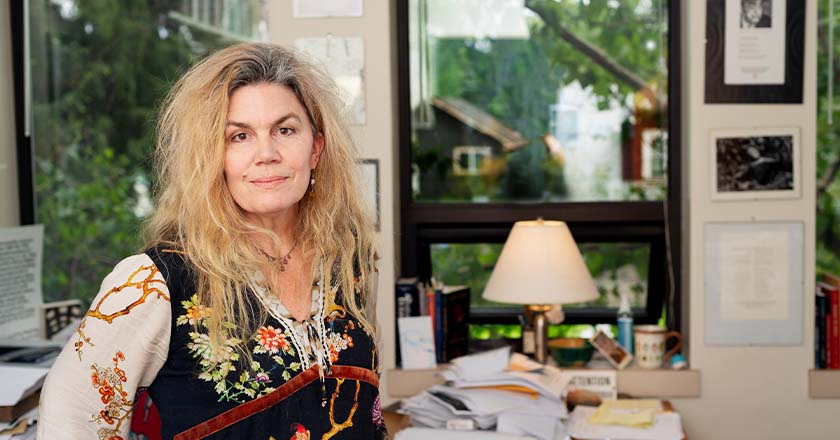 Since 1998, Whitman College has welcomed more than 200 authors through the Visiting Writers Reading Series (VWRS). The 2022–2023 season continues this legacy, presenting writers from multiple genres and backgrounds, from established masters of their craft to fresh voices breaking onto the literary scene.
The Mina Schwabacher Professor of English/Creative Writing and Humanities Katrina Roberts—the VWRS organizer—says she strives to build inclusive slates of writers who introduce students to new ways of writing and thinking.
"Bringing people in, even for just a day or two, gives you so much of a window into a whole world of experience and perspective and insight and method and innovation and empathy and social engagement—just so many different things," Roberts says.

Connecting Beyond Public Readings
The series opened in September with poet and essayist Camille Dungy, who first visited in 2012 and returned in 2019. This year, in addition to hosting a reading and conversation for VWRS, Dungy is Whitman's 2022-2023 Edward J. Arnold Visiting Professor.
Dungy says VWRS is notable not only for drawing esteemed writers, but also for giving Whitman students the opportunity to work directly with them.
Visiting writers lead discussions and workshops in creative writing classes and often collaborate with other departments for guest lectures. Student artists create broadsides pairing their illustrations with the writers' works.
"If you walk up and down the hall in Olin and just see some of the broadsides, you think, 'Oh, that's the book that won the National Book Award,'" Dungy says. "It's really amazing what the students are exposed to."
Roberts collaborates with fellow creative writing faculty to invite writers whose work students will encounter in class. This year, for example, Associate Professor of English Kisha Lewellyn Schlegel's intermediate nonfiction students studied memoirist Melissa Febos' work. When Febos visited virtually in October, she led a Zoom workshop for them.
"During the pandemic, we were able to connect in such powerful ways while virtual—literally across continents—for an additional sequence of writing workshops," Roberts says.

Upcoming Writers to Look Forward To
Acclaimed fiction writer Karen Russell, a Pulitzer Prize finalist for her 2011 debut novel Swamplandia!, is next in the VWRS lineup. Roberts invited her at the request of her colleague, English Professor Scott Elliott, whose class Russell is visiting today. She will read tonight, Nov. 10, at 7 p.m. in Olin Auditorium.
Poet Shangyang Fang, who writes both in English and Chinese and recently released his debut collection, Burying the Mountain, follows on Dec 1. He will read at 7 p.m. in Kimball Theatre, inside Hunter Conservatory.
Fang is also a visiting professor this year while Roberts is on sabbatical. Two other upcoming writers are pulled from his classes' reading lists: Jane Miller, whose 12 books include poetry and essays, will read on April 6. Fiction writer Rachel Heng—whose second novel,"The Great Reclamation," is due out in March—will read on April 27.
Rounding out the season is professor, curator, activist and author Lacy M. Johnson on Feb. 9.

Extending the Legacy of Visiting Writers
VWRS was born in 1998, curated by Roberts after she became Whitman's first full-time creative writing professor. But, she says, the series builds on the college's much longer history of welcoming visiting writers to read and teach.
"I felt it was important to keep that momentum going and to carve out an identity and commitment on campus for these visiting events to occur and to gain visibility, to have their impact reach across the community as much as possible," she says.
Extending that impact even farther, Roberts gathered wisdom from the first 15 years of VWRS guests in the 2015 anthology "Because You Asked: A Book of Answers on the Art and Craft of The Writing Life."
She expects to see the series' influence continue to unfold as it reaches new generations.
"I think we're going to need more and more creative vision to deal with the world's problems," says Roberts, whose newest book of poetry, "Likeness," hits bookstands Nov. 25. "It's such an exciting time to be writing, and I love that for our students."
Published on Nov 10, 2022