President's Scholarship Allows Math Major Sylvie Corwin '22 to Pursue Art Passion
By Savannah Tranchell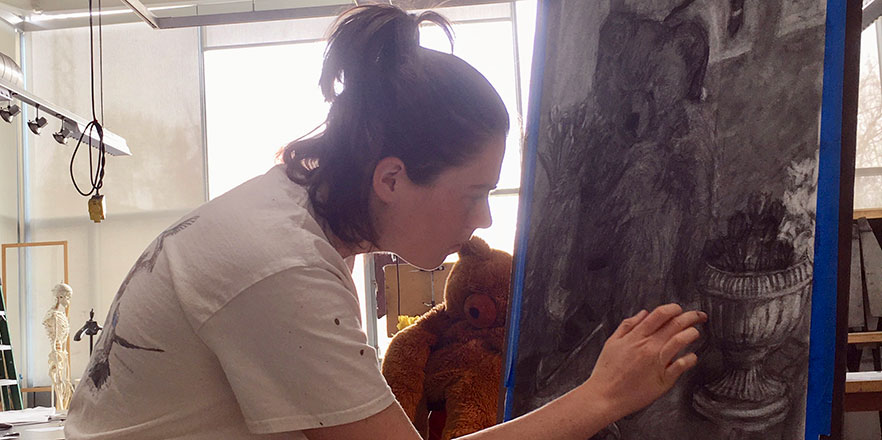 There are some beautiful mailboxes in Sylvie Corwin's Seattle neighborhood. One stands out among its black neighbors — carefully hand-painted on all sides with images of Washington state's iconic mountains.
The mailboxes are the result of Corwin's required senior project from high school. For her project, Corwin opened a mailbox painting business.
The business didn't make her an entrepreneurial success, but it did help her earn an art scholarship to Whitman College. Now a sophomore mathematics and English double major, with an art minor, Corwin included images of the mailboxes in her art portfolio, and received a talent-based President's Scholarship to study at Whitman.
Whitman offers President's Scholarships and talent-based scholarships in theater arts, fine arts, debate and music. For the fine arts award, recipients have to at least minor in the Art Department.
Corwin comes from a line of artists — her brother, Kirk Corwin '19, also studied art at Whitman, and her father also enjoys art. Corwin's love of mathematics and English also comes from her father, who works as an actuary.
"My dad was an English and math major. Ever since elementary school, I wanted to be the same. I'd say, 'I'm going to be a math genius, just like my dad,'" Corwin said.
Ultimately, she hopes to find a career that combines her love of words, math and art, possibly in computer animation.
"Ideally, I would have all of them be part of my life, in some manner," she said.
So far in her courses, Corwin has been exploring two-dimensional art and enjoys drawing and painting. She's looking forward to delving into three-dimensional creations, and likes that Whitman's program allows artists to explore many different mediums.
Corwin likes that the scholarship gives her a reason to take art classes, which are counting toward her minor requirements rather than just general distribution.
"It was an excuse to stay in the art building and keep doing art," she said. "I get to do something I really enjoy, and still have it be productive and toward my minor."
Corwin enjoys working in the Fouts Center for Visual Arts, where art students have access to studio space.
"I like going there and working on a project. It's a very de-stressing space," she said. "It's easy to just focus on a project and not worry about any of the other things you have to do when you get out of the building."
It's also an inspiring space to create in.
"The walls always have other classes' work up, and you get to see what everyone else is doing," she said. "It's fun to be surrounded by art when you're doing art."
Published on Apr 15, 2020