Stephen Hammond '79 Named 2022 Commencement Speaker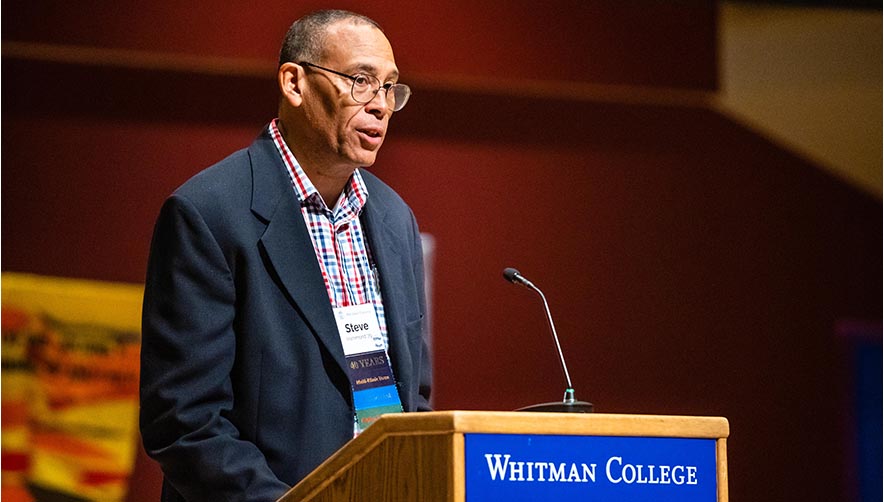 Emeritus Scientist at the United States Geological Survey Stephen Hammond '79 will take the podium this spring as Whitman College's 2022 Commencement Speaker.
"These graduates have really persevered," said Hammond. "I'm surprised, humbled and honored to be invited to join the graduation ceremony as the Class of 2022 Commencement Speaker."
Hammond graduated from Whitman with a combined degree in geology and mathematics, and went onto a distinguished 40-year career with the United States Geological Survey, where he is now an Emeritus Scientist and volunteers his time supporting women and minorities in STEM.
He has served on the Whitman College Board of Trustees and Presidential Search Committee. In addition to meeting with Whitman students and families in the Washington, D.C., area, where he resides with wife Charlotte Bibb Hammond (fellow Whitman College Class of 1979), Hammond makes it a priority to connect with current students during his visits to Walla Walla. Delivering the Commencement Address this year will be a natural extension of that dedication.
"I really enjoy my regular trips to the Whitman campus that allow me to spend time with students," he said. "This trip will be very special."
Hammond's interests in his retirement include genealogy and family history, on which he has given a number of public talks. In particular, he has participated in a variety of National Park Service programs at Arlington House, the Robert E. Lee Memorial, to highlight the lives of his ancestors and others who were enslaved on that estate. Last year, his story was featured on the NPR program "All Things Considered."
He has also been interviewed by and contributed to exhibits at George Washington's Mount Vernon, the Smithsonian National Museum of African American History and Culture and the White House Historical Association. Hammond is a charter member of the Sons and Daughters of the United States Middle Passage, the Afro-American Historical and Genealogical Society and the Louisiana Historical Society.
"I am so pleased that Steve has accepted our invitation to address the Class of 2022 as our commencement speaker," said Whitman President Kathleen Murray. "He is a terrific role model and advocate for young people who has given so much back to our school over the years since his own graduation. We are honored to have him join us for this very special occasion, which we hope will more closely resemble our pre-pandemic traditions while still taking into account the health and safety of all our guests."
Whitman's 136th Commencement will take place Sunday, May 22, on the Memorial Building South Lawn. For the first time in several years, families of graduates will again be welcome to attend in person, as long as they adhere to campus COVID-19 policies, including all vaccination requirements. A livestream will also be available.
Published on Mar 15, 2022