Liam Voorhees '21 Awarded Prestigious Watson Fellowship
By Lara Hale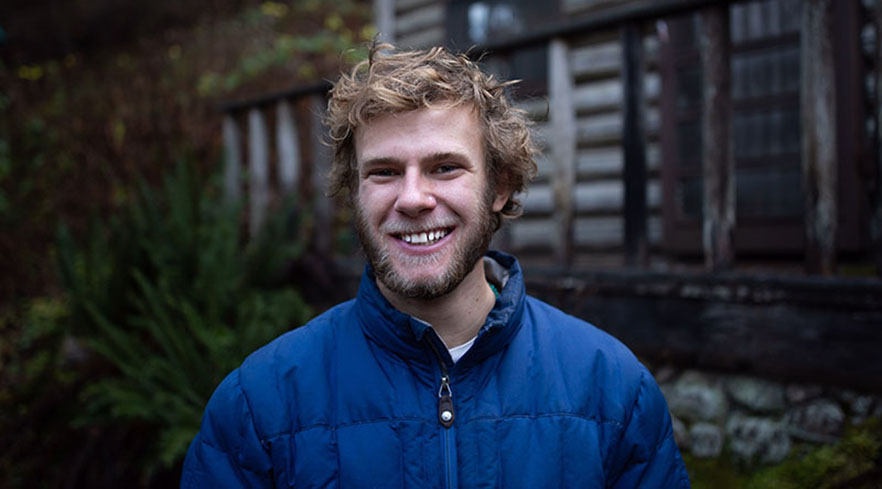 Winning the esteemed fellowship is a watershed moment in the Whitman College senior's study of rivers
Liam Voorhees '21 from Bellevue, Washington, is one of only 42 students in the country to be awarded the 2021 Thomas J. Watson Fellowship. The prestigious award includes a $36,000 stipend to allow "purposeful, independent exploration outside the United States."
Voorhees, an environmental humanities major who is writing his senior thesis on water issues in the Yakima River, plans to spend the fellowship year traveling to Austria, Vietnam and Japan to study the links between water resources and food production, distribution and consumption in communities centered around rivers.
Although the fellowship only accepts applications from graduating seniors, Voorhees set his sights on it in the fall of his first year at Whitman. "I went to an information session, talked to the Office of Fellowships and Grants about it and I took home a Watson Fellowship pamphlet and pinned it to my corkboard for the next four years," he says. "I knew it was something I wanted to strive for, but I never thought it was going to happen, to be honest."
River Interest Runs Deep
Voorhees' interest in rivers goes back even further though, to the activities he first enjoyed on the regular trips he took to visit family in Montana as a child. "I grew up rafting and had an obsession with fishing. I wanted to be on the river all the time."
In time, he found himself less focused on the fish themselves and more interested in understanding and engaging with the river habitat. At around the same age, he launched his first business—Red Wagon Farm—growing heirloom varieties of pumpkins in his backyard and wheeling them around to sell to neighbors.
In the personal essay he wrote as part of his fellowship application, Voorhees credited these experiences as sparking his understanding of water as a resource. "I started to make the connection between the water I used to grow my plants and the water I would wade through for fishing," he says, referring to the Cedar River, whose watershed provides around 70 percent of the drinking water in the greater Seattle area.
Connecting Whitman and the World
At Whitman, Voorhees continued to pursue his interest, studying the politics involved in water rights matters, water conservation efforts, and the protection of riparian habitats. Last summer, he interned with Whitman alum Kevin Scribner '75, a member of the Columbia River Basin Partnership and Salmon-Safe who leads outreach efforts aimed at transforming land management practices so Pacific salmon can thrive. As Watson fellow, Voorhees will dive deeper into many of these issues.
"Particularly what I'm focusing on is agrarian societies and their relationships to waterways … how they use water, whether they redirect it out of the river to farm or whether they farm in it by growing shrimp and fish," he says. "I really want to engage with those people and learn from them on a more global scale what's happening in other areas—and connect that back what I've learned at Whitman and in growing up in the Pacific Northwest."
Published on Mar 23, 2021