All In: Donor Support Provides Experiences, Equipment for Whitman's Scholar-Athletes
By Savannah Tranchell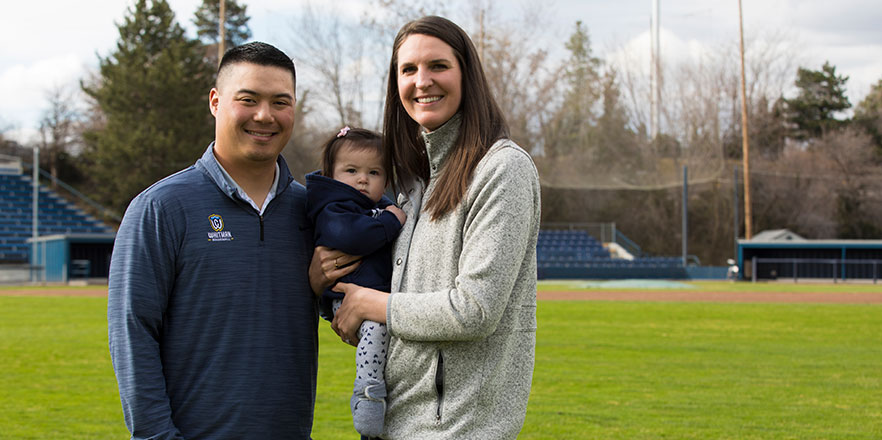 When he was a scholar-athlete at Whitman College, Brian Kitamura '10 had to pay for his team uniform.
"We've come a long way!" said Kitamura, who earned his psychology degree from Whitman and took the head coach spot for the Blues baseball team in 2015.
The college has made huge strides in strengthening the baseball program — as well as all its athletics offerings — in recent years. The baseball team has seen increased wins over the past three years and closing in on a dream of reaching the conference tournament — and students no longer have to buy their own uniforms.
But other opportunities that strengthen the experience for Whitman's scholar-athletes come because of the generosity of donors. Experiences like when the team got to play at what was then Safeco Field in Seattle. Or when Kitamura saved up to purchase a new pitching machine. Or this year, when the team was able to travel to Tucson, Arizona, and play in the Kino Sports Complex, a former MBL spring training facility.
"Being able to play at Safeco was probably the highlight of our time here, as far as stuff that we've gotten to do on the field," said Milo Mincin '19, economics. "Getting all the alumni out there to support us while we did it - it just felt like we had a family."
Under NCAA athletic rules, students in Division III schools like Whitman don't receive scholarships to play - each team member is admitted for their academic merits. But that doesn't mean the quality of the athletic programs aren't still a draw for scholars passionate about their sport.
"I chose Whitman because it was the only school that offered me baseball and also I loved how much it would challenge me academically," said Lucas Thrun '19, a film and media studies major and music minor. "They also offered me a music scholarship, which I was really happy about. So it allowed me to continue to play music and play baseball at the same time."
Experiences like playing in Seattle are the icing on the cake.
"When I think about my time here, I always think back to that game at Safeco. That was really just a once-in-a-lifetime experience, and being able to make a play in the field, and then look up at the scoreboard and see the replay was just really unbelievable," said Jake Wishart '19, economics. "Playing in a major league field was a dream of mine since I can remember. That was just really special, and a memory that I'll have for the rest of my life."
"It wouldn't have been possible without the financial support of our alumni," Thrun said.
As a coach and former athlete, Kitamura knows how much those experiences mean to the players. As alumni, he and his wife, Kirsten '12 are proud to help athletes have those experiences. Kirsten Kitamura was also an athlete — the economics major played basketball for two years.
"We both have really positive experiences at Whitman, and we feel like Whitman really prepared us for life after college, and our careers," said Kirsten, who now works as a CPA at a Walla Walla area winery. "We want to be able to give other students that opportunity as well."
Brian Kitamura agreed.
"I've been a student, an alum, staff member, now faculty. I've seen it all. The reason why my wife and I chose to give is we want to help support the students," Brian said. "It's about creating a better experience for everybody who is going to come after us. Helping them have opportunities that will benefit their experience. That's the ultimate goal."
Learn more about supporting Whitman students through giving.
Published on Apr 16, 2019