Educational Designer Katie Krummeck '03 Creates Innovative Commencement Address
By Savannah Tranchell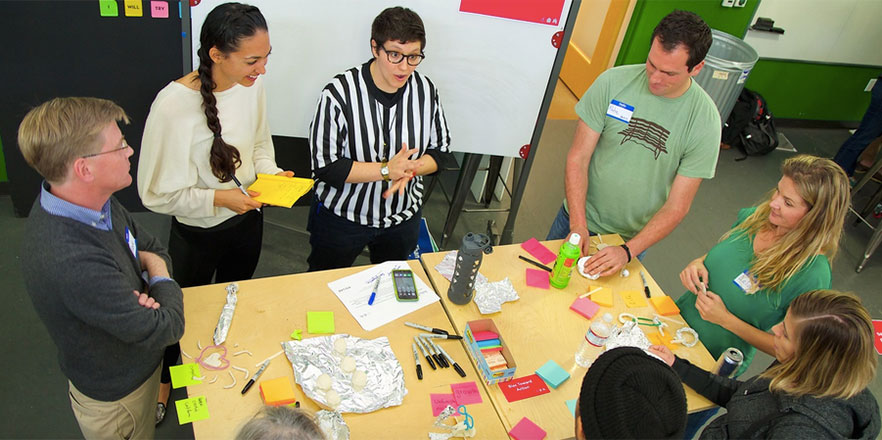 Katie Krummeck '03 has made a career out of inspiring educational institutions and nonprofits to think differently.
So when it happened that the year Krummeck was asked to be the keynote speaker for commencement at Whitman College was also an unprecedented year of bringing it to a virtual realm, she was ready to think about how to make the most of the unusual situation.
"This is an amazing, once-in-a-lifetime honor. It would have been nice to be at the podium in the sunshine, but I decided to really try and not just substitute the online video for the in-person talk, but try and leverage the medium of the video to its fullest potential," said Krummeck, an educational designer and consultant who will give her talk from the home in Portland, Oregon, that she shares with her partner, Annelise Heinz '03.
Krummeck used her own training to create an interactive address that meets the needs of today's graduates. To prepare, she interviewed a group of Whitman seniors, and used their input to guide her video. She also reached out to her alumni network and other current students to solicit participation.
"I practice human-centered design, and part of what we do is engage with the people that we're serving," Krummeck said. "Being able to sit down and have a conversation with students about how they're feeling, what their fears are, what their hopes are, and what they are interested in hearing from me was enormously inspiring and helpful in terms of shaping the talk."
Whitman College had to cancel its in-person graduation ceremony due to restrictions caused by the COVID-19 pandemic. Instead, the college is creating a virtual event for its 134th Commencement Ceremony. The event will include remarks from President Kathleen Murray, Board of Trustees Chair Nancy Serrurier, class speaker Maude Lustig '20 and Krummeck, as well as the traditional reading of names by Provost Alzada Tipton, and short video clips and photos provided by the graduates themselves.
"I wish that we could be together in person to celebrate the incredible accomplishments of the Class of 2020. However, I am excited for students, families and the rest of the Whitman community to acknowledge the brilliance and resilience of our seniors in an entirely new way," Murray said. "I'm also looking forward to hearing from our commencement speaker, Katie Krummeck, who is known for her innovative thinking. I know she'll be an inspiration for our seniors, especially in these uncertain times."
The virtual ceremony will still begin at 11 a.m. Sunday, May 24, 2020. The public will be able to access the ceremony on the college's commencement webpage.
Designing a Degree — and a Life
Krummeck calls her career nonlinear, but it does have a common theme — throughout her life, Krummeck has been passionate about education, and had an eagerness to redesign it.
That was true at Whitman too, where Krummeck designed her own major. She earned a degree in American Studies, pulling together courses from history, politics, social sciences, art history, literature and rhetoric to gain an interdisciplinary perspective on American society and culture.
"I ended up forecasting my future," Krummeck said. "It turns out the world is an interdisciplinary place. Problems we have are interdisciplinary. That interdisciplinary piece has been a huge thing in my career as an educator, in thinking about how to bridge disciplines and bring them together."
After graduating in 2003, Krummeck was a student teacher at Walla Walla High School, earning her teacher credentials. She stayed in town, serving as a substitute teacher in the district, when former Whitman instructor Dan Calzaretta asked Krummeck if she'd like to help him start a small independent school. The school ran on a project-based model that combined middle and high school students in one room, learning collaboratively.
"I got really early exposure to what it means to design a learning environment, and a learning culture," she said. "It was a really interesting way to enter my career, and it allowed me to experiment with project-based learning and interdisciplinary learning."
Today, Krummeck is a consultant. She works with nonprofits, K-12 systems, school leaders and corporate executives to teach them to use the human-centered design process to drive innovation. She is also working as a global design advisor for the Aga Khan Foundation, an international organization that brings together human, financial and technical resources to address challenges faced by marginalized communities around the world.
For Aga Kahn, Krummeck has created a human-centered design toolkit for educators. The foundation is a part of a coalition of funders who are a part of the Schools2030 initiative. This initiative is working with 1,000 underserved schools around the world, collecting data to create a baseline for student achievement.
"The leadership of the Schools2030 initiative wanted to create an innovation process around that data, and leverage human-centered design to empower teachers to create meaningful solutions to their most pressing problems," she said. "My colleague and I created this toolkit that's meant to go into the hands of educators on the front lines in these schools."
While her work started in person, because of COVID-19 she's now moving the toolkit online and offering virtual trainings.
"What I do mostly for a living is convene people. When you can't convene people in person, that's tough," she said. "I've been transitioning a lot of work online — building tools and strategies for bringing people together, creating learning experiences for them, and doing critical strategic work online. While it is not a great time to convene in person, it is an important time to think empathetically and creatively when designing equitable responses to the current crisis."
Reflecting on the Future
Krummeck hopes that students will be inspired to design their own futures and paths, and know that the education they've received has given them the tools they need to do that.
Even in the midst of a major upheaval like the current pandemic.
"In human-centered design, we leverage a lot of processes, steps, methods and tools to help us make sense of an ambiguous situation," Krummeck said. "Human-centered design is about improving experiences for people and thinking creatively — how do we come up with new ways of doing things that have not been done before? Inherent in that is the need to navigate ambiguity and step into a space that's unknown."
How can graduating students move confidently into their unknown futures? Krummeck's advice: Know what tools you have at your disposal. Use established methods to make sense of the moment. And don't go it alone.
"It's not that I need to envision right now, alone at my desk, the next new thing — it's about convening a team and going through a process, and really leaning into those small steps to get to a bigger change over time," Krummeck said.
"The biggest thing to lend to seniors right now is that they don't have to have all the answers — and they can't have the answers. We're just in this weird ambiguous space. Trying to figure out in the short-term what to do, and take action around those things, and trust that taking action in small ways over time will lead up to something much bigger."
Published on May 20, 2020