Henniger Scholarship Provides Helping Hand for First-Generation Students
By Stacie Jones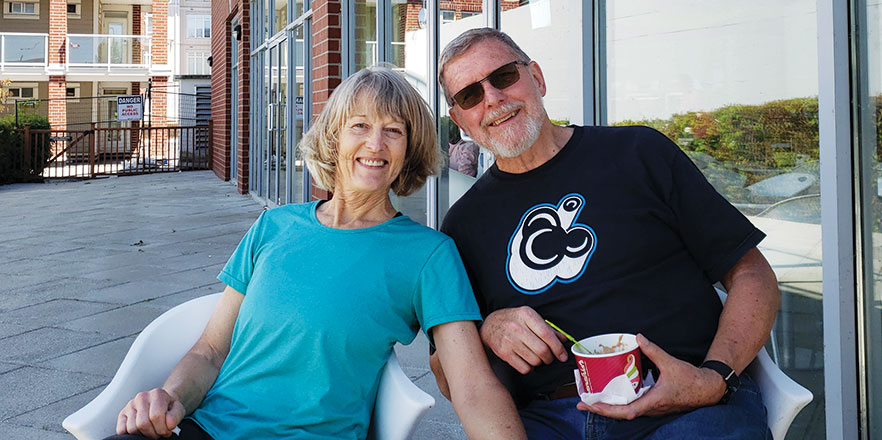 When Mike Henniger '70 graduated in 1966 from Richland High School in Richland, Washington, he wasn't sure what was next.
"I was one of those high school grads who didn't have a clue in the sense that I didn't know where I wanted to go or what I wanted to do," he said.
He may have been fuzzy about his future, but Henniger was certain of one thing: He loved football. So, when his high school teammate and best buddy, Dean Nichols '70, urged Henniger to join him on the football team at Whitman College in Walla Walla, he obliged.
Turns out, Whitman was a big step in the right direction.
"I think I would have been lost at a bigger institution," Henniger said. "Whitman was perfect for me because I was in an environment where I felt supported and was motivated to expand my horizons. It really was a good experience for me."
Whitman's outstanding liberal arts education helped him find his way in life, Henniger said. Now he wants to help other students navigate their futures through a Whitman education. Mike and his wife, Lisa, have established the Dale and Frances Henniger Scholarship Endowment, named in honor of Henniger's parents.
The scholarship will support first-generation students.
"First-generation students often don't have the extra assets to invest in a college education," he said. "I'm a first-generation student, and I feel it's important to give back to Whitman in a way that will make it possible for other students in similar circumstances to go to college."
Mike and Lisa Henniger also named Whitman as a beneficiary of their retirement account to further fund the scholarship endowment after their deaths, making them new members of the Dorsey Baker Legacy Society. In addition to the bequest, the Hennigers are funding the scholarship through gifts from their required IRA distributions. By donating directly to Whitman from their retirement fund, the Hennigers can begin supporting students right away while also receiving a tax benefit.
"We are strong believers in giving back," Mike Henniger said. "We are committed to using some of the gifts we've received through retirement and investments to help others. I'm happy we have the resources to be able to do that."
Education has played a significant role in the Hennigers' lives. After receiving his bachelor's degree in mathematics at Whitman, Mike earned his doctorate in early childhood education from the University of Texas. He spent 35 years in teaching and administration before retiring in 2012 from Western Washington University, where he most recently served as associate dean of the Woodring College of Education.
Lisa Henniger's career also centered around higher education: she worked in administration at Washington State University (WSU) and Western Washington University. She earned a bachelor's from WSU and a master's from University of Washington.
The Hennigers relocated this summer from Ferndale, Washington, to Portland, Oregon, to be closer to their grandchildren. Married since 1997, the couple have a blended family of six grown children.
Henniger said he learned a valuable lesson during his time at Whitman.
"Whitman taught me you can be whatever you choose to be," he said. "I hope I shared that sentiment with the students I have taught and worked with throughout my career."
Learn more about how you can provide opportunities for Whitman students through your estate on the Office of Planned Giving website.