Go Blues! Whit City is Back
By Sydney London '23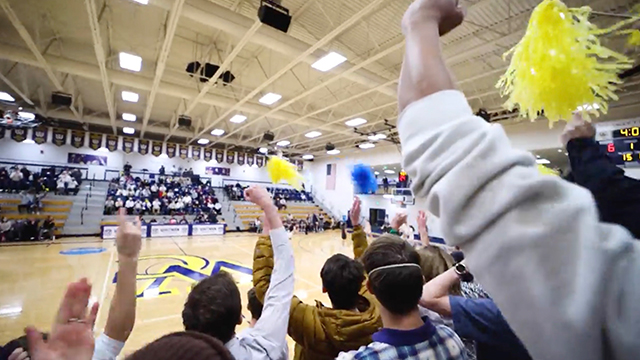 And the crowd goes wild … thanks to Whit City, the branded student section for all things Whitman athletics, student-athletes can now count on boisterous support from the sidelines—of the court, field or pool.
In the spring of 2020, Whit City's efforts were gaining momentum and student support just as the Women's Basketball team advanced to the Sweet 16 in the NCAA tournament. And then the pandemic brought all sports to a halt and sent Whitman students home for months of Zoom classes and limited activities.
Loud & Proud
Now in 2023, with the return of regular athletic seasons, students are reviving the tradition that once was going strong. Spearheading Whit City's comeback is the Student-Athlete Advisory Committee (SAAC)—athletes from across teams who work together to enhance the student-athlete experience on campus and in the larger community.
Gabe Wasserman, a junior on the men's Cross Country and Distance Track Teams, describes the goal of Whit City as, "a way to grow school spirit and build energy around athletics by getting people out to games."
You don't even need to know the game. It's about being there for your fellow Whitties and having pride in Whitman, he says. "It can also be a purely social experience … just by showing up and packing the bleachers. It's fun when people participate and get loud!"
Over the 2022–2023 academic year, Whit City has geared up for athletic events by offering T-shirts and other incentives for those who come to out to cheer.
These spirited efforts have not gone unnoticed by those on the receiving end. Daniel Bloor, a senior on the Men's Swimming Team, is grateful for the boost. "It's nice to know a community is backing us—outside of my team members and the athletic department."
Elena McHargue, a senior Women's Basketball player describes a similar sentiment: "To be on the court and to know that my friends and classmates are in the stands cheering us on is a great feeling. I'm incredibly grateful that people want to see what we've worked so hard for all season."
Whitties Support Whitties
"The comeback of Whit City does not just benefit athletics but the Whitman community as a whole," says Wasserman. He encourages those from all corners of campus to experience what it feels like to come together and cheer on their peers.
Whit City serves as another opportunity for students to root for each other in all endeavors—whether they are on the field, in the classroom or on a stage.
Follow Whit City at @whit_city on Instagram and see the full Whitman Athletics schedule.
Published on Feb 16, 2023