Gearing Up to Welcome Whitman's Incoming Class
By Kate Moe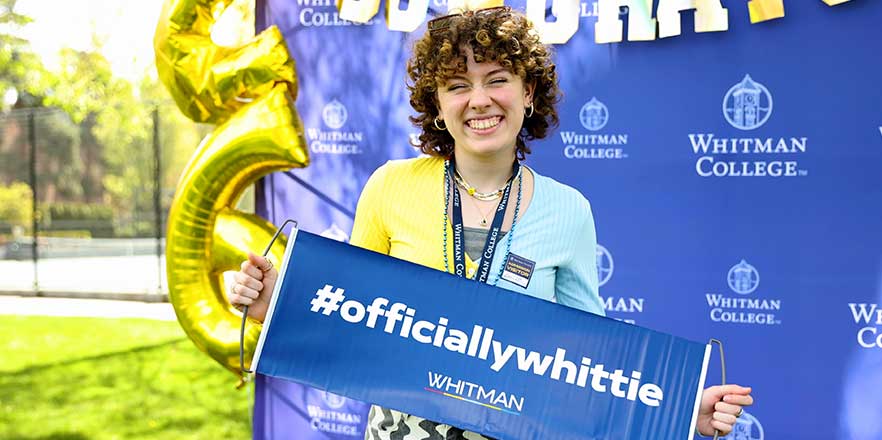 As summer break comes to a close, the Whitman College community prepares to welcome roughly 350 new students to its Class of 2026—as well as 20 transfer students from other colleges.
Move-In Day for new residents on campus is Wednesday, Aug. 24, 2022.
President Sarah Bolton will be one of the first to greet the incoming class—and share excitement for the days and years ahead. Bolton herself is relatively new to campus, having taken the lead of the college in July 2022. Along with welcoming students and kicking off the academic year, Bolton will also spend time this fall visiting various cities to connect with alumni and friends of the college.
Meet the Incoming Class
New Whitman students are coming from a wide range of places—across the Pacific Northwest, the country and the world. ​​
"Especially as someone who has lived in the Midwest their whole life, I am so excited to move to such a beautiful new area," says incoming first-year Natalie Weimholt from Saint Paul, Minnesota. "And I can't wait to meet new friends to explore it with!"
"The makeup of this incoming group represents students from such a wide range of backgrounds and experiences," says Interim Vice President for Admission and Financial Aid Adam Miller.
Some of the notable numbers for the incoming class:*
29 U.S. states

104 from Washington state (28%)

67 from California (18%)

37 from Oregon (10%)

11 each from Texas and Minnesota (3%)

48 international students from 28 countries (13%)

90 U.S. students of color (24%)

63 first-generation college students (17%)
Welcome, Whitties!
A group of enthusiastic Opening Week Leaders —or OWLs—have trained over the summer to help the newest Whitties transition to college and campus. OWLs will lead small groups in various activities and get-to-know-you games, says Senior Associate Dean of Students Juli Dunn. "Our campuswide team is putting the final touches on our Opening Week schedule. We are packing welcome bags, hanging signage, conducting the final training of our OWLs, etc. We've arrived at the all-hands-on-deck part of our summer!"
As part of Opening Week and New Student Orientation, Whitman's newest community members will also learn about various topics and opportunities, including academic resources, campus jobs, career coaching, health and wellness, and inclusion and belonging. Family members can also choose to take part in their own orientation activities—geared toward parents and guardians.
*As of Aug. 19, 2022
Published on Aug 19, 2022