All In: From "New Dorm" to a New Dorm — 40 Years Gives Employee Couple Unique Perspective on Giving
By Savannah Tranchell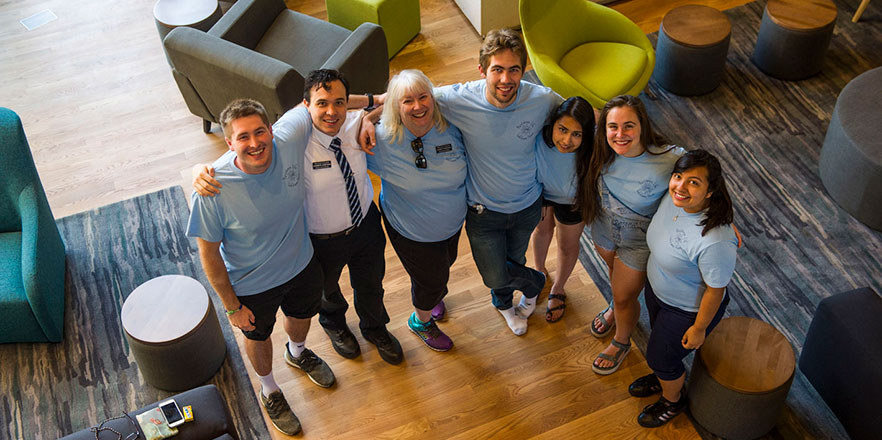 Nancy Tavelli and Keith Farrington came to Whitman College in 1977. Farrington took a faculty position in the Department of Sociology. Tavelli was a resident director in "new dorm" - now William O. Douglas Hall.
It was a temporary spot, they thought. But 42 years later, the couple is still here, as committed to Whitman College's mission and the community of Walla Walla as they ever were. Now a full professor and the Laura and Carl Peterson Chair of Social Sciences, Farrington is the last remaining faculty person hired in the 1970s.
Tavelli worked her way from being a resident director to an area coordinator, to assistant director of residence life. Today, she is an associate dean of students and oversees all student housing at Whitman.
Their longevity with the college have given Farrington and Tavelli - who were both first-generation college students - a unique perspective about the value of the Whitman experience, and what it takes to create it. It's one of the reasons that they are committed to supporting its students by giving to scholarships.
"I'm probably more much more aware now than I was as a younger person about how much it takes a college like Whitman to operate and provide all the opportunities for all the students, and all the student activities that are a vital part of the school," Farrington said. "I think as first-generation students we have a greater appreciation of all of things we need to do both financially and in terms of supporting students across the range. We try to help them out. We've always been very willing and active participants in providing that kind of support."
Starting his journey at Whitman living in the residence halls gave Farrington a unique perspective among his colleagues, he said.
"It was really quite an interesting, but a very useful, exposure to my new work environment and my new profession," Farrington said. "I was under the age of 30 at the time. So I wasn't that much older than the undergraduates with whom I lived. And it was a great way to become a part of and to learn about the Whitman culture. And really to this day, some of the best friends that Nancy and I have that we've made at Whitman are those first group of students that we encountered in Douglas Hall."
The college has grown its support for first-generation students greatly in the past 10 years. A decade ago, there weren't emergency funds to support students in crisis, there weren't as many scholarships as there are today, Tavelli said.
"I am happy to be part of that in any small way that we can," she said.
By supporting scholarship funds, donors can help students better deal with some of the hidden costs of college, like books and course fees.
"I think personally that the college has done an increasingly good job of dealing with all of the kinds of expenses that are necessary to level the playing field for all of our students," Farrington said. "And I'm really proud that our college has taken those steps."
During her tenure in residence life, Tavelli has seen housing at Whitman grow and change. She is proud of the college's interest house community, which grew from just a few language houses to 11 houses that offer specialized living and learning communities to upperclassmen.
"They often are a very defining moment for our residents," Tavelli said of the interest houses.
And this year she saw the completion of another "new dorm" - Stanton Hall, the college's sophomore residence hall which opened for fall 2018.
"Every day I think about the people that supported the Living at Whitman project - Stanton Hall, renovating Jewett Dining Hall and Cleveland Commons," Tavelli said. "They've really improved life for our sophomores and all our students. And people were amazingly generous."
The projects encapsulate the kind of community and relationships the couple built during their first years of Whitman.
"It's transformational. They'll change Whitman now and for many years to come. And I honestly believe that," Tavelli said. "I'm so very proud to have been part of planning those projects, and supporting them in any way I could."
Learn more about how you can support Whitman College through giving.
Published on Apr 16, 2019