Kazi Joshua Appointed Whitman College Dean of Students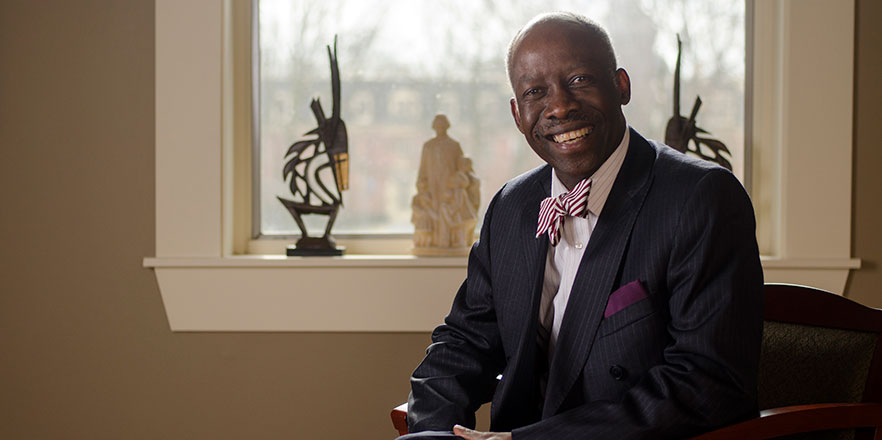 Kazi Joshua has been named Whitman College's vice president for student affairs and dean of students. Joshua has been serving as the interim dean since June 2018 and will assume the role in a permanent capacity effective immediately. He has led the college's diversity, equity and inclusion efforts since 2015.
"I am delighted that Kazi will continue to play such a key role in the lives of our students," Whitman President Kathleen Murray said. "In his tenure here, he has demonstrated principled leadership, integrity and compassion and has become a beloved figure on campus. Not only has he earned the trust of our students but the broader campus community as well."
Known for his signature bow ties and open-door policy, Joshua arrived at Whitman from Allegheny College, where he served as associate dean and director of the Center for Intercultural Advancement and Student Success. A theologian who studied at Yale University and the University of Chicago, Joshua was born in the southeast African nation of Malawi. He estimates he has spent roughly half his life in the United States and half in Africa, equipping him to easily relate to students from diverse backgrounds.
"I want to be a dean who is consistently visible, accessible and listening," Joshua said. "I consider this an amazing opportunity to contribute to the education of some of the most promising students I have worked with in my 25 years in higher education. I am particularly excited to be part of the unfolding of the implementation of the strategic plan, and to transform our aspirations into the everyday lived experiences of our students, both inside and outside the classroom."
Whitman will now launch a nationwide search for Joshua's replacement for the vice president for diversity, equity and inclusion position. Until that person is named, sociology Professor Helen Kim will continue to serve as the interim vice president, a role she assumed in July 2018.