Climbing Team Wins the 2022 NC3 Regional Circuit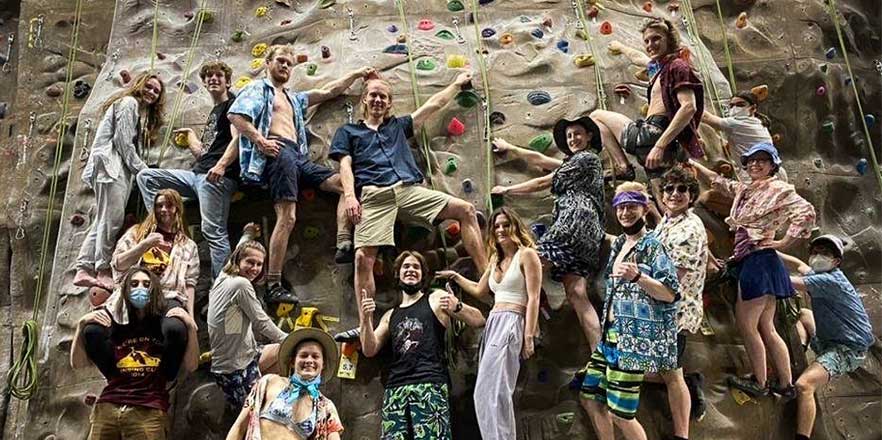 Congratulations to the Whitman College Climbing Team for winning the 2022 Northwest Collegiate Climbing Circuit (NC3)—the first climbing championship for Whitman since 2018.

"I am extremely proud of the performance of the Whitman College club sports climbing team this past year," says Brien Sheedy, director of Whitman's Outdoor Progam and climbing instructor. According to Sheedy, the club is student-led with members serving as team captains, both organizing and running practices.
The team competes in the NC3 on most weekends during Spring Semester. Climbers compete in three categories: Recreational, Advanced and Open. The points accumulated by the athletes go towards the overall team score, which includes the scores of competitors in both men's and women's in all three competition categories.
"The teams that do the best generally have lots of team members at all levels competing," Sheedy says.
Northwest Collegiate Climbing Competitions 2022 Results
In addition to the overall team win—Whitman College: 1st Place in Team Scoring—several members won individual honors—all first-year students:
Grace Remmert: 1st Place in Women's Overall

K

enzie Bay: 2nd Place in Women's Overall

Malcolm McGraw: 1st Place in Men's Overall
Remmert and Bay are both from Colorado; Remmert from Boulder and Bay from Littleton. McGraw came to Whitman from Newton, Massachusetts.
"All of the Whitman champions this year are in the Class of 2025," says Sheedy. "So we look forward to very strong team performances for the next few years." The team welcomes any Whitman student climbers, he says.
"While I am very proud of the strong performance of the team this year, I am equally proud of their team leadership and efforts to build a strong welcoming climbing community."
Published on Jun 24, 2022