Two Whitties Receive the President's Student Civic Leadership Award
By Bertine Lakjohn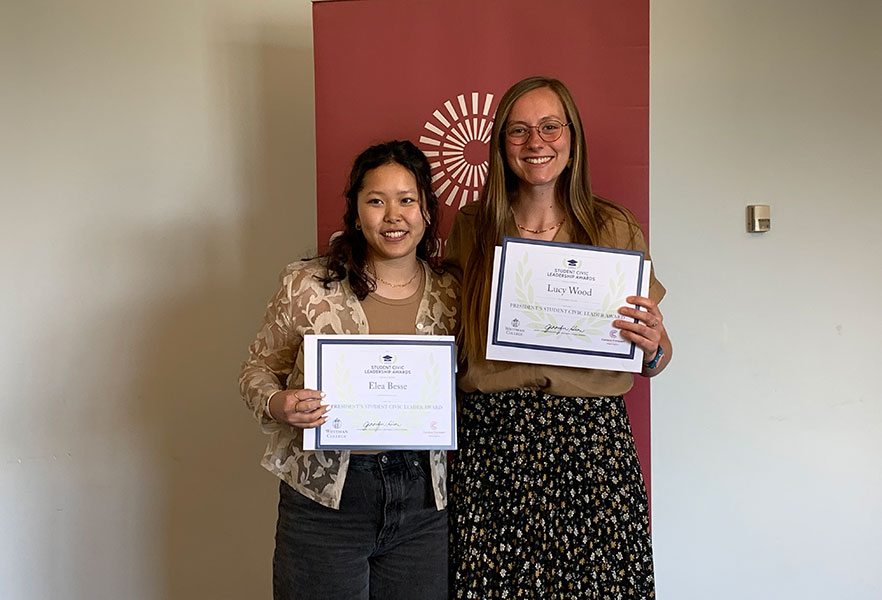 Elea Besse and Lucy Wood, both of the class of 2023, are the recipients of the 2021-2022 President's Student Civic Leadership Award, which recognizes outstanding student leaders in Washington state for their work in civic engagement and social entrepreneurship. Both students have dedicated their time at Whitman to building a more inclusive community.
Besse, a junior from Saint Paul, Minnesota, co-created the Whitman So White! podcast the summer after her first year at Whitman. As a woman of color and first-generation working-class student, Besse envisioned a safe space for Whitman's BIPOC community to share their stories about an array of topics from privilege on campus, self-care and self-love, to dismantling the model minority myth. Besse, who also co-hosts the weekly podcast, uses the platform to connect current students and alumni of color to not only positively impact Whitman in the present but also address past issues the college has failed to address. Listeners say the podcast has proven to be as empowering as it is informative and an inspiration for other students on campus to come up with creative and diligent ways to make a difference on our campus.
Besse also has invested her time in creating change within the Walla Walla community. As a summer intern for the city newspaper, the Union-Bulletin, Besse reported on issues of concern throughout the Walla Walla Valley in an effort to spotlight topics needing positive impacts.
Lucy Wood, a junior from Portland, Oregon, has also sparked change on Whitman's campus and throughout Walla Walla. The psychology major is the first Student Sustainability Coordinator for Whitman's Bon Appetit, Whitman's dining service. She hosts workshops and impromptu sessions to educate Whitman students about their food systems, choices, and waste. She has implemented a glass recycling program on campus by forming a partnership with Bon Appetit, ASWC Sustainability and Glass 2 Ground—a small-scale glass crushing program in the Walla Walla community.
Wood has played an active role in Whitman's Organic Gardens by caring for it, teaching sustainable gardening skills and aiding those interested in starting their own gardens to combat food insecurities. She has helped fellow students learn about where their food comes from and how infinite socioeconomic inequalities are within our food system.
Wood is also the leader of Whitman's Glean team, whose mission is to raise awareness of food insecurity in the Walla Walla community and advocate for more sustainable food choices on campus. Her work has connected the Glean Team to local farmers and reduced food wastage. Through a partnership with Blue Mountain Action Council, the Glean Team has saved thousands of pounds of food from local farm fields. Through this work, Woods formed relationships between Whitman students and local farmers with the aim of promoting productive exchanges of ideas and viewpoints.
Published on May 19, 2022