Senior Receives Watson Fellowship to Study Horse Cultures Abroad
By Peter Szymczak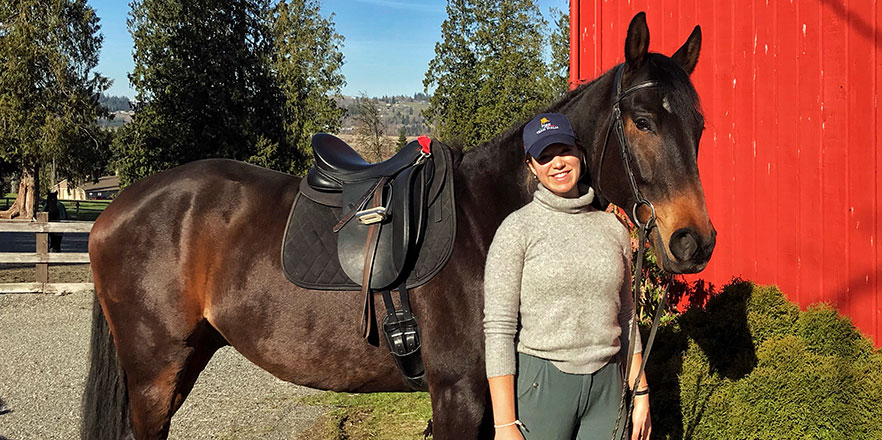 Whitman College senior Caroline Evan "Cello" Lockwood '19 will spend the year after graduation studying the ways that different cultures interact with horses, thanks to a $30,000 grant from the Thomas J. Watson Foundation.
"I am absolutely honored beyond belief," said Lockwood, who is studying environmental studies - economics. "The Watson is a fantastic opportunity to learn from and engage with new cultures, but I have no doubt the international travel will have its difficulties as well. I'm anticipating a year of challenges and self-growth."
For her Watson Fellows proposal, "Economics and Environment in the Equine World," Lockwood will visit countries with strong horse cultures, including Argentina, Australia, Turkmenistan, Ireland and Austria. During her travels, Lockwood hopes to discover how these horse cultures have assigned agency to economic pressures and environmental problems.
"In an age measured by machine clicks rather than hoof beats, I will investigate the feedback loop between horses, the economy and the environment around them. On my journey I will explore the tensions and solutions that have surfaced in response to these contemporary challenges," Lockwood wrote in her proposal for the fellowship.
Lockwood's passion for horses began as a young child, and she has worked diligently ever since to pursue it. Growing up in Seattle's urban Central District, miles from the nearest barn or pasture, she rode her first horse at the age of 4 during a visit to a family friend's farm in Montana. As a teenager she worked at a farm in Woodinville, Washington, where she cleaned horse stables and did other manual chores in exchange for riding lessons.
Winning a Watson has been one of Lockwood's goals since high school. One reason that drew her to Whitman College was the assistance the college provides in securing learning opportunities beyond graduation.
Director of Fellowships and Grants Keith Raether helped guide Lockwood as she groomed her proposal.
"The Watson is unique among fellowships in that the person is, in essence, the project. Cello's idea to explore long-established horse cultures, from Argentina to Turkmenistan, perfectly captures her sensory and metaphysical connection to equines," Raether said. "What resonates in Cello's project is the dimension of it. Her plan is not only to examine the cultural history of horses across the world but also to understand the relationship between animals, equine and human, and the socioeconomic dynamics in play within these cultures."
Lockwood said the application process was exceptionally self-driven, yet it gave her an opportunity to collect all the education she learned at Whitman and apply it in a way that is meaningful and productive.
"It spurred me to recognize how the knowledge I have gained from the classroom can be applied to this field of study I am extremely passionate about," she said.
While the Watson Fellowship will enable her individual journey, Lockwood foresees an outcome focused on giving back to the greater community.
"I would love to create a nonprofit that connects inner-city kids with horses," Lockwood said. Currently, she is working with Assistant Professor of Economics Rosie Mueller to create a benefit-cost analysis on equine-assisted therapeutic programs for prison inmates.
"I'm very grateful to everyone at Whitman who helped foster the self-agency, determination and courage that aided me as I pursued the Watson. I am excited to carry the lessons I have learned here around the world," Lockwood said.
Since 1970, 44 Whitman students have received Watsons, including 12 recipients in the last 10 years. This year, the Watson Fellowship drew upward of 600 applicants. Awardees hail from six countries and 21 states and will trek to 67 countries to explore topics ranging from pediatric cancer treatment to citizen journalism to animation to autonomous vehicles, according to press materials.
Founded in 1968, the fellowship honors Thomas J. Watson, Sr., an American businessman best known as an early chairman and CEO of IBM. Participation is by invitation; 40 liberal arts schools, including Whitman College, are on the list and each is allowed to nominate four students.
Published on Mar 27, 2019