Broze Scholarship for First-Generation Students Supports Boundless Curiosity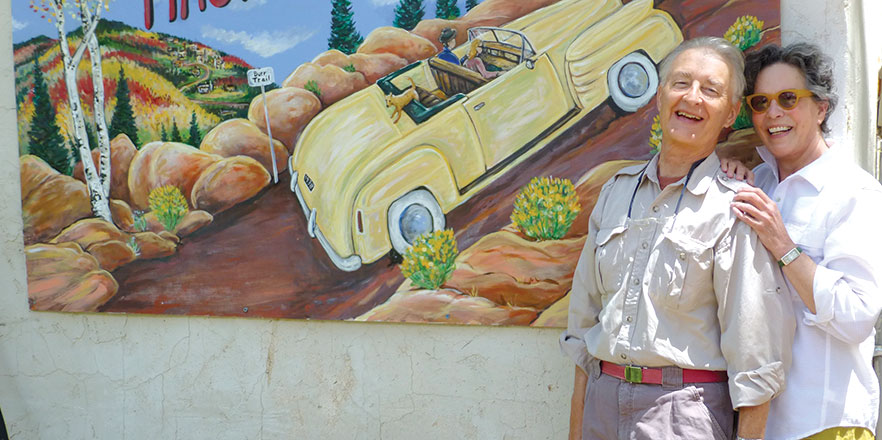 When it came to higher education, Vincent "Jay" Broze '69 and Diana Cochener Broze '69 came from very different backgrounds. In Diana's family, the Quaker tradition meant that even her great-great-grandmother went to college.
"Back then, both the men and women were expected to train to be teachers, and most were able to go," Diana said.
But for Jay's family, there were more barriers, including significant financial ones. College fell just barely out of reach for his father, Vince Broze - who had to turn down a scholarship, head to Seattle and take whatever work he could find in order to send money home to his father and younger siblings.
Vince did his best to instill a love of learning and adventure in his children. Jay and his two sisters attended elementary school in Alaska, where Vince worked establishing airmail routes for the U.S. Postal Service, and they became avid skiers and explorers. When Jay was in middle school, his family moved to Seattle, and his thirst for exploration continued to grow. After graduating from Roosevelt High School, Jay came to Whitman College because he could continue to pursue his passion for the outdoors, as well as challenge himself intellectually. He paid for his tuition with summer jobs working in the canneries in Alaska.
"I think partially because he was a first-generation student, Jay took much more advantage of his education," said Diana, who earned her degree in English. "For me, it was taken as a given that I would attend college. Whitman was a dream thing for Jay. He was just hungry for it. He had a big brain, and liked to use it."
Jay graduated from Whitman with a degree in history, and went on to earn a master's in Arabic studies from Johns Hopkins School of Advanced International Studies. Jay and Diana were classmates and friends at Whitman, but it wasn't until the early 1980s that they reconnected and married.
"He found both college and graduate programs enormously stimulating and they set the tone for his lifelong inquiry into practically everything," Diana said.
When Jay died prematurely in 2013, Diana began looking for a way to honor his passion for education.
Jay's career had spanned work as a copywriter, journalist and author, and he also was a skier, sailor and aerobatic pilot. And the couple was passionate about philanthropy. They formed the Cape Flattery Foundation, named for the Northwestern-most point in the United States, to honor the spirit of discovery that drove Jay and to support causes that they were both passionate about, from the skiing program at Whitman to the Museum of Flight in Seattle. With every gift, their sense of being thankful for being able to make the gift was reinforced.
In 1993, the year their oldest son graduated and their second began kindergarten, Diana began serving on the board of The Bush School, an independent K-12 school in Seattle. During her more than 15 years on the board, she chaired the Trustee Committee, led the effort to hire a new Head of School, and served as chair of a capital campaign. This experience led Diana and Jay to think bigger about what philanthropy could accomplish.
"When I would talk to potential donors, I watched them begin to understand what a significant contribution might do for others," she said. During this time, the couple also began putting down deeper roots in Walla Walla, visiting each summer with their two younger sons, Rafael and Elliot '12. Diana and Jay enjoyed interesting conversations with fellow Whitman alumni and other friends. When it was time to retire in 2011, Walla Walla was the top mutual choice. They enjoyed being close to Whitman and their friends here for two years before Jay's passing in September 2013.
In 2016, Diana made a gift in Jay's memory to establish a fellowship in Middle East studies at Johns Hopkins.
In 2018, she attended a meeting about Whitman's' new strategic plan at President Kathleen Murray's home, and an idea for how to honor Jay's memory at Whitman solidified.
"When I read the proposed plan, the goal of meeting the demonstrated need of every incoming student really resonated. It was just a home run for me," she said.
To honor Jay's boundless intellectual curiosity and his gratitude to Whitman for encouraging him, Diana created the Broze Scholarship, which covers the full need of students at Whitman, particularly those who are the first in their family to attend college.
The $1 million endowment gift provides a full-need scholarship substantial enough to help one to two students at a time through all four years of their Whitman education, allowing them to see where their intellects might take them. Diana hopes that others will consider what they can do, on any scale: "Think about the potential for affecting just one life."