Blues Athletes Bring Home Academic Awards in All Varsity Sports
By Sydney London '23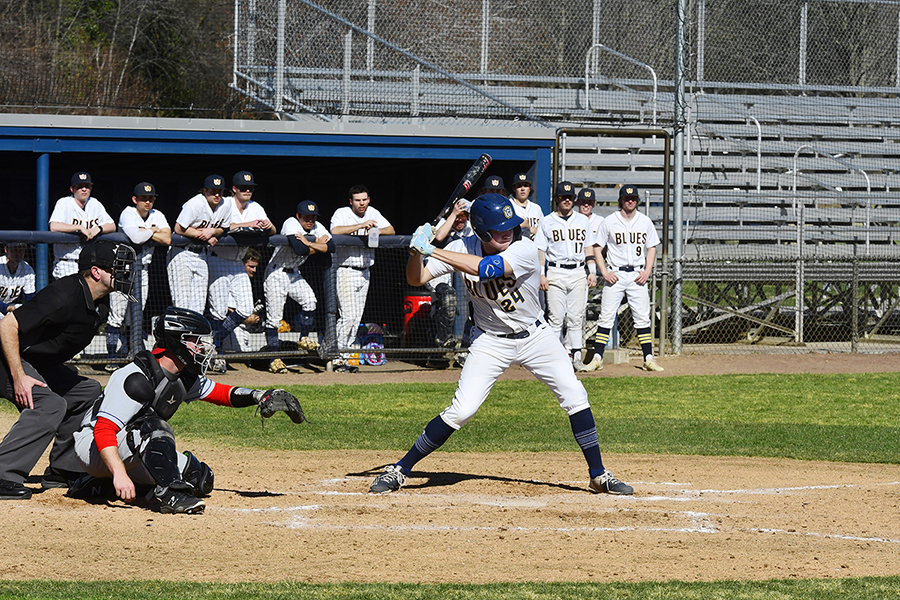 This year, Whitman student-athletes excelled greatly in their respective arenas and beyond. During the 2022–2023 season, 14 Blues squads garnered both team and individual academic honors for their spectacular work in the classroom. Awards were presented by coaching associations on the national level, based on meeting certain academic and athletic criteria. Let's go Blues!
Stellar Student-Athletes
Among the more than 200 student-athletes at Whitman, 132 players across all 17 sports landed a spot on the All Northwest Conference (NWC) Scholar-Athlete team. Requirements for each athlete consists of individually earning a GPA of 3.50 or higher throughout the 2022–2023 school year.
Two student-athletes were recognized with high honors for not only their work inside the classroom and their athletic achievements, but also for their efforts to engage with the Whitman community beyond their respective sports. Nationally ranked tennis player, Angel Le '23, and reigning swim national champion, Tanner Filion '23, were named First-Team Scholar Athletes by the NWC for their leadership roles in the Student-Athlete Advisory Committee along with their hands-on involvement across campus and the Walla Walla community as a whole.
Baseball
Whitman's Baseball team received the American Baseball Coaches Association (ABCA) Team Academic Excellence Award for their academic performance during the 2023 season. The team earned a qualifying cumulative GPA to top off their 24-19 overall season record.
Men's Basketball
Following their successful season all the way to the conference championship, the men's basketball team earned the National Association of Basketball Coaches (NABC) Team Academic Excellence Award for their impressive cumulative team GPA. Jander Cline '24, Nikola Trifunovic '23 and Walter Lum '23 all earned spots on the NABC Honors Court placements for their exceptional academic success.
Cross Country
Earlier this year, both men's and women's cross country squads earned the 2023 NCAA Division III Track and Field Team All-Academic Award from the United States Track & Field & Cross Country Coaches Association (USTFCCCA) with cumulative team GPAs of 3.62 and 3.48, respectively.
Distance Track
This spring, both men's and women's distance track teams received the 2023 NCAA Division III Track and Field Team All-Academic Award presented by USTFCCCA. The men ranked #20 nationally with a cumulative team GPA of 3.60. The women placed #16 nationally for their combined final GPA of 3.70.
Men's Golf
On the Whitman men's golf team four student-athletes were named GCAA All-America Scholars by the Golf Coaches Association of America (GCAA). Jack Garnsey '24, Alexander Knox '25, Parker Krovisky '25 and Max Ray-Keil '23 all earned this honor for their exceptional work.
Women's Golf
Three blues on the women's golf team were named WGCA All-American Scholars by the Women's Golf Coaches Association (WGCA). With GPAs of 3.50 or higher, Pavita Sidhu '24, Beatrice Archer '26 and Cindy Luo '26 claimed their place on the list.
Lacrosse
The Whitman women's lacrosse team posted an exceptional team GPA to be named an Academic Honor Squad by the Intercollegiate Women's Lacrosse Coaches Association for the 2022–2023 academic year after a strong completion of 9–3 in conference play during the 2023 season.
Swimming

Both men's and women's swim teams were named a 2023 Scholar All-America Team by the College Swimming & Diving Coaches Association of America (CSCAA) with respective team GPAs of 3.59 and 3.75.
Men's national champion and CSCAA Swim Dive Swimmer of the Year, Tanner Filion, also earned a spot on the 2023 Individual Scholar All-America First-Team by the CSCAA for earning a GPA above 3.50 following a record-breaking performance in this year's national championship.
Tennis
Following the undefeated season the women's tennis team had in conference play and the men's overall conference success, both tennis teams earned team all-academic honors presented by the Intercollegiate Tennis Association (ITA) for their academic efforts during the 2022-2023 year.
A handful of Blues received individual academic honors from the ITA for their academic success in earning a 3.5 GPA or higher.
First-years: Teleya Blunt '26, Will Lanstra '26, Charlie Rush '26, Sascha Wells '26 and Gunnar Wollar '26.
Sophomores: Lucas Huang '25, Alejandro Raffo Dunezat '25, Erica Mock '25 Braeden Thomas '25, Luca Viarengo '25, Jackson Wurzer '25 and Jin-Olivia Yu '25.
Juniors: Grace Carter '24, Harshvardhan Chopra '24 and Irene Tsai '24.
Seniors: Aidan Schutter '23 and Camilla Tarpey-Schwed '23.
Volleyball
The Blues volleyball team was presented with the 2023 USMC/AVCA Team Academic Award by the United State Marine Corps (USMC) and the American Volleyball Coaches Association (AVCA) for their academic achievements through the 2022 fall season.
Great students and good sports too!
Coaches and players nominated one athlete on each team to be named on the 2022–2023 All-Sportsmanship Team for the Northwest Conference. See the list of those 17 outstanding student-athletes.